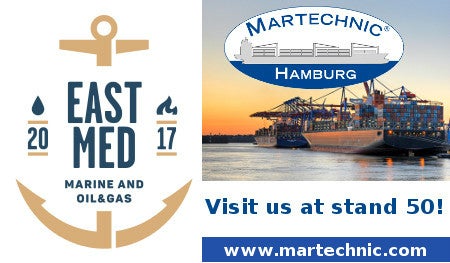 From 6 to 7 April 2017, Martechnic is traditionally exhibiting at the specialised marine technical trade show in the Eastern Mediterranean – the 8th East Med Marine and Oil & Gas Exhibition in Limassol, Cyprus.
With its focus on both international shipping industry and oil and gas sector, the exhibition can be truly considered as a unique forum for disusing current issues of concern for global maritime community as well as a platform for presenting various technical solutions and innovations from all over the world.
A wide range of participating companies from more than 30 countries provides great opportunities for exchanging international expertise and sharing knowledge as well as a potential for new contacts and collaborations.
As one of the leading experts in the quality management of fuel, lube and hydraulic oil, Martechnic will present its portable test kits, advanced on-line and in-line sensor technology, sampling equipment and ultrasonic cleaning technology etc. The company will be happy to meet new as well as returning visitors and business partners at stand 50.
In line with the concept of Industry 4.0 successfully developed and implemented in 2016, Martechnic will showcase its innovative digital products designed for regular oil condition monitoring.
Two portable test devices – TWIN CHECK 4.0 and IRON CHECK E for digital on-board testing of crucial oil parameters (water-in-oil, alkalinity reserve and iron concentration in oil) – will be exhibited. Martechnic will be pleased to highlight the advantages of its innovative digital technology program including optimisation and automation of measurements, digital evaluation with precision and direct availability of test results.
As a preview to the exhibition and for more information about Martechnic's new smart products, please visit our website.