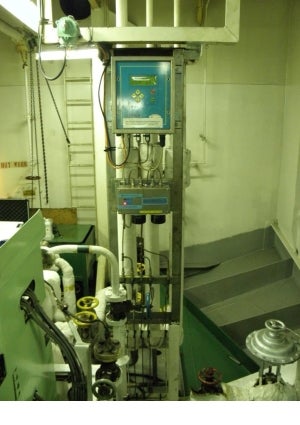 The most common contaminate of lube oil is water that causes problems and damage in machines and engines. Martechnic has developed a monitoring system to identify the contamination immediately.
The MT modular monitoring system is an assembly of various sensors connected with a data logger. It is possible to monitor water content, viscosity and particles on the same engine, or any other combination of applications. The components can be selected individually and specifically for certain operations. Should monitoring for any parameter not be required, the corresponding components are taken out of the scope of supply and the investment will be amended accordingly.
The system has been installed on several vessels for the continuous measurement of water content. The AHHOI IR (infrared water-in-oil sensor) uses the IR principle to detect water in lubricants of different nature and applications. Measuring of different oil cycles can be realised with an AHHOI by employing a manifold.
This add-on system enables the operator to monitor up to four different oil systems with only one sensor, in order to cut investment costs. The MT modular monitoring system delivers a number of advantages, such as low-maintenance expenditure, continuous measurement of water content (of viscosity and/or particles if desired) and easily installation, either for newbuilds or retrofits.