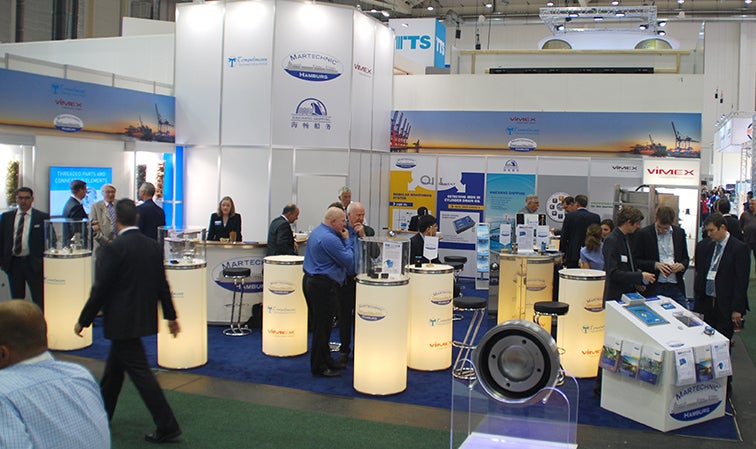 This year SMM, the leading international trade fair, had its main focus on innovative technical solutions, and in particular digital transformation for the maritime sector. In the context of difficult market situation and current challenges faced by global shipping industry, automation and digitalisation are regarded as potential long-term benefits which the concept of 'Industry 4.0' offers.
A large number of international experts from the maritime world and international exhibition visitors has attended Martechnic®'s booth during the four-day event and contributed to the discussion of trends of the "smart technology" theme. Due to truly international character of the trade fair, the team of Martechnic® not only welcomed its long-standing business partners and customers, but was also pleased to establish new business contacts across different industrial sectors with possibility of concluding new contracts.
The priority in the conversation with customers lay in the gradual transition to automation and its role for increasing the overall efficiency of ship operations. Martechnic® took opportunity to highlight its innovations for managing the quality of fuel, lube and hydraulic oil directly on-site and showcased two new test devices: TWIN CHECK 4.0 and IRON CHECK E.
TWIN CHECK 4.0 was presented for the first time ever during SMM and received numerous positive reviews from international shipping experts. Modular design of the test device with the possibility of replacement of every single constituent part, USB to serial cable connection for trend analysis of two critical oil parameters: water-in-oil and alkalinity reserve are among the main advantages the improved version provides. Besides, the accuracy of measurements is achieved through automatic digital evaluation which enables exact determination of chemical reaction completion.
IRON CHECK E, a patent pending method of measuring iron in cylinder drain oil, offers quick oil samples assessment on the basis of the built-in chroma meter with LED-transmitted light source.
Martechnic®'s MT MODULAR MONITORING SYSTEM attracted special attention as the installation of sensors helps to increase automation of on-board control to the greatest possible extent and enables even remote maintenance and operations.
Martechnic® would like to thank all the visitors of its booth for productive discussions and new ideas and inspiration for further development of the concept 4.0.