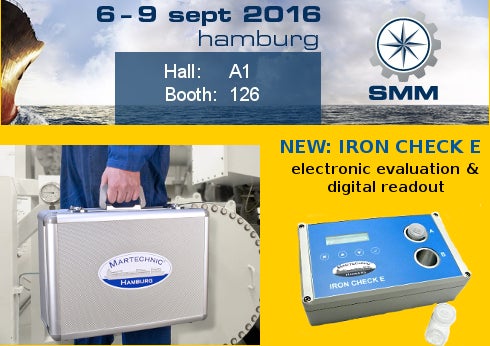 Martechnic® is a leading expert in the area of oil quality management and offers engineers, ship operators and users effective technical solutions for direct on-site monitoring of fuel, lube and hydraulic oil condition. Aiming at constant development and innovation, the company has been elaborating new products which are scheduled to be showcased at SMM 2016, the leading international maritime trade fair.
In a few weeks the exhibition opens its doors at the Hamburg fair complex from 6-9 September for international discussion of the challenging issues of global shipping industry and the most up-to-date solutions. Martechnic® will be actively taking part in the discussion with the corresponding products demonstration and will be pleased to meet all attendees and business partners at the booth 126 in the hall A1.
Following international objectives of environmental protection, Martechnic® will be highlighting the advantages of trend analysis in oil condition monitoring and the benefits of on-site portable test devices and test kits as well as the role of advanced sensor technology for continuous real-time oil quality assessment.
In line with the special theme of the SMM 2016 (digitalisation) the company is going to present its new test device 'IRON CHECK E' designed for on-site determination of iron content in cylinder drain oil in light of the phenomenon of cold corrosion in two-stroke marine diesel engines. The electronic version with digital readout has been elaborated for quick testing and immediate availability of test results.
Considering recent challenges in the bunker fuel oil on-board management, such as cat fines and fuel oil compatibility and stability, Martechnic® will be exhibiting its new test kit 'MT CAT FINES CHECK' successfully launched this year. Quick visual estimation of extremely abrasive particles concentration in the heavy fuel oil samples before and after purification in a separator provides ship operators with direct information on the further use of the bunker fuel in the clear form of 'go / no go' decision.
Other cost-effective and environmentally friendly innovative solutions of the company that have entered the final working stage will be introduced during the four-day exhibition in Hamburg.