Founded in 1903 in Glasgow, McGeoch Marine began by supplying the Clyde shipyards with marine hardware. Over the years, the company grew and evolved into its present form, with sales offices around the world and modern manufacturing facilities in both the UK and China. MML now operates globally in the shipbuilding, offshore oil and gas, and offshore renewables industries.
Offshore accomodation modules
Since opening our modern factory in Suzhou, China, we have diversified our business into the design and manufacture of offshore accommodation modules, workspace and engineering cabins, and offshore containers. Our modules are designed and manufactured to meet a range of strict industry standards, including DNV (Det Norske Veritas), Lloyds, ABS, SOLAS, IMO and NORSOK.
McGeoch Marine has also been a marine and offshore door specialist for over 20 years.
Marine and offshore doors
You need to be prepared for anything that could happen and your marine and offshore doors need to be built to withstand the sheer force of the ocean. Even internal doors need to be built to last, and that's why you need to source your marine doors from the experts.
McGeoch Marine's head office is in Glasgow. The premises have over 70,000ft² of office and factory space and another five acres of onsite storage.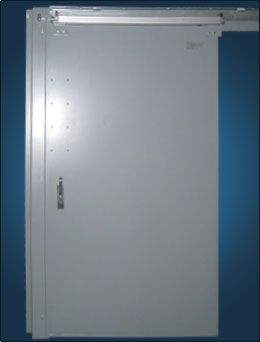 The A60 sliding door is one of many A-class marine doors available from McGeoch Marine.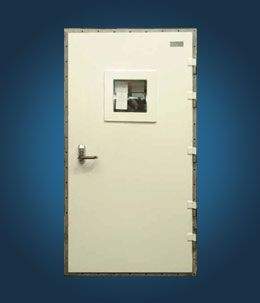 The H120 blast fire door.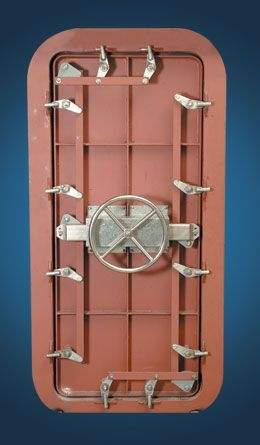 Essential for offshore and ship applications, our watertight doors are built with incredibly thick door plates, are suitably stiffened at the joints and have steadfast seals.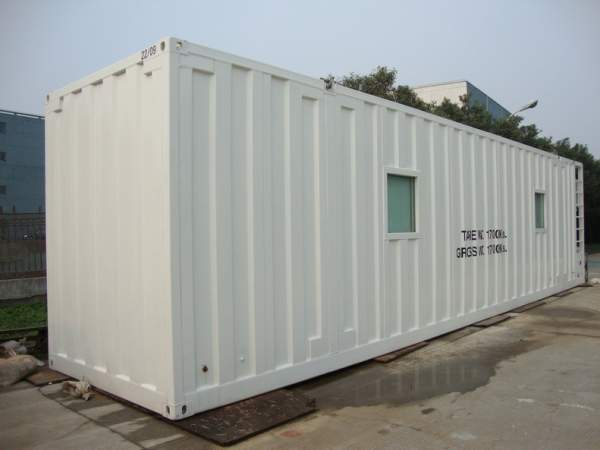 Our accommodation modules come in a range of sizes and can be adapted to suit all clients' specific needs, including galleys, recreation rooms, canteens, laundries, locker rooms and offices.
McGeoch Marine offers a number of different types of marine doors, including heavy-duty A-class doors, watertight doors and H class blast and fire doors.
A-class marine doors
Our A60 sliding door can be supplied for internal or external applications and has the following features:
Double skin 2mm mild steel door leaf welded with insulated core
4mm mild steel frame suitable for bolting or welding to opening structure
Counter balance weight for closing controlled by air cylinder lever handles and back plates
Door complete with eight-wheel sliding carriage
Heavy-duty 4mm mild steel hood at top covering sliding track
H-class blast fire doors
The H120 blast fire door has a door blade manufactured from 2mm stainless-steel door skins, filled with superwool insulation. Other features include:
Z section frame formed with 4mm stainless steel
Door and frame fitted with five heavy-duty lift-off hinges with grease nipple
Live leaf fitted with three-point latching stainless-steel system on inside face
External face fitted with stainless-steel lever handle
Door complete with LCN heavy-duty door closer
Door frame fitted with weather seal and runner fitted front and back of door
1.0 bar pressure
Watertight marine doors for the ship industry
Our 12 clip single action door is watertight to a 7m head of water and has the following features:
Door manufactured from 8mm cover plate
Suitably stiffened with weld on ribs
Fitted with a 40mm x 25mm section perimeter seal
Secured by 12 clips linked together and operated by a central hand wheel
Door available with shock rating
If you shop with us for all of your marine doors needs, you'll be able to get exactly what you're looking for at prices to suit. All of our watertight doors, blast doors, A60 doors and even accommodation modules are built to your size and specification so you can be sure of the best, and because we've been established since 1903 we have all the experience necessary to ensure we can provide you with the ultimate offshore doors and marine equipment.
Certified products for the ship and offshore industries
Quality is paramount when you come to us, and all of our fire-rated doors come with its own certification so you can be sure of quality. We work with some of the major players in the shipbuilding industry and provide marine doors to outfits across the globe, so you know you're in good company. We're reputable, reliable and have all the watertight doors, blast doors, A60 doors, accommodation modules and indeed anything else that you could possibly need, so for all of your marine door requirements make us your first and only port of call.