nora systems produces a variety of rubber floors for transportation and nontransportation applications, known under the trade names of norament® and noraplan®. The extensive range of transport application areas for nora® floor coverings and stair treads include light and heavy rail vehicles, high speed trains, subways, buses as well as maritime applications such as cargo and naval vessels, ferries, submarines, cruise ships and oil rigs.
nora® floor covering and stair tread solutions for the international shipbuilding industry are the result of long-term experience in rubber and the close partnerships with planners and users worldwide. nora systems' extensive knowledge of rubber floorings stretches from a deep technical understanding to a thorough knowledge of installation techniques, national and international standards, as well as the impact rubber floor coverings can have on the environment.
nora® rubber flooring – high-performance floorings for the maritime business
nora® floor coverings are well prepared to meet all specific requirements in the worldwide maritime business, leaving our customer completely satisfied. We take pride in our diverse worldwide projects: MHI Nagasaki, SS de Rotterdam, various RoRo Ferries, cruise liners MS Deutschland and Celebrity Solstice, to name but a few.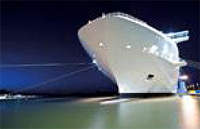 nora systems produces rubber floor coverings for transportation and nontransportation applications, known under the trade names of norament® and noraplan®.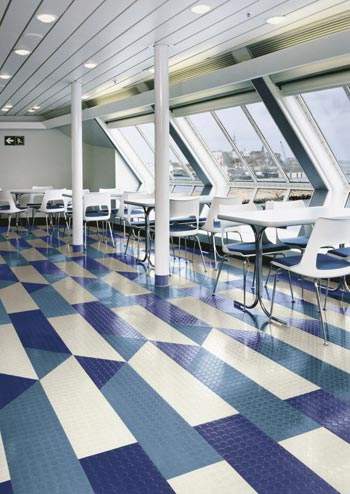 Our products meet the specific demands made on floor coverings for use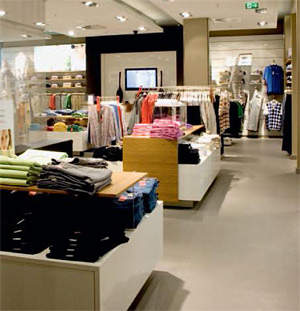 onboard cargo and naval vessels, cruise ships, ferries, submarines and oil rigs worldwide.

nora systems communicates the market leader's know-how with professionally informed consultancy.
nora® floor coverings and stair treads are made of rubber – a raw material that gives the products their excellent qualities: permanent resilience, the ability to withstand enormous loads, durability and wear-resistance. With more than 300 designs, colours and surfaces in the standard range alone and uncountable options for custom-made alternatives, nora offers a multiplicity of options to combine functionality, practicality and striking design elements. There are even more reasons why nora® rubber floor coverings are our customers' number one choice:
Free of PVC, plasticizers (phthalates) and halogens (e.g. chlorine) free from asbestos, cadmium, CFCs and formaldehyde
Extraordinary wear-resistance: extremely long lifespan, thus less frequent need of renovation and disposal
Dirt-repellent and easy-to-clean surface: thanks to its extremely dense surface and "nora cleanguard®", the factory post-curing surface finishing
No need for extra coating: significantly reduced care and maintenance costs as well as wastewater loading
Outstanding fire-protection properties: fire and smoke behaviour are being tested by independent testing institutes. Carbonisation gases are non-toxic; no corrosive vapours, no source for dioxins and furans occur
Permanent resilience: lasting high walking comfort
Excellent footfall sound absorption
Dimensionally stable: does not contain any plasticizers thus is shrinkage-resistant
Resistant to cigarette burns: no surface damage
Antistatic properties: no electrostatic charge build-up from walking, thus no perceptible discharges
Environmentally safe: made of high-quality rubber, mineral fillers, and environmental friendly colour pigments
Easy disposal
And for special applications:
Electrostatically dissipative "ed" floorings
Largely oil and grease-resistant qualities
Slip resistant surface structures
nora® rubber floor coverings also represent a convincing price / benefit ratio.
nora® stands for tested and proven quality
nora® floor coverings meet the highest demands on quality and all-important provisions for the use in seagoing vessels and on oil rigs:
Flame-retardant for seagoing vessels according to the SOLAR rules
Tested according to the valid IMO resolutions MSC.61 (67) FTP code Annex 1, Part 2, and A.653 (16), with regard to fire behaviour, smoke density, and fire-toxicological safety in case of fire
Approved by See-Berufsgenossenschaft (maritime social insurance against occupational accidents; European notified authority, ID no. 0736), Germanischer Lloyd, Bureau Veritas, Det Norske Veritas, Nippon Kaiji Kyokai and US Coast Guard
Satisfies the Marine Equipment Directive (= MED) EU directive on ship equipment (directives 96/98/EC and 98/95/EC)
Visit our website for more detailed information on nora rubber floor coverings and meet us at the Nor-Shipping 2013 (June 4th-7th) in Oslo, Norway.
nora systems develops, produces and markets high-quality, resilient floor coverings as well as shoe components under the brand name nora®. The company headquartered in Weinheim was founded in 2007 (formerly Freudenberg Bausysteme KG) and has been shaping the development of rubber floor coverings for years as worldwide leading manufacturer. More than 1,100 employees achieved a turnover of approximately €205.8m in 2012.