Polyline designs and builds polyethylene commercial Vessels – an environmentally friendly product that is stronger and more flexible than anything else on the market, costs the owner less to maintain, floats in any circumstance and has the smallest carbon footprint of any commercial means to produce a boat.
Polyethylene commercial vessels
Polyethylene is an excellent material for building boats, incorporating the following advantages of plastic:
Does not corrode, oxidize or suffer electrolysis unlike aluminium or fiberglass
Does not require painting and as the colour is permeated through the whole product it will always look clean even when scratched
Is comprised of long chain molecules which contain a memory which allows it to flex on impact and return to its original shape after a collision. In layman's terms "impact resistant" means the product will not crack, fracture or dent
As polyethylene is inert, antifouling is not required, though regular cleaning is recommended
The specific gravity is 0.96, less than water so it will always float
Polyethylene line boats
At 10.2m our line boats are the largest Polyethylene boats with the biggest conventional hull ever built. They have attained the highest level of Survey for a plastic boat in Australia, including by an independent surveyor from Lloyds Register of Shipping.
Designed by Bruyn Design.
Powered by dual outboard 440Hp Turbo Diesel Yanmar Engines driving Hamilton Jets, these boats are very fuel efficient. Larger twin engine, twin jet rescue vessels are next on the drawing board.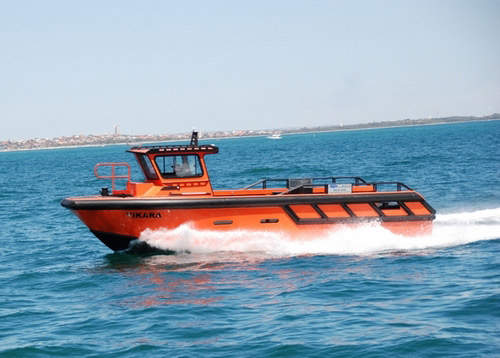 10.2m YIKARA Surveyed to 40 nautical miles offshore, this vessel enables personnel transfer to and from oil rigs.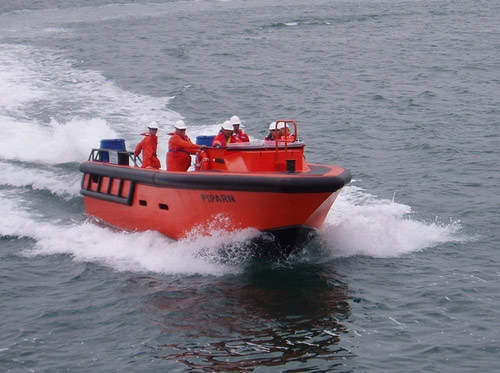 "10.2m PIPARN" Built for in-harbour work in Port Hedland, W.A. can carry a crew of 3 plus 6 special personnel.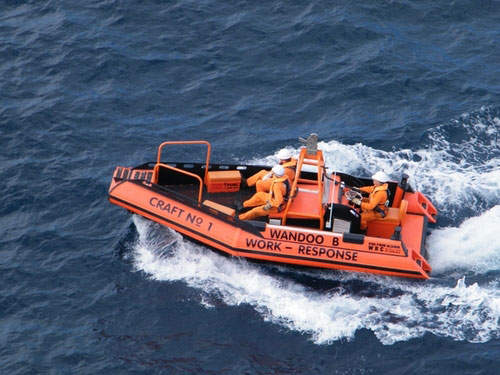 PolyRIB 6300 WRC Lifting Point Brake tested at 50 meters/minute at full load plus ten percent, which Polyline extended to 60 meters/minute.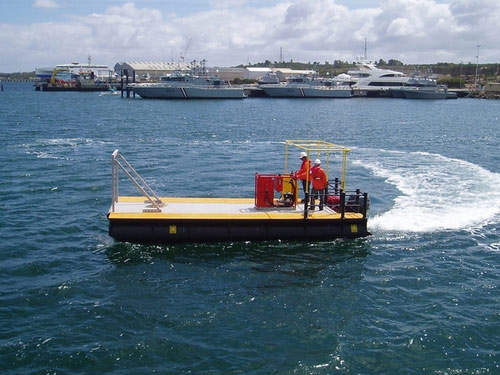 8m x 3m Barge The wake in the photo of the Barge on the water shows the ease with which the vessel can be maneuvered. Note the tight turning circle.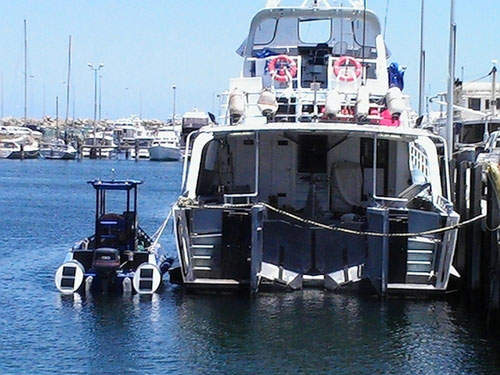 PV Walcott and PolyRIB tender at rest in Fishing Boat Harbour at Exmouth W.A.
Polyethylene work response crafts
This vessel was customised for Vermilion to suit their specific requirements for a Work response craft for their Wandoo B Oil Platform. It is the world's first vessel to be based on and suspended under the oil platform to enable crew to board and launch within a minimal time frame. It is also the worlds first waterjet-diesel in its size range, and the first waterjet installation to use a plastic jet intake.
It is the first and only combined FRC and work response craft.
Tanker barges and floating platforms
Polyline also design and manufacture a range of tanker barges and floating platforms. These include:
8m x 3.5m barge with a 4t load capacity – has wheels designed to allow the front of the barge to be picked up and moved around on land with a forklift
12m x 6m floating platform with a 35t capacity for a concrete agitator and pump
16m x 10m tanker barge – modular format next to be built with capability of carrying 100t of liquid
21m x 14m tanker barge – modular format this next barge will double the capacity of the 16m x 10m with the ability to carry 200t of liquid
Rugged offshore and inshore punts
A vessel built to be practically indestructible and a workhorse suitable for a wide range of applications, our 5.5m Tuff Punts can be stacked on top of each other and easily loaded into a 20f container for transport. We have punts for both inshore and offshore use.
Completed marine projects
We have already completed several key marine projects, including a tender to the Fisheries Patrol Vessel Walcott, and a 6m floating walkway for Koolan island.
Tender to the Fisheries Patrol Vessel Walcott
Built in 2006, the Walcott tender was designed and custom built to be loaded into the back of the Walcott. This was the first plastic vessel built to 2C auxiliary survey.
6m walkway pontoon
Polyline built a floating platform installed at Koolan Island where the tidal range is 10m. The platform supports a gangway for land to sea / sea to land transfer of crew and cargo. The flexible walkway joins allow the walkway and pontoon to be used at varying tide levels.