Strongbox is the leading UK manufacturer of metal furniture to the marine, defence and offshore industries, offering modern manufacturing techniques, groundbreaking design and exceptional quality.
Established in 1991 and now based in Bedfordshire, UK, it operates from a 20,000ft² purpose-built factory, with state-of-the-art CAD/CAM machinery and an automated paint plant. As well as increasing capacity, the new plant has also strengthened Strongbox's ability to offer fast turnarounds for small batch or prototype orders, as well as large production runs.
Marine furniture design service
Its in-house design team offers a complete furniture design service. Using the latest design techniques including 3D modelling, Strongbox produces robust and functional designs, with ease of assembly/fitting, and minimal through-life maintenance, making its products ideally suited to a marine environment.
Cabin furniture is manufactured in steel, aluminium and honeycomb core with products including beds, bunk systems, Pullman beds, bed-sofas, wardrobes and desks, complimented with general furniture including unit seating, tables, cupboards and lockers.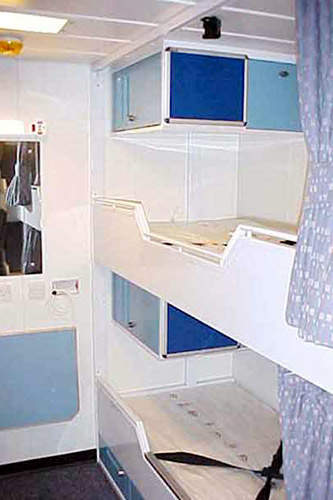 A Type 45 Destroyer's junior rates cabin.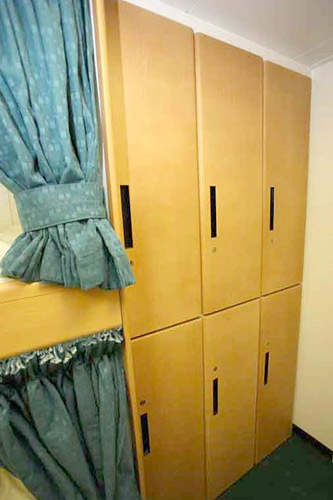 Steel cabin lockers for the CVF (Carrier) project, with 'wood effect' paint finish.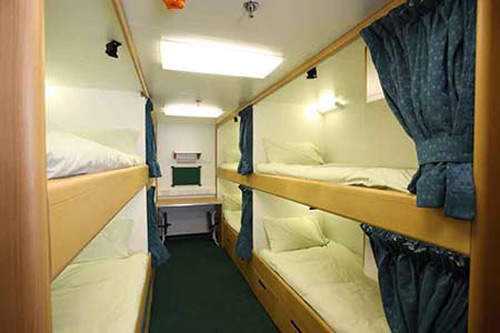 Eight-man cabin for the CVF (Carrier) project.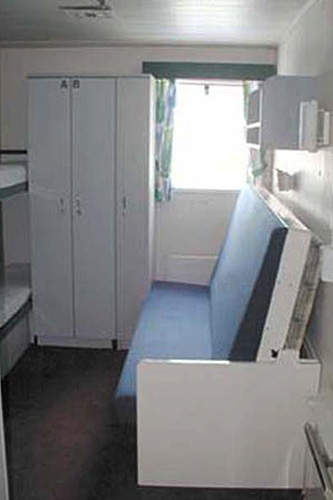 Commercial crew cabin; a flexible range with speedy deliveries.
Commercial marine accommodation furniture
Strongbox offers a standard range of furniture ideally suited to crew accommodation on cruise ships, ferries, merchant vessels or workboats/barges. This range is designed with flexibility in mind, and is a speedy delivery is possible, allowing a quick turn-around on projects.
The range includes beds, bunks, Pullman beds, sofa beds, wardrobes, desks, cupboards, lockers, stowages and bookcases. All these items are available in standard or bespoke sizes to suit your layout's design requirements. Contact Strongbox for its marine furniture product guide.
Naval vessel accommodation furniture
Strongbox is a preferred supplier of accommodation furniture to the British Royal Navy. Manufactured from steel or aluminium, its purpose-made designs are very suitable for warship furniture.
A recently completed project, cabin furniture for six Type 45 Destroyers, had additional input from our design team, which resulted in a major upgrade in style and comfort for the crew.
Strongbox's latest project is the design and supply of furniture for the CVF (Carriers) project, where it has included innovative design including a 'wood effect' paint finish, and has again raised the standard for crew accommodation.
Offshore installation accommodation furniture
Strongbox's experienced team of designers enables it to offer accommodation solutions for either new-build or refurbishment of offshore installations. Robustly built furniture, all to the latest offshore standards, is offered with an added element of design to give the accommodation a comfortable ambience.