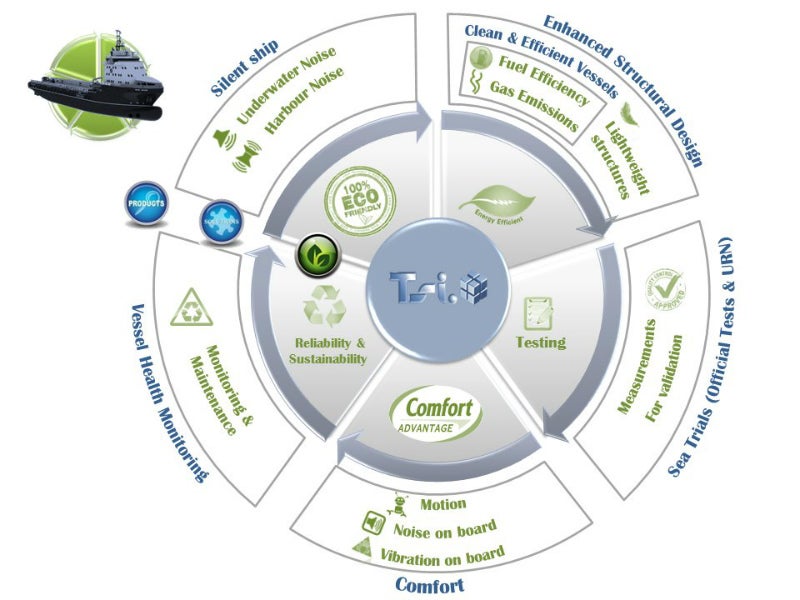 Established in 1983, Técnicas y Servicios de Ingeniería competes in the specialised market of dynamic and acoustic engineering solutions.
Enhanced static and dynamic structural design
Enhanced static and dynamic structure design results in lighter ship structures, and therefore provides cost reduction in ship design and operation.
Static analysis of ship designs
Finite element analysis (FEM) is used with the objective of assessing the maximum stresses at ship structure under different load conditions.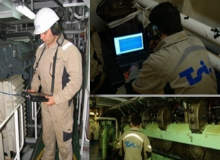 The analysis covers local stress, hull girder strength, buckling check, and weight optimisation.
Dynamic analysis of ship designs
TSI carries out analysis of natural frequencies to check resonance problems with main excitation sources.
The company's dynamic FEM analysis also verifies cumulative damage and fatigue of ships' structural details. This includes prediction of vibration levels, fatigue damage assessment, and hydro-elastic analysis.
Comfort management for ships
From earlier stages of the design TSI provides engineering solutions to comply with the strictest comfort requirements, applying our comfort management services.
These include preliminary and acoustic analysis design, sensibilisation of suppliers, and development of specific acoustic and dynamic requirements.
The company also provides seakeeping simulations, and calculates noise and vibration predictions using the SEA and FEM models.
Ship design calculations and predictions
TSI measures a range of ship features, including inertance, airborne insulation, noise and vibration, impact noise insulation, URN static, power, speed, manouevring, thermography, and bollard pull.
The company also carries out factory acceptance tests for ships, and calculates predictions for URN as well as noise radiated to the harbour.
Clean and efficient vessels
To meet efficiency regulations, shipowners need more efficient and environmentally friendly ship designs with better overall performance, and to implement energy efficient measurements.
TSI provides technical measures to reduce greenhouse gas (GHG) emissions and energy consumption through a unique combination of engineering services, simulation, and onboard measurement systems.
These include calculation of the energy efficient design index (EEDI at design stages), guidance on the developments of a specific ship energy-efficient management plan (SEEMP), and system monitoring.
Structural and machinery health monitoring
The full implementation of health monitoring and predictive maintenance systems enable the optimisation of maintenance costs and spare logistics.
The final objective is to support crew and on-shore staff decisions, defining well-adapted maintenance plans and recommended actions.
Machinery health monitoring
Following TSI's business activity during the last decades, a case-by-case risk assessment is performed to define the optimum monitoring and inspection strategy required. After a system's implementation, TSI will put it into service for a real-time risk evaluation.
Structural health monitoring
TSI can use a structure's design model, which is recalculated with loads and structure conditions by real-time monitoring techniques (online / offline), to perform structural risk assessment over its lifespan.
This solution may be implemented on board a single vessel or a complete fleet.
For complex installations, TSI offer a 'turnkey solution' for ship operators, as well as technical support and continuous system surveys.
Sea trials for vessels
Sea trials validate a vessel´s manoeuvrability characteristics, general seaworthiness, and performance of equipment and machinery prior to its delivery.
TSI is experienced in official and dedicated sea trials, which evaluate noise and vibration, airborne sound insulation, URN, speed, power, manoeuvring, bollard pull, thermography, shaft lines and propellors.
Research and development
TSI has participated in national and international research projects, in particular the European Union Seventh Framework programmes (FP7) addressing the topics of "Holistic noise and vibration abatement" (SILENV), "The competitive ship" (BESST), "Assessment and mitigation of noise impacts of the maritime transport on the marine environment" (AQUO) and "Inspection capabilities for enhanced ship safety" (INCASS).
About TSI
TSI is ISO certified (ISO 9001:2008) and is recognised and accredited by international entities such as DNV, UKAS and RvA.
The company is authorised to carry out noise and vibration measurements and studies on vessels by the Danish Maritime Authorities (DMA)
TSI is certified for vibration and noise measurements all over the world, to obtain the Bureau Veritas class notation, in accordance with its rule: "Classification of Steel Ships, Part E, Chapter 6 Comfort on Board". Within the AQUO project, TSI has been involved in the development of the most recent URN measurement procedure, which is implemented in the new voluntary URN Class Notation NR 614 of Bureau Veritas.