Veinland offers hardware and software 'one-source multiple solutions' for the shipping industry, including National Marine Electronics Association (NMEA) interfaces, bridge navigational watch alarm systems (BNWASs), uninterruptible power supply (UPS), forward-looking sonar and loading computers.
Our activities are focused on four levels:
Development and manufacturing of hardware and software that enables receiving and processing of digital and analogue system signals
Development and manufacturing of hardware and software to display the received information from digital and analogue system signals into end-user applications
Development of higher level management systems to make use of the previously received and integrated system signals
Promoting and integrating systems from other vendors to further fulfil customer expectations of the overall Veinland service
BNWAS – bridge navigation watch alarm systems
The Veinland BNWAS (bridge navigation watch alarm system) was developed to detect the awareness of the officer of watch (OOW) to avoid accidents. In case the OOW is incapable, the system automatically generates several alarm stages. Due to its modular design, it will be possible to suit on each dimension of a vessel. The BNWAS also has the capability to generate alarms from nautical equipment.
NMEA multiplexers with eight inputs
The 8NMEAto1-Ethernet module interconnects serial sources that send serial strings according to the NMEA 0183 standard. The 8NMEAto1-Ethernet module converts up to eight NMEA sources to UDP or TCP/IP Ethernet and one RS422 output. The system status signals a common alarm by relay contact, an Error LED and a serial telegram.
Bridge navigational watch alarm system.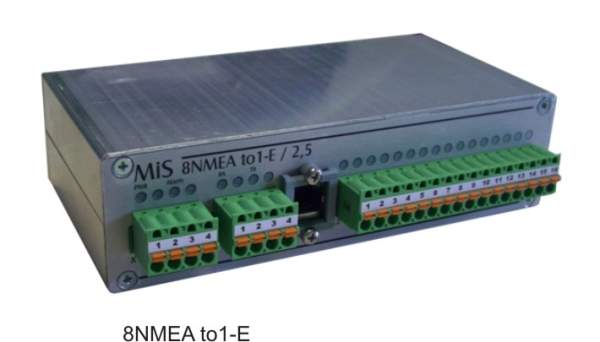 8NMEAto1-Ethernet.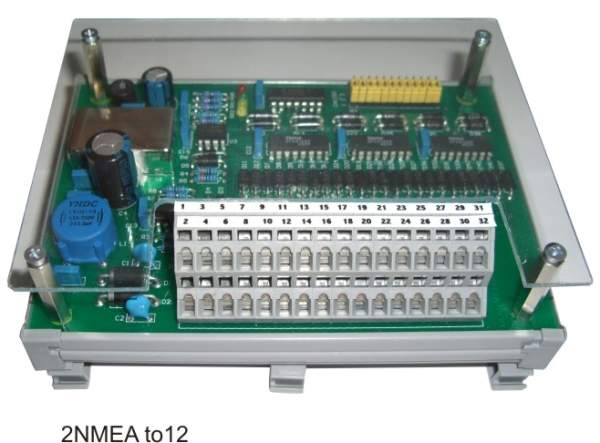 2NMEA to12.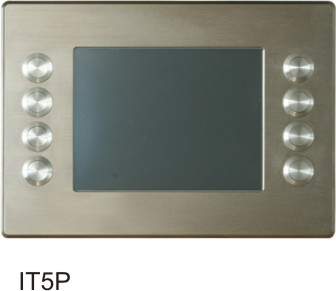 IT5P all-purpose display.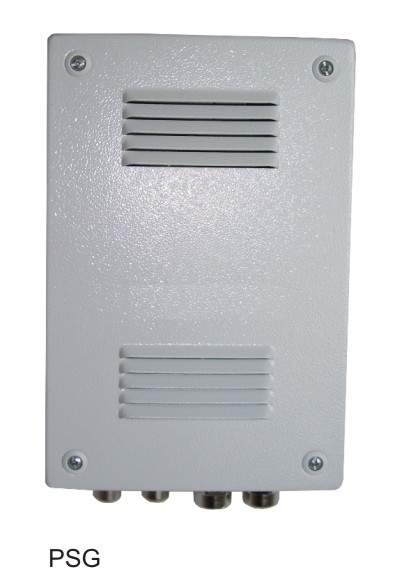 PSG001 power-supply unit.

66 203.
TWC true wind converter.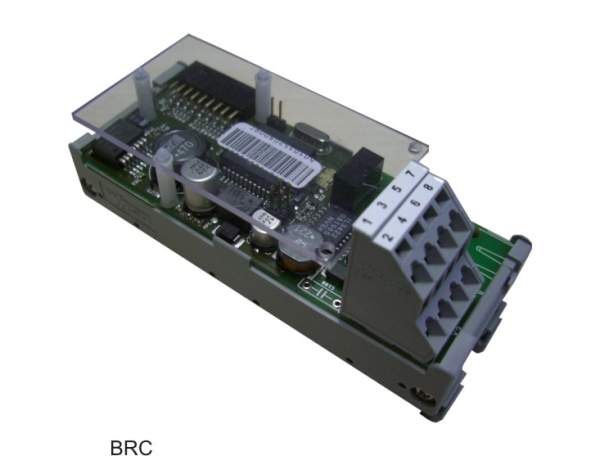 Baud Rate Converter (BRC).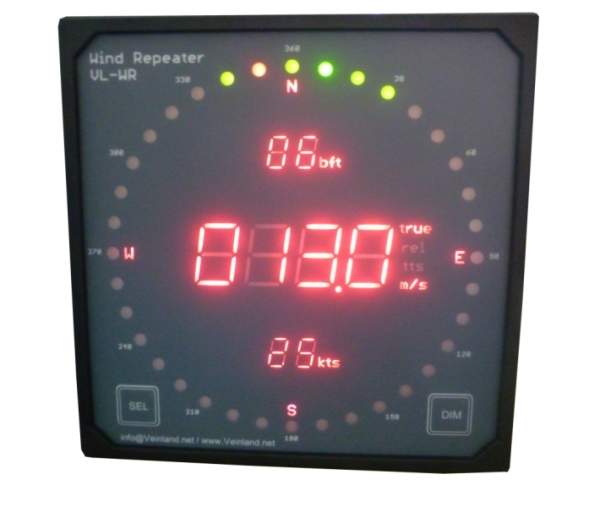 VL-WR wind repeater.
NMEA expanders with 12 outputs
The 2NMEA to12 distributes from two serial data sources (NMEA) to a maximum of 12 receivers (RS 422 or NMEA). The two NMEA inputs are separately assignable to the multiple outputs with the help of jumpers and galvanic isolated from the power supply and the outputs.
Maritime and industrial displays
The Info Terminal (IT5P) is a 5.7in scalable and an all-purpose display with a powerful processor and a multitude of interfaces. IT5P was developed for both maritime and industrial environments. The modular design of the Info Terminal makes it possible to be applied in an almost unlimited number of cases, such as a display unit for machinery showing respectively, operating status, system monitoring or as a control unit for process control.
Power supply for security-relevant consumers
The Veinland PSG001 power supply unit has been developed for use in shipping (EN 60945) and technically sophisticated applications. It supplies devices with 24V – 28VDC (variably adjustable) from a primary voltage of 94VAC – 264VAC or 110VDC – 300VDC and may therefore be employed by security-relevant consumers without any switching delay.
DVI and USB extender via CAT cables
The Veinland 66203-system (DVI/USB extender via CAT cables) consists of a transmitter and a receiver module used to extend two USB ports and for transmitting video signals (DVI-D) via CAT terminals.
True wind converter
The Veinland True Wind Converter (TWC) calculates true wind information from several different input data sources. The TWC module makes the signal unification of four NMEA for sources possible on a transmitter (RS422). A special function is available to modify the talker identifier related to the input channel.
Baud rate converter
The Veinland Baud Rate Converter (BRC) is software based on the successfully type approved IEC 60945 MCU5 hardware. The basic function of the system is to receive NMEA telegrams with an adjustable baud rate from 4,800bps up to 38,400bps and send these telegrams with a separately adjustable baud rate from 4,800bps up to 115,200bps. With an additional parameter, the output frequency is variable.
VL-WR wind repeater
The VL-WR wind repeater is a display for NMEA wind data supplied from an anemometer. Data from "$–MWV" and "$–MWD" according NMEA 0183 can be handled.
From the NMEA telegrams, the wind speed and direction can be determined. The speed is displayed in m/s, knots and beaufort, each in a 7-segment display. The wind direction is represented by a circle LED (red) in steps of 10°. A wind direction sector on the same LED circuit (green) shows a region on, if the direction of the wind has varied in a set time. The display can be dimmed and the display format can be selected (true, relative or tts).