dbMagic is a provider of vessel and crew management software for the marine industry.
Our FleetNet suite of software applications offers advanced crew management and vessel activity planning system, designed specifically for global ship management companies. The software supports companies with multiple offices around the world and their diverse organisational structures.
Crew and vessel management software module
FleetNet provides highly effective software modules for complete crew and vessel management processes. Users can optimally plan crew for their vessels, make intelligent use of the crew pool and ensure compliance with the required regulations.
Simple and reliable, FleetNet helps ship management companies remain competitive and in compliance with various regulations in the maritime industry. Each solution can function either as part of an integrated suite or a standalone application.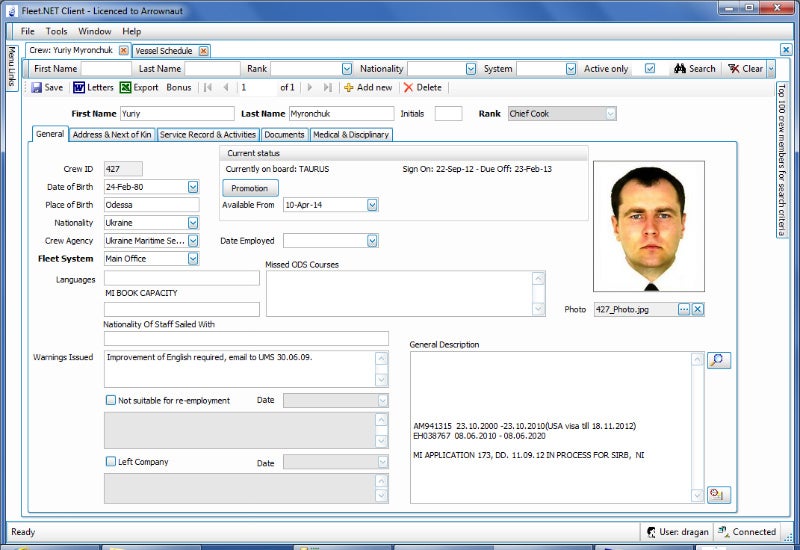 FleetNet offers a comprehensive overview of crew details to ensure that ship operators can optimally plan for operations.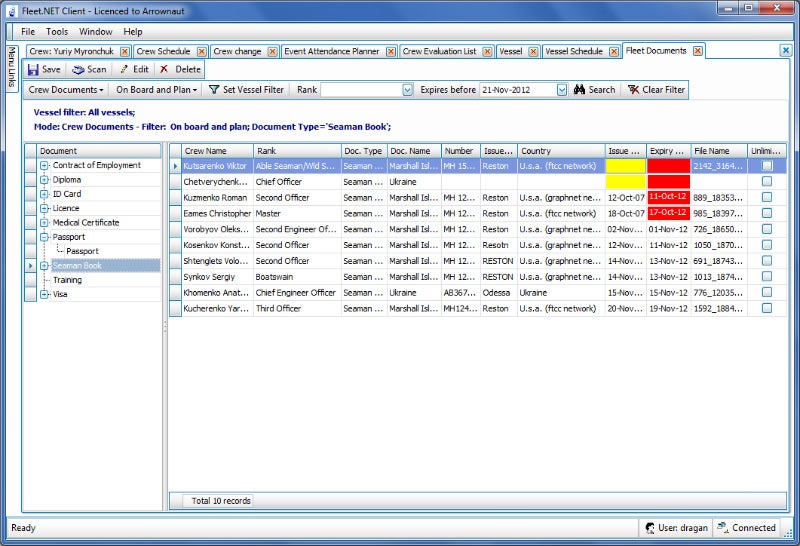 The system has a document management function that can define mandatory certificates for each vessel and position.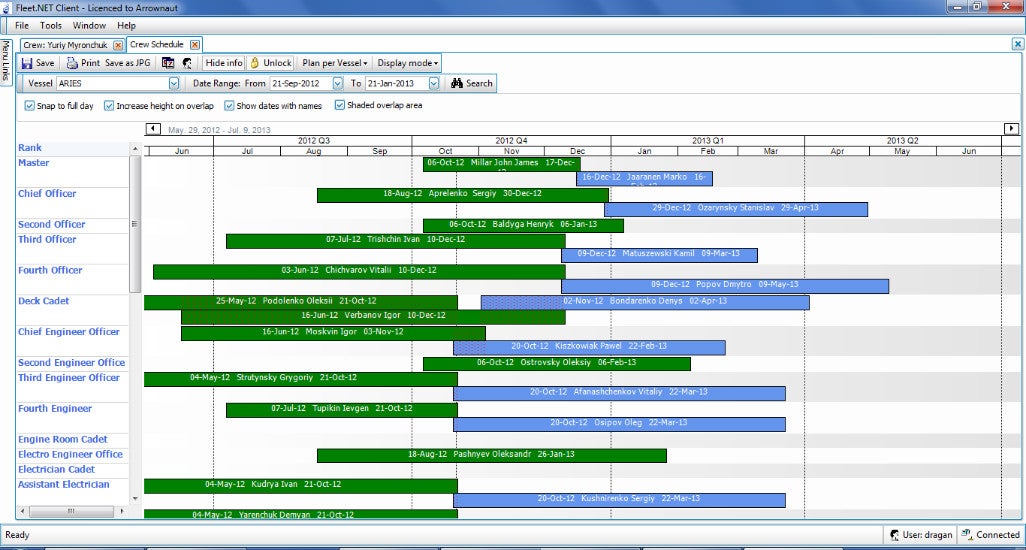 FleetNet's planning module allows ship operators to assign seafarers according to vessel and rank requirements.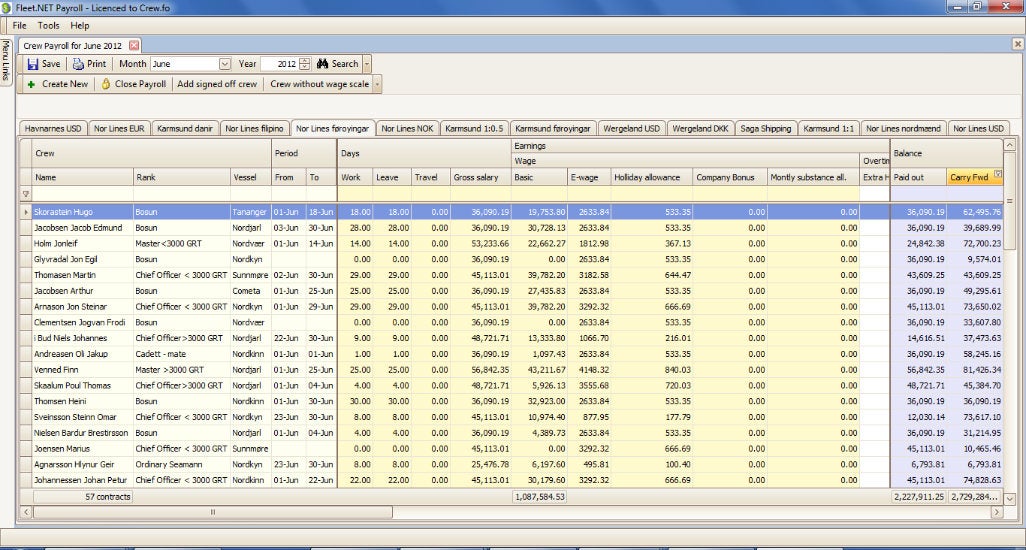 The automated payroll system uses details from other FleetNet modules for a simplified process.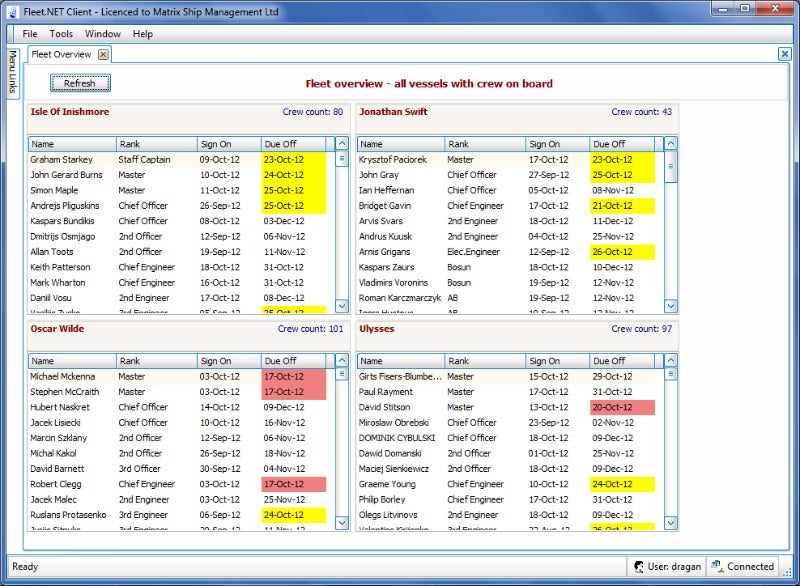 The fleet overview offers a comprehensive vessel register showing the required technical and operational information for individual vessels.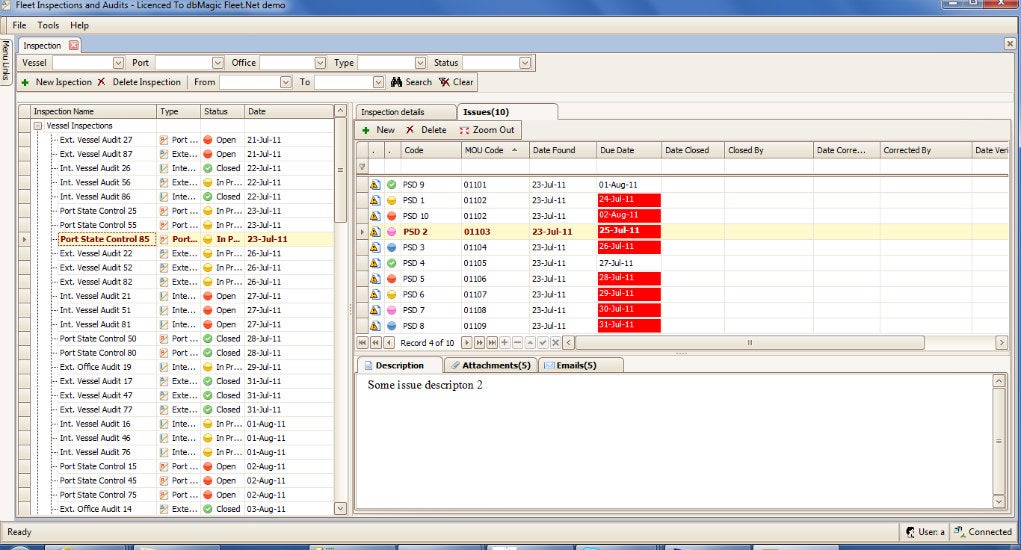 Fleet Inspection is designed to provide a simple way to enter, monitor and access details of vessel or office inspections.
Developed for the Microsoft .NET framework and backed by the SQL Server database, FleetNet offers a robust and proven platform with unlimited growth potential.
Demo applications for maritime software and Free Express Edition
FleetNet Express Edition is completely free version for small companies. Our website features more details to find out if you qualify.
dbMagic offers unlimited demo applications to enable users to try all software features at their own pace. The fully functional demo allows potential users to test its various features with no expiry date.
FleetNet is available with a perpetual licence, as well as with a yearly subscription model.
Document and crew management for shipping companies
FleetNet's crew management function maintains an up-to-date database with relevant information about crew members available in one place.
This information can include documents of certificates and endorsements, medical data, briefing details, promotion and appraisals, warnings and service history.
Fleet Software offers comprehensive management for all crew and vessel documentation such as licences and certificates, visas, identification and medical details.
The document management function can define mandatory certificates for each vessel and position, which is checked when you plan a crewmember for sea service. There is an automated warning for soon-to-be expired documents, in addition to a scan-and-store facility on the server for immediate availability to all users.
Ship crew planning and scheduling programme
The planning module allows ship operators to shortlist and select the right seafarers according to vessel and rank requirements.
During the planning process, the software can be used to prepare employment contracts, printing of crew lists, visa applications and travel order forms among other documents.
The system provides alerts if operators attempt to assign a person to an on board position that they are not fully qualified for, or if they are on unavailable due to leave, another duty, training or sickness.
Automated crew payroll system
Crew Payroll is designed to simplify and automate the creation of payroll.
It utilises a crew planning system to retrieve personal and sea service data; assuring accurate time periods; eliminating duplicate work in data entry; and calculating work, leave and travel days.
Fleet payroll fully supports the defining wage scale according to the standard International Transport Workers' Federation (ITF) collective bargaining agreement. In addition, operators can define any number of additional earning or deduction categories.
Software for vessel management and activity planning
Our software provides a comprehensive vessel register with the required technical and operational information of each vessel. Keep track of up-to-date ship documents and certifications, as well as information on ships, including crew position coverage and crew certificate requirements for specific ranks.
The Activity Planning tool allows the schedule and dispatch of vessels such as salvage tugs and survey vessels that perform short time-relevant tasks. Monitor docking or repair periods, charter delivery / redelivery or specific deployment periods.
Ship operators can define all vessel activities with the option to customise the scheduler according to their needs.
Fleet position and inspection tool
The unique Fleet Position module allows ship operators to keep a full record of all voyages and operations with standard template-based arrival / port / noon / departure messages. It features all relevant data about cargo, bunkers, wind, revolutions per minute (RPM) and voyage speed that can be entered and tracked for either each vessel, class or fleet.
This allows for each overview and comparison of features such as:
Fuel consumption
Speed
Weather conditions (sea level, wind speed and direction)
Utilised cargo space
Historical vessel performance
The Fleet Inspection application is designed to provide an easy way to enter, monitor and access vessel and / or office inspections, as well as track deficiencies found during internal or third-party inspections and audits.
The simple and intuitive user interface allows you to:
Enter and search for deficiencies by vessel, date, port or deficiency code
View port state and audit deficiencies
View due dates for corrective actions
Attach reports to vessel or office inspection
Scan documents