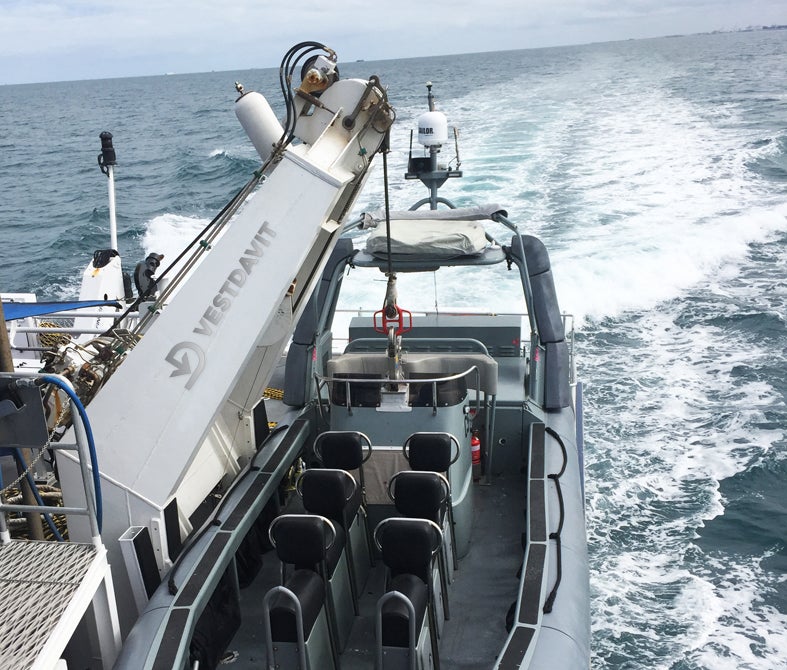 The latest reports suggest that the weight advantages of aluminium davits, long-accepted by coastguards, fast ferry operators and navies, are convincing owners in new markets to look again at structural alternatives to steel.
The Australian Border Protection recently decided to equip two more Cape-class patrol boats with PLAR-6500 aluminium davits from Vestdavit, having already installed 16 units on its eight new patrol ships to lift 6,500kg rigid-hull inflatable boats (RHIBs).
The self-tensioned davits feature shock absorbers, guiding rails, wire haulers, and independent HPUs, which all help towards safely launching and retrieving boats at up to 10k in the heavy seas that stretch from the tropics to the Antarctic.
The lightweight option is also preferred for fast patrol boat applications by the Royal New Zealand Navy, the Danish Navy, the Swedish Navy, and the US Coast Guard.
Security authorities are also operating fast response craft in the Middle East, and South Asia are newly engaging with the benefits conferred by the aluminium davits in the 850kg-7,000kg safe-working load range offered by Vestdavit.
Every kilo saved in onboard equipment weight can enhance vessel stability and add payload.
The aluminium davits are 30% lighter than their steel-structured equivalents, while it also brings a tangible stability gain for lighter duty vessels. The davits also minimise corrosion and are non-magnetic.
With the davits, vessels have better manoeuvrability, lower fuel consumption, greater speed responsiveness and an expansion of its operational window.
For more information, please contact the company via the enquiry form on this page.
Navies want to use unmanned surface vehicles (USVs). They will keep boatcrews out of high-risk environments and extend the outreach of surface vessels. There are...
World-leading provider of efficient and innovative boat-handling systems, Vestdavit, has released a new brochure showcasing its products and services.