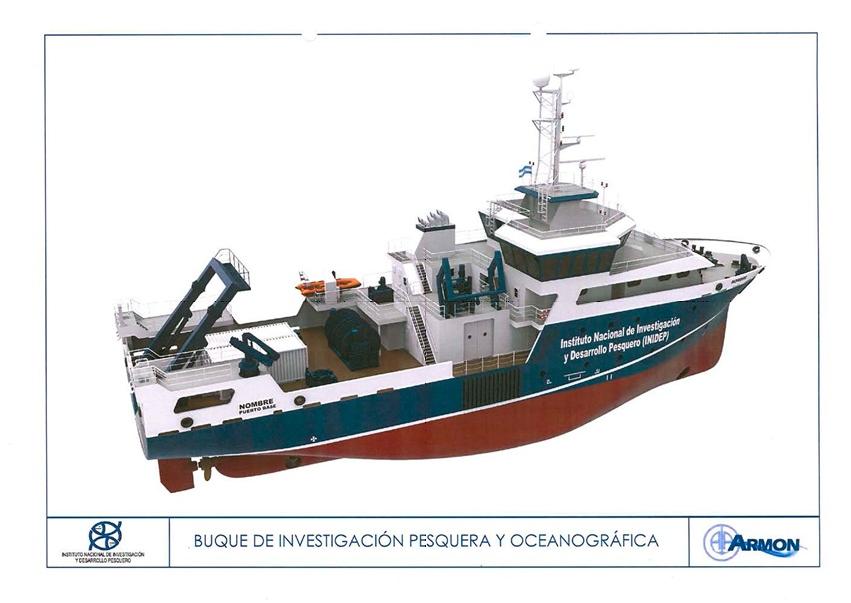 TSI will provide technical assistance in noise and vibration matters to Astilleros Armon Vigo during the design and construction of the new oceanographic and fishery research vessel for the National Institute of Fishery Research and Development of Argentina (INIDEP).
At the end of November 2015, Astilleros Armon Vigo has been awarded the order for the construction of a research vessel for INIDEP. This contract is part of an international tender in which the Inter-American Development Bank (IDB) will provide the funds as a loan.
The ship, with 52m length, 12.8m breadth and with a maximum speed of 12k-13k, has been designed to accommodate a crew of 14 members and 17 scientists in charge of the research tasks.
The ship has been designed as an oceanographic fishery research vessel to operate in the waters of the exclusive economic zone of Argentina at any time of the year and under reasonable weather conditions. The ship will have 'Unrestricted' Class Notation, which will allow her the possibility to work in the open ocean. For the development of its missions, the vessel will be equipped with an aft wide work platform, multipurpose laboratories and the latest technology of scientific equipment.
The efficiency of the sophisticated electronic equipment that will be installed and the effectiveness of the fishery research missions to be developed by the ship require the 'underwater signature or underwater radiated noise by the ship' to remain below the strict limits defined by the requirement ICES No. 209. All this implies a high level of technology and technical complexity that is a technological challenge to its construction by Astilleros Armon Vigo.
TSI-TÉCNICAS Y SERVICIOS DE INGENIERÍA as a specialised company in the dynamic / acoustical design of 'silent ships' with over 40 years of experience as a noise and vibration consultant in the design and construction of six oceanographic and fishery research vessels up to date (some of them with Certificate URN from Bureau Veritas), has been selected by Astilleros Armon for supporting the company in this project. In this case, the scope will exclusively cover the noise and vibration prediction calculations and the FAT of the gen-sets within the essential design activities that the shipyard are doing to meet the requirements of the specification.