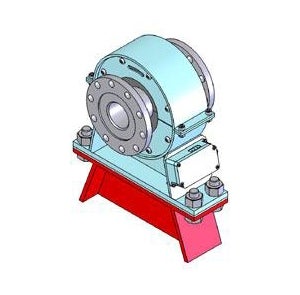 Increasingly we are seeing a need for more accurate torque measurement systems where customers require real-time torque data and can no longer rely on older, less accurate systems, which estimate or calculate from hydraulics or electrical power. This need is prevalent in marine and heavy industries where the measurement of torque is required for accurate control and feedback systems, basic monitoring purposes, efficiency concerns including fuel or power saving, or even to anticipate when something may break.
Using the proven and reliable method of measuring torque by applying a strain gauge to the main drive shaft, we can provide several solutions to meet the needs of the most challenging environments. For situations where space is a premium, such as mechanical stirrers in water treatment plants, our single point stator torsion meter design can be easily and simply integrated with a minimum shaft space of 60mm.
For harsh environments, such as shipboard winches, our military specification torsion meter can be easily integrated. Our transducers can accurately output torque and speed data digitally to RS485, Modbus and Ethernet, or can be calibrated to give analogue outputs, such as 0-10V or 4-20mA. This means that our systems can be easily integrated into existing PLC systems and industrial control systems, including SCADA.
Strain Gauge Bolt-On sensors measure changes in the stress levels of vessel or structure support,...