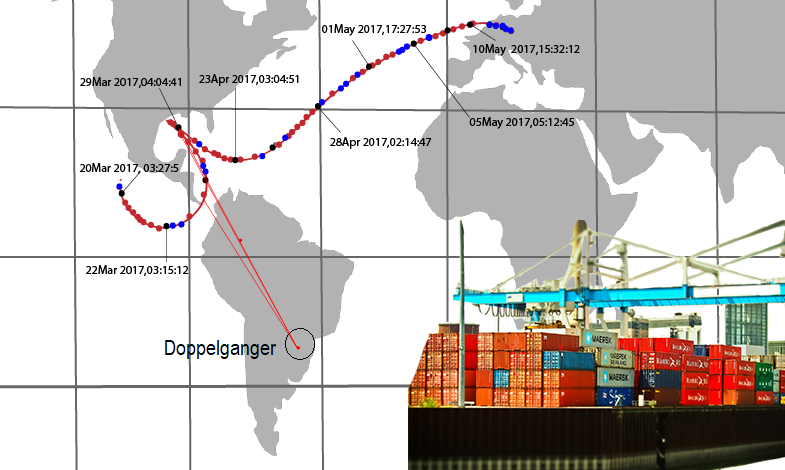 Maerospace processes big data and delivers it as actionable information. The company is the primary supplier of global automatic identification system (AIS) data to the Canadian Government, and uses AIS to track more than 150,000 large vessels worldwide.
Maerospace's TimeCaster™ and ADVISOR™ solutions use predictive analytics to track ships and detect anomalies with up to 25 times the accuracy of raw data. The systems can be used to enhance global maritime domain awareness and issue predictive anomaly alerts, such as when ships 'go dark'.
The company offers its services on the CloudEO GeoMarketplace, a source for various maritime and imagery GeoServices. Clients in the maritime business or with an interest in tracking ships, fleets or maritime traffic can easily book services or request support for customised solutions.

CloudEO GeoMarketplace is an innovative source for GeoServices for maritime applications. Customers can receive professional support and select between flexible subscription plans for TimeCaster and other AIS services.
Flexible subscription models make the service easily accessible and cost-efficient for small and large businesses, commercial entities, and academic institutions.
Automatic identification systems (AIS) for locating vessels
Maerospace provides tracking services that offer enhanced accuracy compared to ageing terrestrial and satellite AIS maps.
Since 2010, satellite constellations launched by several companies have been used to detect AIS transmissions. These systems were a significant step towards providing a global view of ship locations to help guard borders, save lives, protect the environment and enhance trade. However, terrestrial and satellite AIS maps are misleading, showing a picture of the maritime domain that is old, incorrect and incomplete.
The IMO added the AIS requirement to its Convention for the Safety of Life at Sea (SOLAS) in order to enhance collision avoidance and maritime safety, as well as assist with search and rescue missions, fleet monitoring and tracking. However, operators may mask signals that would clearly identify the location and activity of their ships for numerous reasons, such as illegal fishing, smuggling, human trafficking, circumventing embargoes, or even terrorist activities.
Another challenge is that ships are continuously 'going dark'. A recent report published on the website of the Dutch newspaper Algemeen Dagblad estimated that every month, hundreds of vessels that reach Dutch ports had at least some periods during their journey where their whereabouts were unknown.
To combat these activities, Maerospace offers an analytics approach that transforms AIS sensor data into actionable information.
Vessel tracking, alerts and accurate location forecasts
Maerospace tracks vessels using AIS over time. The company's TimeCaster™ software provides location forecasts every ten minutes, which increases its positioning accuracy by a factor of 25 over the use of raw AIS data alone. TimeCaster automatically tracks doppelgangers (multiple ships transmitting the same ID number) separately, bypassing one of the key ways operators can disguise ship locations.
As well as creating alerts when ships 'go dark', TimeCaster shows where a ship has travelled during its journey. One of the vessels mentioned in the Dutch report, a freighter under a Caribbean flag and sailing from Crete, was shown to have made an unscheduled (and unreported) stop at the port of Tripoli in Libya.
Using the TimeCaster's accurate forecasts, ADVISOR™ monitors ship behaviour and compares it with forecasts and detection patterns, as well as user-added information such as restricted areas. Suspicious and unpredicted behaviour is either relayed to users or captured in regular reports.
In addition to tracking where ships have been in the past, TimeCaster predicts where the vessels will be up to four hours from their present position, providing benefits for cargo tracking and logistics management.
Online store for ship tracking services
Maritime professionals in commodity trading, insurance and logistics can simply subscribe to standardised ship tracking or alert services using the flexible subscription models on the CloudEO Store. TimeCaster and ADVISOR can also be customised to accommodate individual needs for commercial companies and other institutions.
On the CloudEO store, customers can book services for tracking single ships, fleets or all vessels within a pre-defined area. They can tailor the solution for ports, coastal regions or locations worldwide.
In addition to TimeCaster data, customers have access through the CloudEO GeoMarketplace to a broad suite of marine services, and can generate a comprehensive maritime intelligence solution to suit their requirements. By registering with a single vendor, users will have access to real-time AIS and TimeCaster data, as well as historic AIS data.
For example, by using the eobathymetry and eowaterquality services, users can acquire additional information about inland water bodies and coastal areas, complemented by imagery from optical and radar satellites.
About Maerospace
Maerospace works with some of the world's most advanced nations and companies to make sense of complex data in ways that make ship missions safer and less costly, borders more secure, environmental responses more effective, and companies more profitable.
The company's founder, Eric Meger, was instrumental in the development of the satellite AIS industry, and brings a deep understanding of predictive analytics and data quality for real-time intelligence derived from terrestrial and satellite AIS data.