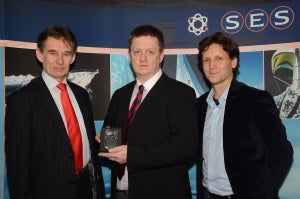 Ships Electronic Services (SES), a market leader in maritime communication and navigation electronics has won the 2011 Applied Satellite Engineering (ASE) Innovation Award.
The award was presented to Peter Merchant, technical support coordinator for SES, by the international managing director of ASE, Ken Coffey, for his innovative contribution to the installation of the ASE Citadel Satellite Communication Solution. This was the first time that someone outside of ASE has been presented with the award.
SES was tasked by a major commercial customer to tailor a secure communications solution that could be utilised on a vessel in the event of a pirate attack. Combining his knowledge of the customer's vessels and sourcing an appropriate ASE secure system, Merchant worked closely with Coffey and his technical team to produce a specific Citadel Communications system required for anti-piracy. The final system incorporated easy installation, global coverage, which included voice, data and SMS, a small antenna profile and multiple phone lines from one system.
After being presented with the award, Merchant commented: "I'm delighted to accept this award in recognition of the input we had in the ASE Citadel Satellite Communication System and pleased that the final solution met our customer's requirements. We are pleased that the SES's contribution made the ASE system viable for anti-piracy use but this could not have been achieved without the positive and enthusiastic attitude of the ASE team who helped enormously to meet the end user requirements."
Managing director of SES, Stephen Roper, said: "This award highlights Ships Electronic Services ability to create innovative solutions by listening to the needs of our customers and understanding their necessary requirements. We have an excellent, highly experienced team of technicians and engineers, including Peter, who continually work at sourcing the best solutions for our wide range of customers."
Ken Coffey said: "The citadel is proving to be an extremely effective method in thwarting marine piracy and the incorporation of this method on ships has steadily increased in recent years. Nato guidelines published last year state they will only respond to an act of piracy if the crew is gathered inside the citadel and if they have a satellite phone with an open line. Working with SES, we have developed a solution that also incorporates GPS, so the exact location of the ship can be pinpointed. Peter's solutions were invaluable in creating this highly innovative system and we are thrilled that we can acknowledge this with the award."
Image: L-R Stephen Roper, Peter Merchant and Ken Coffey
Ships Electronic Services (SES), an industry leader in the supply, installation and maintenance of maritime...