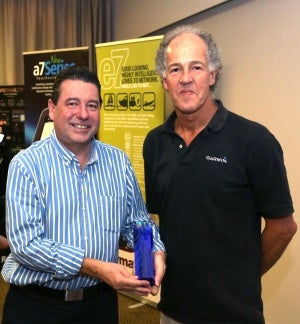 Ships Electronic Service (SES) has won this year's British Marine Electronics Association "Best Waterside Dealer Award" sponsored by Garmin at the recent BMEA conference held in Southampton. SES was selected for this prestigious award from 42 nominated companies.
SES has been established for over 36 years, operating in both the leisure and commercial marine sectors, with facilities at eight locations around the UK coast. The company has a team of highly experienced engineers working with the UK's major boat builders. The Award highlighted the company's excellent reputation for customer service, operating a 24/7 service line, fast response and comprehensive spares stock. SES is the UK distributor for Raytheon Anschuetz, sole Onboard Service Centre for Cobham Satcom and sales and service provider for a number of the world's leading electronic brands including Iridium, Praxis, Clear Com, Furuno, Jotron and KVH.
On accepting the Award from Bob Fry of Garmin, SES director Simon Wood said: "This is excellent recognition of all the work our team has put in to provide the very best service for our customers. We are fortunate to represent many of the leading manufacturers in marine electronics so we are delighted to receive this confirmation that their products are in good hands."
---
Image: Simon Wood (L), director of SES, collects the Best Waterside Dealer Award from Bob Fry of Garmin.
Ships Electronic Services (SES), an industry leader in the supply, installation and maintenance of maritime...