The Malaysian Maritime Academy, also known as Akademi Laut Malaysia (or simply by its acronym ALAM), has been providing internationally recognised education and training for over 30 years.
As the premier maritime education and training (MET) institution of Malaysia, ALAM is the only MET institution in the country offering a comprehensive suite of mandatory STCW courses and other value-added or bespoke training courses for shipping industry personnel, right from officer cadet entry up to master (captain) and chief engineer level. In addition ALAM also offers a wide range of OPITO approved and other training for offshore industry personnel. ALAM currently offers more than 200 programs to meet industry needs.
ALAM's courses and programmes are fully compliant with national and international MET requirements including IMO STCW78, as amended, and European, UK, Australian and Norwegian requirements. It has MOUs with a number of leading MET institutions around the world and is an approved training provider under Lloyds Register and has achieved one of the highest ratings under DNV Sea Skills' benchmarking standard.
To date the Academy has trained over 11,000 seafarers, including those commanding offers on board sophisticated vessels such as large LNG carriers, petroleum and chemical tankers, and those who hold senior management positions in the maritime sector ashore. Currently ALAM is able to train over 600 officer cadets annually and has a total throughput of 14000 students yearly for all its courses.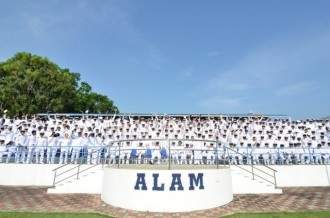 ALAM Students.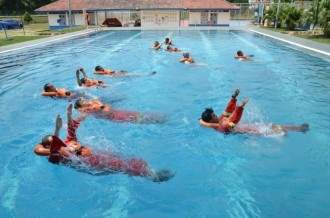 An ALAM class.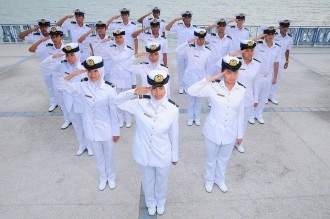 ALAM students in formation.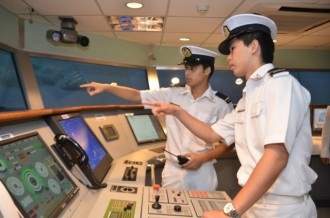 An ALAM training session.
Maritime training courses
ALAM runs a number of courses. These include:
Pre-sea
Nautical studies
Marine engineering
Advanced post-sea
Nautical studies
Marine engineering
STCW courses
Shipboard training and assessment for deck and engineering officers
Use of leadership and managerial skills
Maritime and offshore safety training
Safety and operations courses
Survival and evacuation offshore training
Health and safety training offshore
Skills development offshore training
Simulator based training
Full mission ship handling
Full mission engine room
Liquid cargo operation
Distributed control system
Maritime management courses
ISPS code
Shipboard safety and ISM
Commercial and logistics
Superintending
Customised courses
FRAMO courses
CRYOSTAR courses
Marine simulation and communication courses
Research and consultancy services
The Academy also runs a maritime research and consultancy service. Besides use in training courses, it's fully equipped modern 'bridge' and 'engine room' simulators are used to test new design concepts and technologies. ALAM's research and consultancy services provide objective appraisal of conceptual design, quality reports and more. Numerous projects have been completed successfully in relation to port development, risk assessment and traffic simulation studies, and SOP development. ALAM is keen to work on more research and consultancy projects with shipping companies and ports that are leading developments, because this in turn also helps in improving the training of seafarers.