AfterGlow provides a range of non-electrical, non-radioactive, glow-in-the-dark photoluminescent (PL) and retroreflective (RR) solutions for visibility in the shipping industry.
PL and RR products provide ships, boats, cruise vessels, oil and gas platforms, and on-board safety equipment with low-level egress path marking systems. PL and RR products do not need to be powered by electricity, battery, LED or radioactive materials, making them a low-cost and maintenance-free solution for any maritime application.
Retroreflective safety solutions for ships
AfterGlow products have a number of applications, including damage control, safety equipment, lighting fixtures, non-skid stair treads and handrails.
PL and RR solutions have been installed on a number of US Navy and Coast Guard ships since 2001.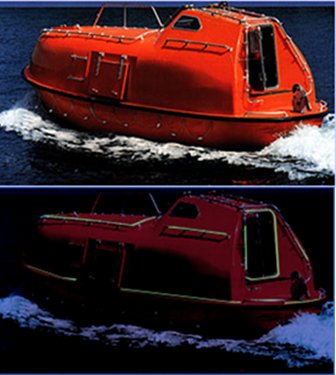 Non-skid glow-in-the-dark strips provide safe guidance on lifeboats.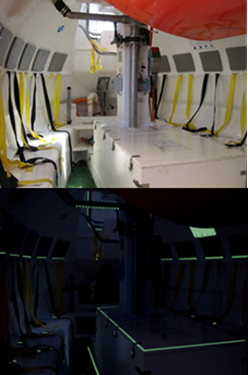 AfterGlow photoluminescent products help direct passengers and crew to safety in low-light conditions.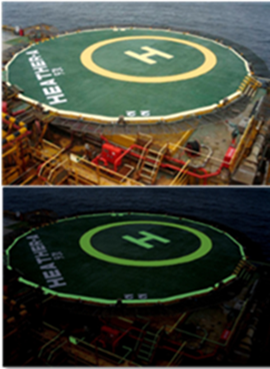 Photoluminescent paint can be used to increase visibility on aircraft landing areas on ships.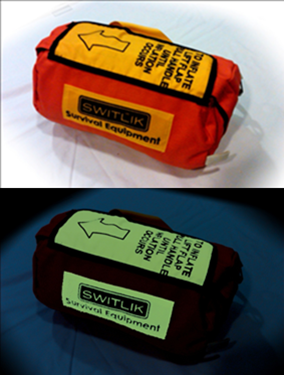 Emergency safety equipment can be easily identified in the dark with photoluminescent markings.
Norwegian Cruise Lines has been using our PL paint throughout crew and engineering areas on its fleet since 2015.
AfterGlow products have also been applied in drydock and many other underwater applications.
Internal and external safety signage for exits in marine applications
In poor lighting conditions, AfterGlow products help passengers and crew identify doors, latches, seat belts, safety harnesses, grab bars and emergency exits. They are ideal for internal and external markings on lifeboats, rafts and lifevests.
The combination of non-skid and PL solutions assists in safe travel around vessels, in particular, external areas such as decks, walkways, or boarding ramps. The solutions are easy-to-install and cost-effective, ensuring the safety of crew and passengers.
Photoluminescent paint for increased visibility in low-light marine environments
AfterGlow patented wear-resistant PL safety paint increases visibility of ship surfaces and is easy to apply with optimal material adhesion.
PL safety paint can be used on landing zones on-board ships, where helicopter rotors as close as 5ft to the deck can pose a danger, particularly in reduced lighting environments and other conditions such as heave, pitch, and roll action caused by waves and wind at sea.
AfterGlow PL products have been proven to have no effect on the use of the latest night-vision goggles, widely used in aviation applications and search and rescue operations at night.
Products can be used in a range of applications, including illuminated checklists, cockpit and access markings, wheel chocks, and tie-down marking devices.
About AfterGlow LLC
AfterGlow is an industry-leading provider of advanced technology and solutions for life safety systems based in Manassas Park, Virginia, US.
There has been a growing need for effective and reliable emergency exit marking systems since terrorist attacks on the USS Cole in 2000, and 11 September 2001. AfterGlow has been researching and developing high-performance PL technology to meet this demand.
The company has manufacturing facilities in Front Royal, Virginia, with a number of products receiving awards from local, state, and federal US governments for technical product innovation.
Products are suitable for maritime environments, as well as hospitals, military vehicles, and apartment buildings, available as standard or with customised signage in any language.