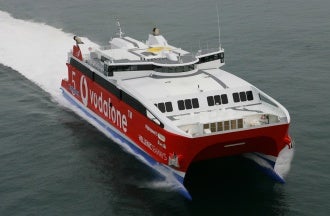 CBG Systems (CBG) has secured a contract with Fincantieri, one of Europe's leading shipbuilding companies, to upgrade vessel HIGHSPEED 5's structural fire protection (SFP) with CBG's state of the art lightweight panelised SFP systems.
HIGHSPEED 5 (IMO: 9329095) is a Greek-flagged 85m-high speed Ro-pax operated by Hellenic Seaways and built by Austal Ships in Henderson, Western Australia. The vessel suffered severe fire damage after a fire incident while berthed in a shipbuilding area for routine maintenance and repair.
The vehicle deck of HIGHSPEED 5 will be upgraded by installing rapid access composite (RAC) while the engine rooms will be structurally fire protected with rapid access stainless (RAS). CBG's panelised RAC and RAS system will deliver the most advanced and integral passive fire safety while saving up to 70% weight when compared with the previously installed SFP.
The upgrade will take place at Fincantieri's shipyard in Trieste, Italy.
---
Image: The HIGHSPEED 5 vessel receiving fire protection from CBG Systems. Photo: courtesy of Austal ships.
CBG Systems is an Australian company specialising in the supply and installation of thermal and acoustic insulation systems for a range of marine, industrial and...
RAN-30 is a Class N-30 fire division specifically developed for the defence industry.