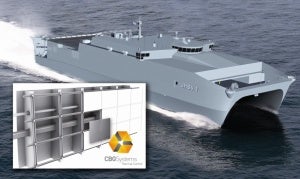 CBG Systems has successfully secured a contract for the supply of structural fire protection (SFP) for five additional JHSV vessels built by Austal USA in Mobile, Alabama. This contract comes after completing the supply and certification of the SFP insulation for the first three JHSV vessels and is proof of the suitability of CBG's advanced SFP systems for defence and high-performance vessels.
The weight savings offered by the RAC system will translate into considerable fuel savings, reduced CO2 emissions, increased payload and reduced maintenance costs over the life of the vessel.
CBG will deliver the RAC system for the fourth JHSV vessel in December 2013 while the SFP for the eighth JHSV (last vessel covered under this new contact) is scheduled to be delivered in 2015.
CBG Systems is an Australian company specialising in the supply and installation of thermal and acoustic insulation systems for a range of marine, industrial and...
RAN-30 is a Class N-30 fire division specifically developed for the defence industry.