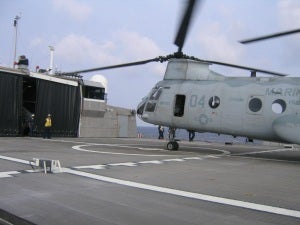 CBG Systems is proud to announce in addition to its ongoing contracts for the JHSV platform it has now secured a contract for the insulation of the flight deck of the next 7 JHSV vessels (Hulls 633 to 639).
The scope of works includes the supply and installation of our lightweight stainless (LWS) System for passive fire protection. The LWS provides weight savings when compared with conventional insulation systems, low glare for safe helicopter landing, excellent finish and easy maintenance, which translates in significantly lower maintenance and operating costs to the ship owner and operator while maintaining the highest standards of fire protection integrity.
The system is an iteration of CBG's newly developed Rapid Access Navy – 30 (RAN-30), which was specifically developed for application on navy ships and tested withstand hydrocarbon fires and shock in accordance with US Navy standards.
CBG Systems is an Australian company specialising in the supply and installation of thermal and acoustic insulation systems for a range of marine, industrial and...
RAN-30 is a Class N-30 fire division specifically developed for the defence industry.