Nordic Marine (Asia) Lifeboat Services (NMALS) was established in September 2003 by a group of experienced personnel who had serviced thousands of lifeboats and davit-winch systems over the years.
Lifeboat and davit-winch repair, testing, commissioning and sales, and offshore survival systems
NMALS provides services according to the standard requirements of SOLAS and IMO regulations and is particularly specialized in the following areas:
Service/maintenance of marine lifeboats, including the overhauling of main hook release mechanisms, repair to fibreglass boat bodies, servicing of air-supply systems, servicing of sprinkler systems, and servicing/overhauling of engines and steering gears
Voyage repairs to lifeboats and davit-winch system
Testing and commissioning of lifeboats and rescue boats
Sales and service of davit-winch systems for lifeboats and rescue boats
Sales and servicing of offshore survival systems
Design and fabrication of industrial fibreglass products including fire and safety cabinets and equipment boxes, fibreglass containers and water storage tanks
SOLAS-standard lifeboat repair and servicing
Under SOLAS regulations for operational readiness, each lifesaving appliance must be in good working order and ready for immediate use at all times when the unit is in operation. Our company helps to achieve this by providing the following services:
Hull repairs to applicable various lifeboat manufacturer specifications using approved company repair procedures
Hull preservation or refurbishment using approved surface treatment fire-retardant paint and/or gel-coating systems
Fiberglass hull repair to vessel class requirements
Engine overhaul, servicing or renewal
Repair, renewal or overhauling of lifting hooks and quick release systems
Servicing of hydrostatic release units
Compressed air systems servicing, including hydrostatic testing and refilling of air bottles
Engine endurance and speed testing
Water spray system overhauling, servicing and testing
Electrical system troubleshooting and repairs
Hydraulic control systems overhauling or servicing
Lifeboat and launching systems service / repair technicians
Since the inception of the company in September 2003, it has successfully carried out service/repair jobs for more than 1,000 lifeboats and launching systems.
Boat lowering test.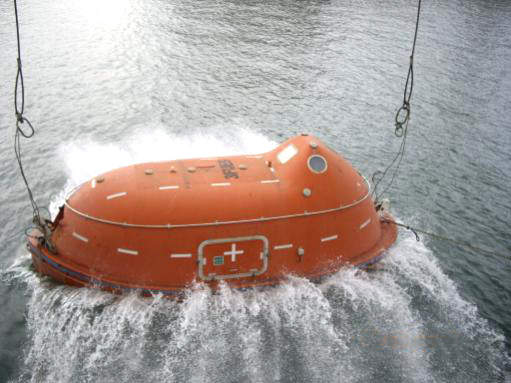 110% load test for hook release system.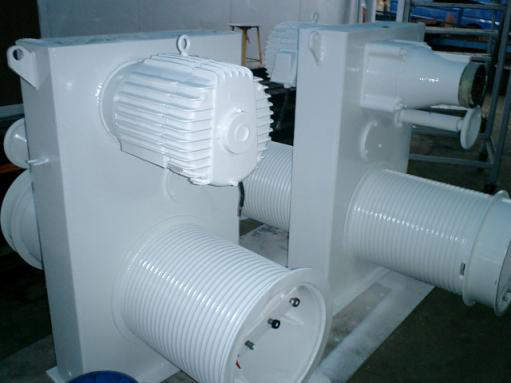 Overhauled winch.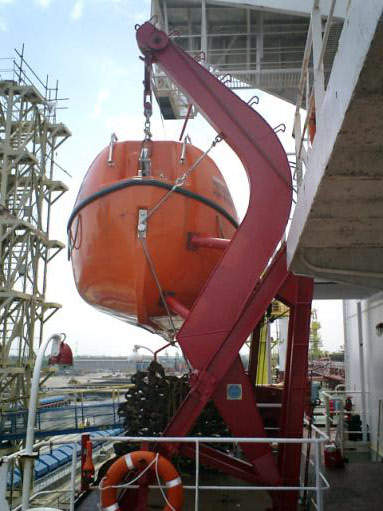 Upgrading of lifeboat using old davit.
NMALS is very concerned about staff training and has sent its technical staff for training with Hyundai Lifeboats, Oriental Inspection & Service, Hai Hong Boat Making, and other major Japanese brands in lifeboat maintenance, hook service/repairs and launching system service repairs.
The training, know-how, skill and knowledge our professional staff have acquired throughout the years have contributed to NMALS' position as an experienced lifeboat repairer and life saving equipment provider.
NMALS strives to be an excellent and reliable service specialist for lifeboats and davit-winch systems.