serving MarineSafety internationally
TechnoFIBRE Australia's (TFA) services range from lifeboats and launching appliances inspection, maintenance, repair, overhaul, testing and training (MROTT), to supply of marine safety systems.
Lifeboat and davit inspection, maintenance and recertification services
TFA is manned by fully trained and manufacturer certified service engineers that meet the needs of our clients in an efficient and professional manner. On call 24/7, we guarantee the deployment of our response Team at the earliest possible opportunity. Our services include:
Annual inspection and recertification of lifeboats and davit systems
Five-yearly overhaul and recertification of lifeboats and davit systems, inclusive of load testing of the required equipment
Commissioning of new lifeboats and davit systems
Load testing of lifeboats, launching appliances, gangways, accommodation ladders and cranes up to 35T SWL
Fibreglass repair
Familiarisation training on the release systems of lifeboats
Sale of marine safety equipment, ranging from manufacturer specified lifeboat and davit system spares, immersion suits, life rafts and survival equipment
An in-house system to assist owners/ managers around the world through our TechnoFIBRE network of 12 stations in 8 different countries
While we acknowledge and commend all companies who perform their own inspection on their lifeboats, davits and winches on a regular basis, how can you be sure that your in-house inspections cover all of the criteria recommended by the manufacturers or SOLAS? More importantly, IMO/MSC circ. 1206 regulations now require that annual inspections and five yearly overhauls be conducted directly by the manufacturer or by recognised and certified service providers.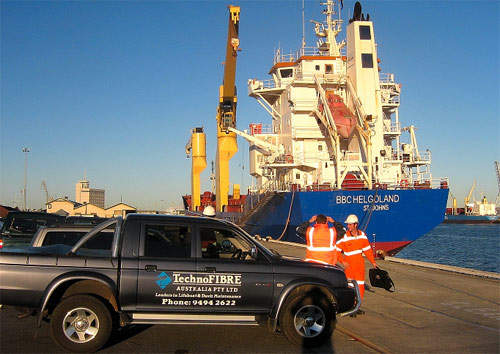 TFA offers efficient and professional MROTT services, with 24/7 availability and rapid response to our clients needs.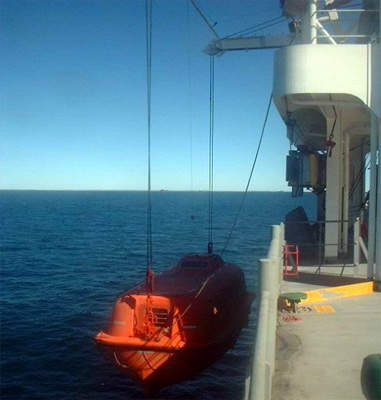 TFA carries out Lifeboat and Davit Annual Inspections, 5 Yearly Overhaul, Recertification and Commissioning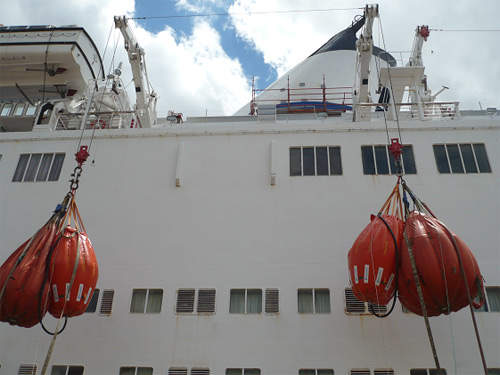 Load Testing of Tender Boat Davits on Cruise Liner.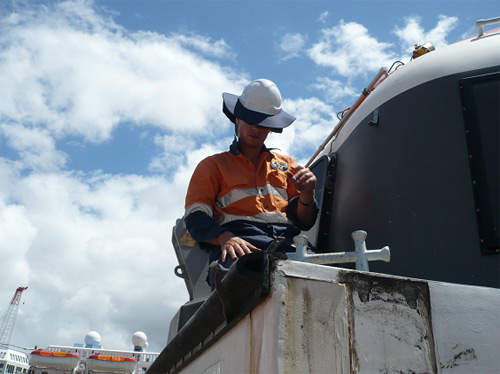 Fibreglass and General Repairs being carried out on a Tender Boat.
Marine safety systems inspection and consultancy services
TFA can perform the inspection and provide a 131 point checklist, established in close consultation with all recognised manufacturers and approved OEM suppliers. If remedial work is required, TFA's factory trained personnel can perform the repairs either offshore or onshore up to and including full refurbishments. TFA also has the capability to carryout Load Testing of your Lifeboats, Davits and cranes to ensure they meet the required standards.
Using only the latest equipment to perform inspections and testing work, we have our own Water Weights and Boat Kits to ensure professional results when proof-loading lifeboats, davits and onboard cranes.
Marine safety training courses
Recognising that training is the key to performing a quality service, all Service Engineers undertake an intensive 6 week in-house training course, with regular consolidation training. Direct manufacturer training courses are also provided to technical staff to ensure familiarity with the systems and staying up to date with manufacturer equipment.
Marine safety accreditations
TechnoFIBRE Group has attained MCA UK Accreditation since Mar 2007 (MCA Ref No. ILSTO 09), under MSN 1083 requirements. Additionally, TFA has also attained the following:
Certification by Lloyd's Register Asia as an approved lifeboat and davit systems service provider
Certification by ABS as an approved lifeboat and davit systems service provider
Listing as an approved lifeboat servicing organisation with the Bermuda Government (Dept of Maritime Administration's Marine Notice ROSC 28, Rev 04/07)
Listing as an approved lifeboat service provider with Port Authority of Marshall Islands
ISO 9001- 2008 rated by Bureau Veritas
About TFA
TFA was established in 2003 to service the needs of shipping and petroleum companies as well as their support fleets in Australia, New Zealand and the South Pacific Islands. The company works together with its twelve other TechnoFIBRE Stations worldwide to provide professional, efficient and cost effective service to all our clients. TF Australia has two stations to provide our service to the Oceania Region. Our first is headquartered in Perth, WA, to primarily support the shipping and oil and gas industry in Western Australia, the Northern Territories and South Australia. Our second Station is in Brisbane to service the shipping and cruise industry along the East Coast of Australia (Queensland, NSW and Victoria), New Zealand and the South Pacific Islands.