Ursuk
Immersion and Survival Suits for Personal Protection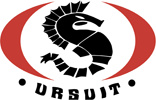 Address
Teollisuuskatu 34,
PO Box 15,
FI-20521 Turku,
Other,
Finland
Phone
Ursuk manufactures, imports and markets the Ursuit® line of immersion suits that are designed for extreme conditions in cold water and at rough seas. The Ursuit® dry suits are designed for continuous work and demanding usage on-board marine
vessels. Manufactured from a breathable three-layer material, the immersion suits are fit for long-term usage. Each suit is pressure-tested before delivery.
The Ursuit® immersion suits have the following approvals:
SOLAS 74, as amended, Regulation III/4
LSA Code (IMO Res.MSC.48(66), Regulation II/2.3)
IMO Res. MSC.81(70) Part III
EN ISO 15027-1:2001 Immersion suits – Part 1
EN ISO 15027-3:2001 Immersion suits – Part 3
When we design our suits, the most important aim is the user's safety and survival in all situations. Other important goals are the comfort and usage of the suits, achieved with design details and choice of materials.
URSUIT® 5020 II – IMMERSION SUIT FOR PERSONAL PROTECTION ON MERCHANT VESSELS
The non-insulated Ursuit® 5020 II is designed for demanding professional sea-faring conditions. Defence forces, sea rescue associations and merchant vessels in several European countries have chosen this excellent immersion suit, which is
particularly ideal for open sea conditions.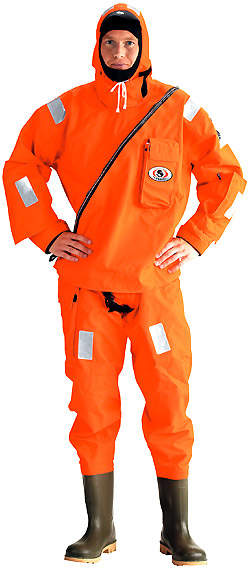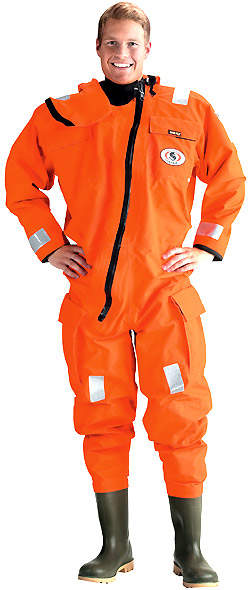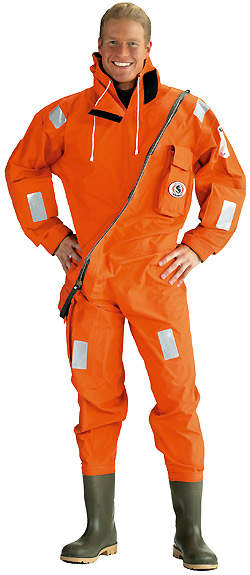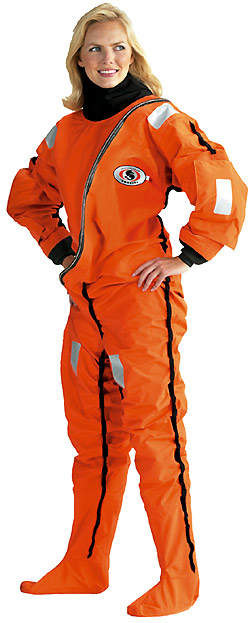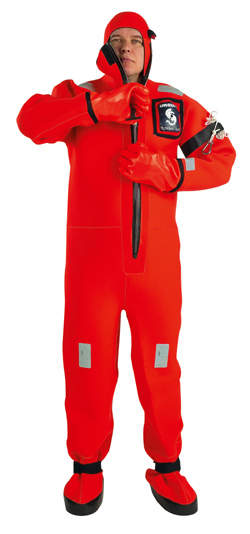 Some of the many features Ursuit® 5020 II has:
Gore-Tex® material fabric – lets vapour penetrate whilst remaining completely watertight
Double seam construction – ensures seam will not open even when worn
Neck seal – made from patterned 2.5mm super-stretch neoprene
Thermal hood – 3mm neoprene, protects against cold water
Reflective tapes, in accordance with the marine equipment directive
URSUIT® 5106 / 5108 IMMERSION SUIT
In contrast with other suits, 5106 MED has an revolutionary open light used dry zipper that makes it possible to use the suit also zipper open. The suit has same ergonomics than a normal overall.
Like the above immersion suit, this is made from Gore-Tex® fabric and has a double seal construction. The suit is equipped with several reflective tapes, which assure visibility in all conditions. These soft, durable reflective tapes have been
developed by 3M in accordance with the directive on marine equipment. The suit also comes with polyurethane boots with broad fitting and strong non-slip soles.
URSUIT® BASIC – WATERPROOF, PROTECTIVE MARINE CLOTHING
Made from permeable and durable X-Tex three-layer fabric, the Basic immersion suit features the double seam construction and reflective tapes of the above suits, as well as the thermal hood, neck seal, polyurethane boots and a dry zipper that opens
diagonally across the upper body, minimising the disadvantages of a heavy zipper when sitting and moving around.
URSUIT® ONE SIZE – ADAPTABLE IMMERSION SUIT
The One Size is a patented suit that adapts itself to the measurements of the user, so the need for different sizes is minimised. The immersion suit extends or contracts, depending on the size of the wearer. The smallest family members do not
have to be left onshore or be sent out to sea without adequate equipment.
The One Size is approved in accordance with the directive on marine equipment. It is also suitable for fitting personnel and passengers of various sizes on-board merchant vessels.
URSUIT® 5001 IMMERSION SUIT (ABANDONMENT SUIT)
This thermally insulated, flame-retardant neoprene immersion suit is designed for rescue situations at sea. It can be used as an abandonment suit for the crew of merchant vessels and open rescue boats, and as an isolated survival and rescue suit for
the crew on-board fishing boats.
The 5001 Abandonment suit features the following:
Glued and sewn seams
Reflective tapes – as per marine equipment directive requirements
One size fits persons up to 195cm
Oil-resistant rubber soles
Dry zipper
Chest pocket with Velcro fastener
Whistle
Thermal gloves with polyurethane surface
Neoprene hood with face seal
For more information, please contact:
Immersion Suits for Extreme Conditions
Ursuk Oy
Teollisuuskatu 34
PO Box 15
FI-20521 Turku
Other
Finland



Telephone Number




Fax Number




Email Address