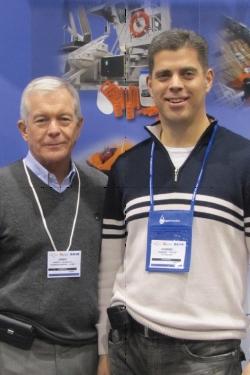 Comet's Canadian distributor DSS Marine has expanded by opening FitzWright Survival Incorporated in Vancouver, British Columbia.
FitzWright, based at 2459 Beta Avenue, in Burnaby, is well-known for its Marine and Aviation Immersion Suit Systems, but its strong client base will now have access to products sold through the DSS Group.
These include Comet marine distress signals, which are manufactured by Chemring Marine, the world's leading company in the sector.
The new base means that the DSS Group now has branches in Dartmouth (Halifiax), Nova Scotia; Mount Pearl (St John's), Newfoundland & Labrador; Montreal, Quebec, and Vancouver, British Columbia.
DSS Group President Darren Trites, says, "With our new West coast base we will be able to serve our existing customers much better.
"It has been part of our group plan to be coast-to-coast. We are looking forward to growth in all areas of our business in future.
"We appreciate our relationship with Chemring Marine in the basis for growth and the continued support they give us in promoting their products in the Canadian market."
Chemring Marine's America's Sales Manager James Chandler (pictured above with Darren Trites) helped DSS Marine on its stand at the recent Fish Canada/Workboat Canada show. February's biannual show was held at Moncton, New Brunswick, on the East Coast of the country.
DSS Marine President Darren Trites says there was lots of interest in Comet products at the two-day show. "This is an important show for us to market the brand and support dealers. There were a lot of fishermen there and we saw lots of activity on our stand. Comet marine distress signals are very well recognised in Canada. It was great to have James on the stand and we appreciate his continued support of our efforts in the Canadian marketplace."
DSS Marine, of Dartmouth, Nova Scotia, is part of the DSS Group of Companies and specialises in marine safety equipment and environmental response products. It strives to provide customers with the best products, services and prices.
Comet products have been helping to save lives for more than 50 years and are specified by the world's navies, merchant fleets, fishing vessels, rescue services, airlines and leisure craft.
Manufacturer, Chemring Marine, based in Fareham, UK, is part of the Chemring Group PLC and is the world's leading supplier of SOLAS, MED & USCG-approved marine distress signals to commercial and leisure marine markets.
The company is at the forefront of campaigning for improved global marine safety regulations, including introducing standardised rules on replacing dated safety products.