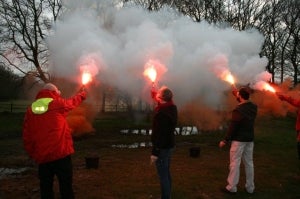 The world's leading supplier of marine distress signals, Drew Marine Signal and Safety, is donating flares to the Ocean Youth Trust South (OYT South), to educate young people about the importance of safety at sea.
The adventure sail training charity, OYT South, takes people aged 12-25 to sea in its 72-foot yacht, John Laing, to learn how to sail and practice vital life saving skills. Many of the young people supported by the charity are disadvantaged or vulnerable and have never been to sea before.
Among the marine distress signals donated to the charity are Pains Wessex Handflares, Lifesmokes and Manoverboards.
Commenting on the charitable donation, OYT South's Chief Executive, Mark Todd, says, "We aim to give young people an exciting adventure, which they will remember for a lifetime, but to also get them involved as active crew members onboard. Safety is a priority, especially at sea and we have an excellent safety record over more than half a century. If the time should come when we need to use distress signals, the flares generously provided by Drew Marine Signal and Safety could make the difference between life and death – what donation could be more valuable?"
Justine Healey, Managing Director of Drew Marine Signal and Safety says, "Safety at sea is of utmost importance for us and we are delighted to provide the Ocean Youth Trust South with marine distress signals. The charity does fantastic work with young people and we are extremely proud to support them."