Pomar Water provides solutions for treating distilled and potable water on marine vessels. Services include customised turnkey solutions for managing water, provided with engineering and maintenance support.
Reverse osmosis units for drinking, technical and process water
Designed to create drinking, technical, and process water, our reverse osmosis (RO) units offer a wide range of configurations so customers can select the best solution to meet their requirements.
Producing anywhere from 2m3 to 3,000m3 of water a day, the units can meet standard technical demands, as well as specific offshore, yacht, cruise vessel, and container ship demands.
Seawater and brackish water can be purified to meet World Health Organization requirements for drinking water.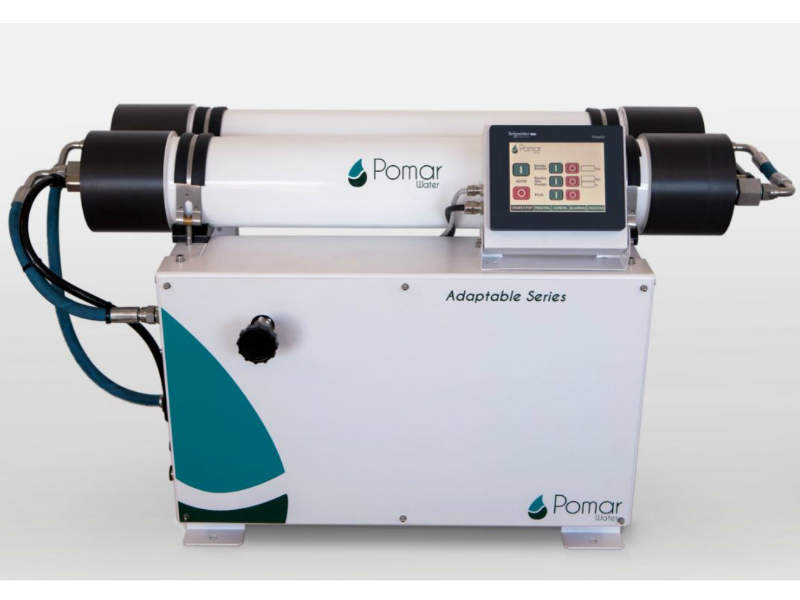 The reverse osmosis component purifies water on-board ships, making it safe to drink.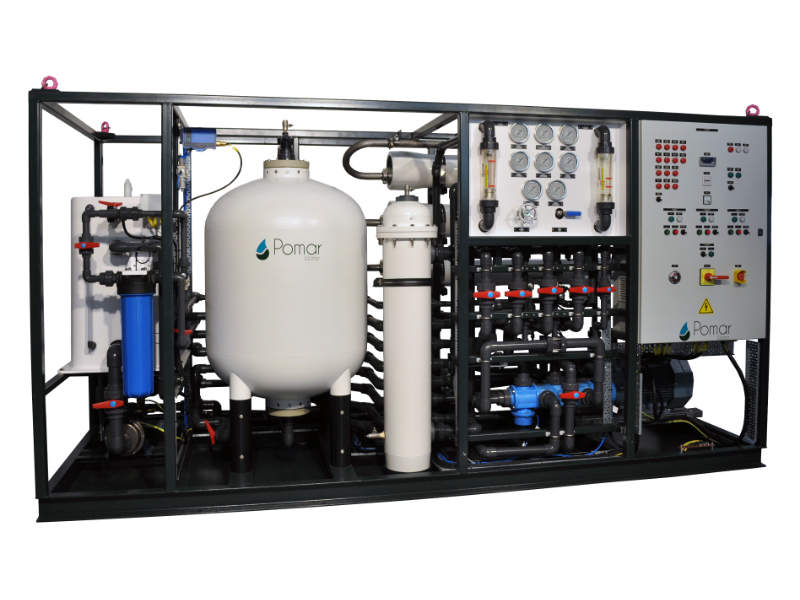 Modular reverse osmosis units are configurable with additional elements, including filters and high-pressure pumps.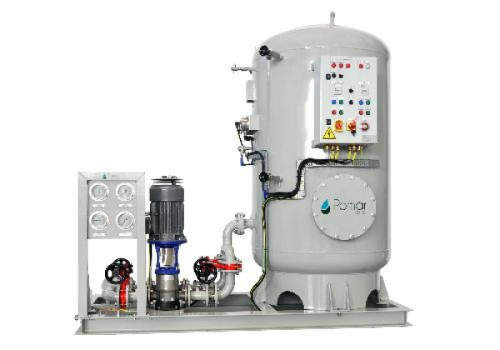 Hydrophores are available to store a vessel's water supply and maintain high-pressure.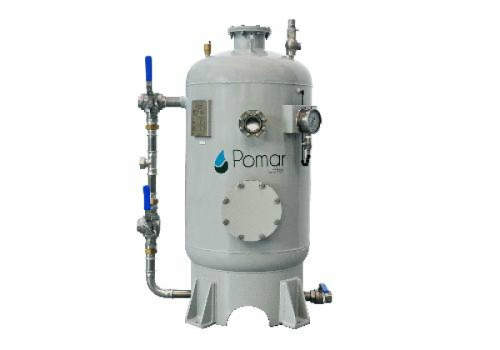 Mineralisers are used to provide ships with drinkable water.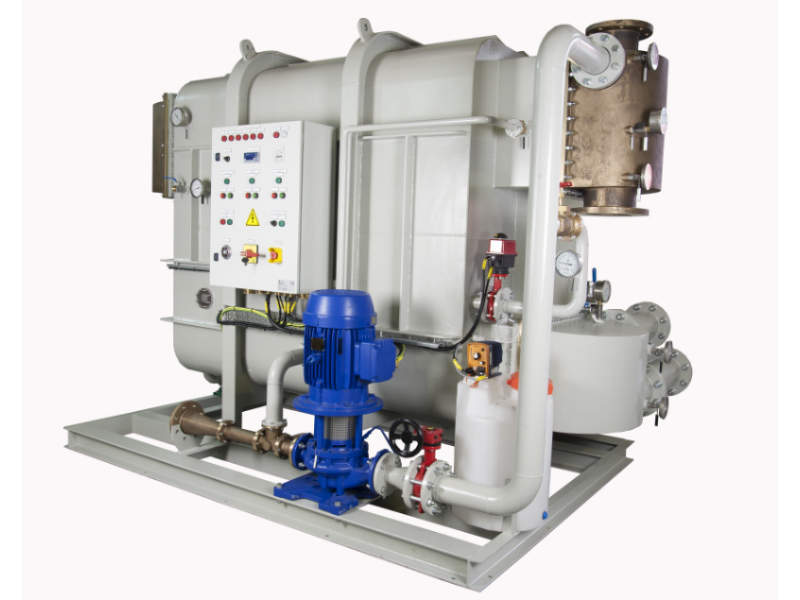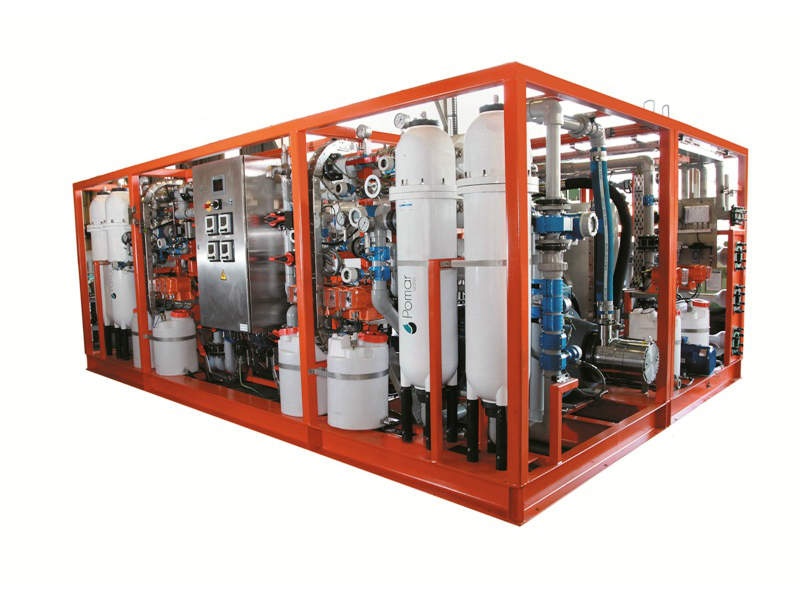 Modular osmosis machines are used to treat water on-board ships.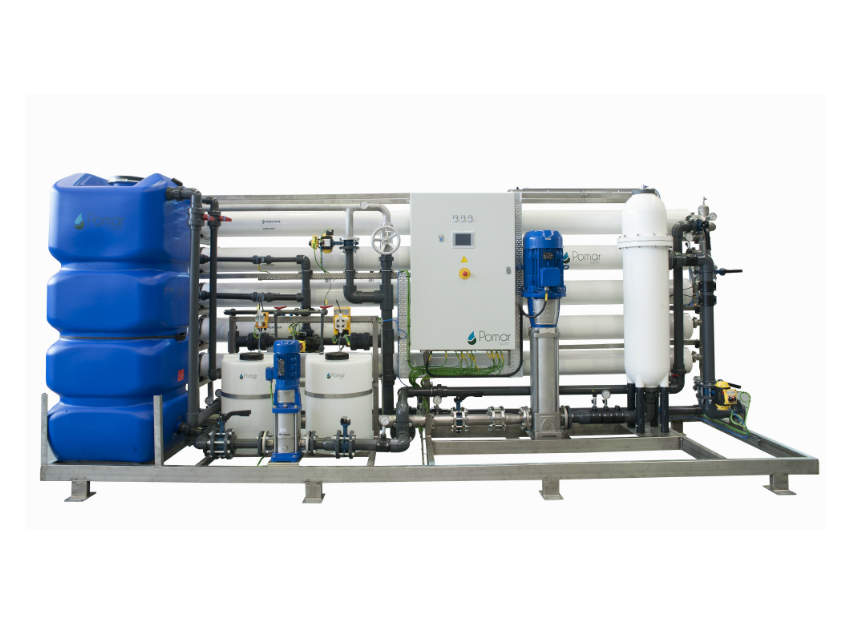 Pomar Water provides solutions for treating water for marine and offshore vessels.
Heat evaporators for distilled water
We provide vacuum waste heat evaporators to produce distilled water for ships. Made from corrosion-resistant copper and nickel, the distillers have a service-life of more than 30 years. Production capability ranges from 1m3 to 150m3 a day.
The Pomar Water PEV product line can use any waste heat source, including hot water, steam, and thermal oil. Distilled water produced in the evaporators has a total dissolved solids (TDS) value of less than five parts per million (ppm).
Our engineers design compact and robust units that efficiently provide distilled water at a low boiling temperature. To ensure the continuous thermal process, minimising the impact of salt scaling.
Distilled water can be mineralised or sterilised using our other products to produce potable water for ships.
Potable water mineralisers
Mineralisers are used to increase mineral salt content in distilled water to neutralise its pH and make it drinkable. This is also useful to minimise corrosion of the distribution system's pipelines.
The PRH product line combines both of these features, with stainless-steel filters that are equipped with gauges, safety valves, and pipes.
Hydrophore systems and sterilizers
Our stainless-steel hydrophores are suitable for storing freshwater and seawater and maintain a stable pressure, with a tank, pump and electric control panel included.
Tank capacity ranges from 100l to 3,000l, with varying pump capacities based on customer requirements.
UV sterilisers are available for customers that want to avoid treating water with chemicals. Standard units are capable of producing from 4m3/h to 20m3/h of sterilised water, with larger sizes available on request.
Sanitary water heaters
Calorifiers supply sterile hot water for ships, with an independent temperature switch in each electric coil to provide more control and efficiency.
Our water heaters are made from stainless-steel, with 50mm rock wool insulation and a thermostat. Tanks have 100l to 3,000l in capacity, supplied in parts or fitted in a frame with a pump and an electric control and monitoring panel.
Electrical coils and tubular bundles or a combination of both can be incorporated in the heater.
Antifouling systems for seawater circuits
Pomar Water has developed a copper-based electrolysis anti-fouling system for marine waste that can naturally block internal systems. The environmentally friendly solution prevents marine waste from growing inside pipes, which can reduce system efficiency and cooling performance.
Other materials such as aluminium and iron can be used in the system to increase the overall performance, helping eliminate corrosion. The housing is made of AISI 316L stainless-steel.
Our system includes a unique discharge manifold with flow transmitters, giving the operator a reading of the flow in each outlet for improved unit control.
Control platform for managing water on ships
The quality of potable water in bunkering, production, and distribution stages can be managed through our control systems.
They are designed according to United States Public Health Service and Norwegian Institute of Public Health regulations.
Another system has been developed to control all equipment used in water production and treatment. It provides a complete overview with accurate details on the quality, temperature, and pressure of water.
About Pomar Water
Pomar Water is an engineering and manufacturing company offering solutions for water generation and treatment for maritime and offshore industries.
Established in 2015, our team has more than 25 years of experience in the development of maritime, offshore, industrial and civil installation projects.
Headquartered in A Coruña, Spain, we operate with a network of distributors and collaborators, allowing us to work on vessels, platforms and on-land installations worldwide.