Salt Separation Services has been successfully designing and manufacturing seawater Reverse Osmosis (RO) desalination plants ('water-makers') and equipment for the cruise and shipping industries for over 15 years. We have gained a reputation in the industry for producing plants of the highest quality and reliability.
Our company has extensive design and development resources together with state-of-the-art manufacturing and testing facilities. We also provide complete installation, commissioning, refurbishment and serving / support packages.
Salt Separation Services have extensive knowledge and experience within the marine sector and are proud to be associated with many blue-chip clients throughout the cruise and shipping industry.
Reverse Osmosis desalination plants
Salt Separation Services can provide RO plants that range in size from 1m³/d up to 1,000m³/d. The company provides bespoke designs which fit your pre-determined parameters. The plants can be designed in such a way that they can be broken down to easily pass through ship's hatches and watertight doors for re-assembly in their final position.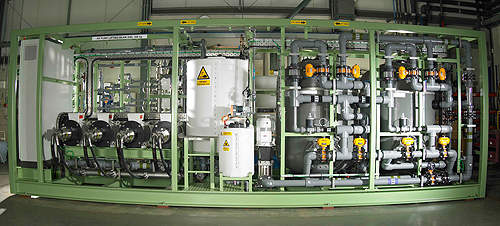 Example of a 450m³/d RO plant for a new-build cruise ship.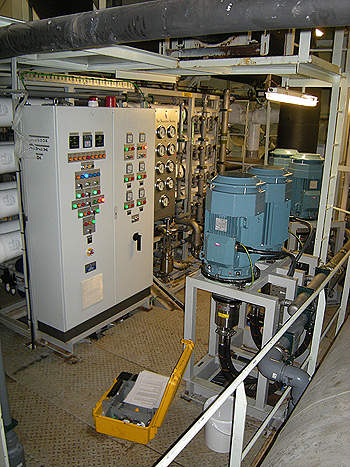 A 400m³/d RO plant retrofitted onto an existing cruise ship. All components designed and manufactured to fit through watertight doors.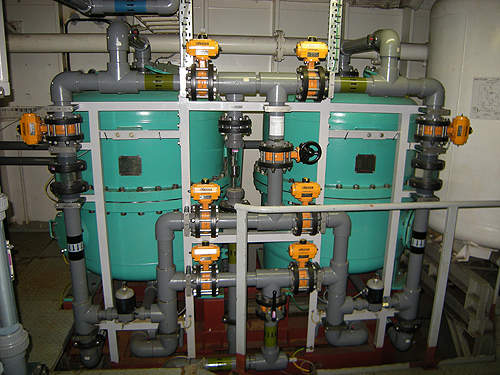 Pre-treatment media filters for a 400m³/d RO plant. The 1.2m diameter vessels were flanged to allow access through a hatch.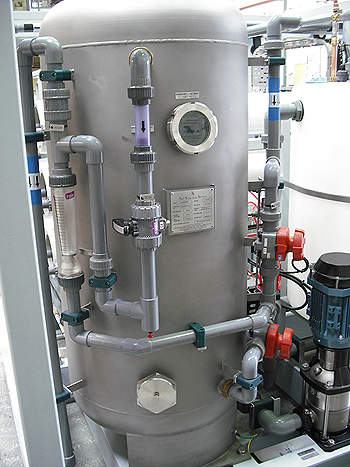 A stainless steel re-hardener (re-mineraliser) for the post treatment of RO permeate and evaporator distillate.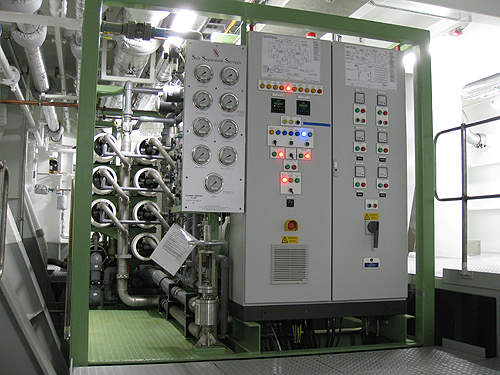 Control system of a 450m³/d RO plant on a cruise ship.
All of our manufacturing processes, assembly and testing is covered by our own internal standards which conform to BS EN ISO 9001:2008 In addition, third party inspection through Lloyd's Register (or any other body) can be undertaken if required.
Plants can be supplied either semi-automated or fully automated, dependant on customer requirements. All plants are fully factory tested prior to despatch, thereby reducing installation and commissioning time on-board ship.
Installation for manufactured desalination plants
Salt Separation Services provides a complete installation service for all manufactured desalination plants. Plants can be installed, either during dry dock periods or whilst the ship is on the move, this gives the client additional flexibility at the planning stage.
Installations are completed with minimum disruption to ship's activities. Salt Separation Services engineers have many years experience and are totally self-sufficient whilst on-board.
Commissioning packages for newly installed and refurbished plants
Salt Separation Services provides thorough and comprehensive commissioning packages, for both newly installed plants and refurbished plants from other manufacturers.  All commissioning activities are completed following stringent Salt Separation Services procedures.
Commissioning will be completed with the least disruption to the running of the ship. Our commissioning engineers have many years experience and extensive knowledge within the desalination industry.
Once commissioning is complete, our engineers can train staff in the effective operation and maintenance procedures for the plant.
Refurbishment of SSS manufactured and desalination plants
Salt Separation Services provides an extensive refurbishment programme which covers not only SSS manufactured plants, but also desalination plants from all other manufacturers. Refurbishment can take place either in our fully equipped and modern workshop facilities or in situ on-board the client's vessel.
All refurbishments are carried out by Salt Separation Services skilled and experienced engineering personnel. Refurbishments taking place on board a vessel will be achieved with the minimum of disruption to ship's operations. Our engineers have extensive knowledge and experience, gained within the field of desalination, and are fully self-sufficient whilst on board, with regards to tools and test equipment.
Therefore, if you have a RO plant onboard that is proving to be un-reliable or expensive to run, our servicing and commissioning engineers can attend the vessel to carry out a detailed inspection and evaluation of your existing plant. Once our engineers return a comprehensive report and quotation would be issued advising the best way to improve reliability and performance of the plant. In most instances we can upgrade the plant utilising existing equipment to keep costs down and in some cases reduce any disruption.
On-board servicing for Reverse Osmosis plants
Our company provides an extensive servicing programme which covers not only Salt Separation Services RO plants, but other manufacturers, RO equipment. Servicing will take place on-board the vessel at a time to suit the client's programme and can be carried out at any location throughout the world.
All servicing is carried out by our specialist service engineers who are very knowledgeable in the practice of servicing RO equipment. Any servicing taking place on-board a vessel will be achieved with the minimum of disruption to ship's operations. Salt Separation Services offers a 24-hour emergency helpline and aims to mobilise engineers to site (anywhere in the world) within a 48-hour window.
Plant spares, consumables and special tools
Salt Separation Services is your one stop shop for all your RO plant spares and consumable needs. We also supply from stock a full range of cleaning chemicals, anti-scalant and dosing chemicals, replacement filter elements, and a wide range of RO membrane elements. Our company also have a range of special tools designed specifically for RO plant maintenance.
In addition, we also supply a wide range of dosing equipment, pumps and pump spares from the world's leading manufacturers along with all your instrumentation requirements such as conductivity, pH, flow and pressure.
Water treatment processes
Additional water treatment processes can be undertaken by Salt Separation Services. These include potable water re-mineralisation (re-hardening), potable water chlorination, water quality monitoring (including latest generation solid-state water quality parameter monitoring and recording).