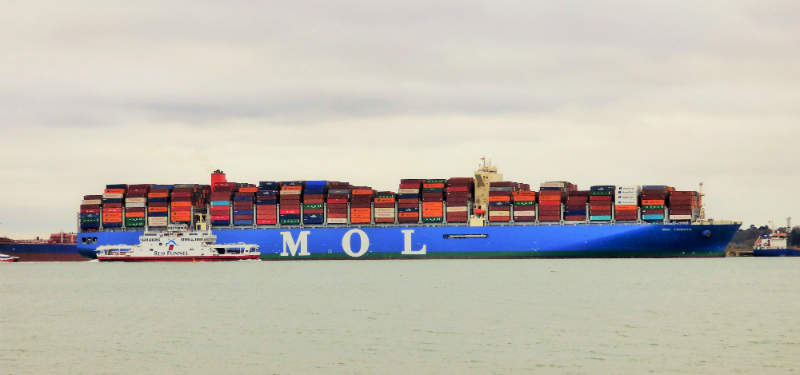 The International Maritime Organization's (IMO's) fuel sulphur regulations, autonomous ports and ships, and cyber security and risk management proved hot topics for the shipping industry during 2017.
With regulatory deadlines looming, technology continuing to advance, industry players becoming more open to change and hackers getting ever more sophisticated, these issues are set to get hotter still in the next 12 months.
Yet with more questions than answers surrounding the practicalities of complying with the IMO's fuel rules and the shipping industry still relatively slow in its acceptance of new technologies and business models, developments are likely to be incremental rather than monumental in 2018.
Moving towards a decarbonised future
The biggest trend currently impacting the shipping sector is its move towards a fully decarbonised future, according to Simon Bennett, director of policy at the International Chamber of Shipping (ICS). "It's going to be a very long time before it's actually delivered in practice but rather than seeing it as an unrealistic pipe dream, most people in the industry now recognise that this is inevitably the direction in which we're moving," he says.
"The most immediate concern for shipping companies is the IMO's 0.5% fuel sulphur limit."
The most immediate concern for shipping companies is the IMO's 0.5% fuel sulphur limit, which will come into force in January 2020. While the industry supports the legislation's goal – to significantly reduce the amount of sulphur oxide emanating from ships – there are many unanswered questions around its implementation, leaving shipping companies uncertain about the best way forward.
How much will fuel prices increase? Will oil refiners be able to supply adequate amounts of the fuel that's going to be needed? Should owners be considering installing scrubbers? How practical are these systems? Which fuels will be available at which ports?
At the ICS, the main focus is on ensuring the global cap is actually going to be implemented worldwide and maintaining a level playing field.
The organisation has also been encouraging the IMO to develop a meaningful overarching strategy to address CO2 emissions from shipping, which can reconcile the need for ambitious long-term objectives with the industry's current dependence on fossil fuels, while also taking full account of shipping's important role in the sustainable development of the world economy.
"If they don't do it then somebody else will do it for them, so we'll face the danger of regional regulation," Bennett explains. The IMO's strategy should be finalised by April 2018.
Automation and digitisation
No discussion of the current state of the shipping industry would be complete without a mention of automation. Unmanned engine rooms have been around for many years, e-navigation has been a focus of both the IMO and the ICS for over a decade, more and more container terminals, including LA and Qingdao, are fully automated, and several companies are working on fully autonomous vessels.
So what can we expect in the next 12 months? According to the ICS, incremental evolution. While autonomous 'robot' ships may be the final level of automation, it is unlikely, given the current levels of 'pull' from shipowners, that they will become commonplace any time soon. In the meantime, the biggest challenges the industry needs to address are ensuring that personnel are equipped with the competence and skills to work effectively with automated systems and that the systems are designed to work effectively with them in a positively reinforcing combination.
"There are certainly signs of an industry shift towards embracing digital solutions."
That said, there are certainly signs of an industry shift towards embracing digital solutions. A survey carried out by the Business Performance Innovation (BPI) Network, in coordination with technology provider Navis, found that although the sector is suffering from costly inefficiencies due to ineffective data sharing and poor cross-industry collaboration, change is coming: 46% of respondents said their companies were either investing significantly in new technologies or significantly increasing those investments.
For Navis's part, chief technology officer Raj Gupta has seen increasingly rapid uptake both of its terminal operating system N4, as well as its collaboration platform XVELA, which allows terminal operators and carrier companies to exchange information in a single cloud application. "Traditionally, companies in this sector have been very slow in adopting new technology, but they now see the value of using technology to combine different parts of their operations and share information much more seamlessly," he says.
As more carriers and terminal operators invest in systems like this, and pressure increases from end customers, shippers and importers to get better visibility on where their shipments are in the supply chain, a shift is inevitable, according to BPI Network's director of thought leadership, Dave Murray. "There are going to be a number of pressure points that come together to push the industry forward, and the operators, carriers and the shipowners who are slow to change potentially are going to find themselves threatened with obsolescence," he predicts.
Cyber security and risk management
One of the key challenges that comes with increased automation and digitisation is the vulnerability of the shipping sector to cyberattacks. Today, ships are reliant on a range of electronic devices and software systems to operate, including complex cargo management systems, automatic identification systems (AIS), global positioning systems (GPS) and electronic chart displays and information systems (ECDIS). And, as companies invest more in digital systems, the list will only increase.
"At present, most insurance policies covering ships include a cyberattack exclusion clause."
Over 2015, 2016 and 2017, the industry has started placing more focus on this issue, with the development of guidelines and the establishment of working groups. These include the IMO's Interim Guidelines on Maritime Cyber Risk Management and the Guidelines for Cyber Security Onboard Ships, produced by BIMCO, ICS and other organisations. The industry has also been participating in the International Association of Classification Societies (IACS) Cyber Systems Joint Working Group to develop recommendations relating to the implementation of cyber systems on board ships.
For 2018, one of the most pressing issues to address will be insurance. At present, most insurance policies covering ships include a cyberattack exclusion clause. And although the insurance industry is starting to respond to this issue, the ICS is continuing to advise shipowners to press for the removal of cyber risk exclusions from their commercial marine insurance policies.