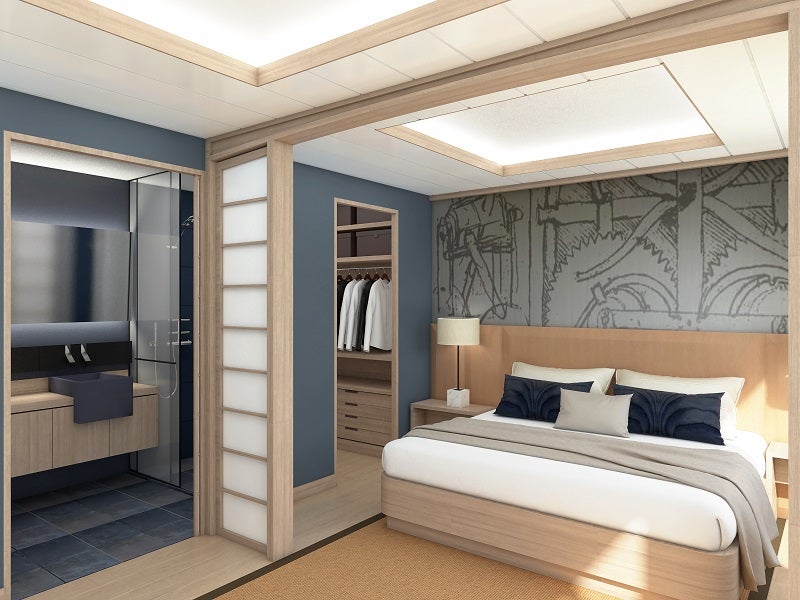 At the start of 2020, forty permanent residences will be available to buy on the world's first wellness-dedicated luxury cruise ship. A further 225 staterooms will be marketed to those interested in "active lifestyle cruising". Aimed at active, athletic adults, new cruise line Blue World Voyages is placing this unique travel offering at the cross section of the exploding cruise and wellness tourism markets.
According to research by the Global Wellness Institute the wellness tourism market is expected to reach $919bn in 2022, growing twice as fast as the tourism market.
Wellness tourism consumers are spending 53% more than the average tourist and are seeking new and diverse ways to experience wellness, which is creating high-end opportunities in travel, especially in cruise as the market continues to grow.
Having a smart financial model is clearly crucial to a such a bold project – especially when Blue World Voyages envisages running a three-strong fleet of wellness-dedicated luxury ships in five years' time. To make it work, Founder and Chairman Gene Meehan knew that building a new vessel, which could cost $500,000 at a time when shipyards are fully booked anyway, was a no go.
He believed that buying an existing ship that had been operating for around 20 years, with a length of 700 feet and 50,000 gross tonnes, and which could accommodate the planned facilities, plus 525 passengers, was the best direction to take.
In with the old out with the new
"We will spend about $75m on the refit," says Fredy Dellis, co-founder of Blue World Voyages and Acting CEO. Dellis was also the CEO of The World, the only luxury private residence ship in the world. Dellis built the management team, raised the financing and then marketed and sold $200m of private residences to ultra-high net worth individuals before the ship was delivered.
"At the top of the vessel we will completely gut four decks: two are for the 40 residences for the owners; one is for all of the sports facilities and equipment; and one will be for the spa activities," he explains.
"The future owners of the 40 residences are high net worth individuals who want to follow a wellness lifestyle at sea."
The rest will include staterooms and other facilities you expect on a cruise ship, including four different restaurants.
The future owners of the 40 residences are high net worth individuals who want to follow a wellness lifestyle at sea ("active lifestyle cruising"). It targets what the Global Wellness Institute shows as an evolvement in what people desire on a holiday. Instead of unhealthy overeating, poor sleep and excessive drinking, the focus is on rest rejuvenation, healthy lifestyles and disease prevention, as well as having a genuinely transformative experience. Blue World Voyages has the cruise industry's first VP of Wellness planning the onboard and on shore active lifestyle opportunities.
Personal transformative experiences are often based on the connections people make when they travel – and Dellis says this is one of the major selling points for interested buyers of the 40 residences, because everyone on board is likeminded and passionate about wellness.
"It's creating an atmosphere on board and on shore of people who have common interests in terms of getting regular exercise, looking for good food, but at the same time discovering new destinations," he says, adding that they have launched a website for potential buyers to register their interest in the 40 apartments at blueworldownersclub.com. So far there are 300.
The appeal behind owning on board
But why is the ownership of financial interest to such high-net-worth individuals? To understand it might be easier to compare the approximate costs with how much it would cost to retire on a non-luxury, standard cruise.
By breaking down how much an average cruiser spends on board on an average cruise, Cruise Market Watch pitches that figure at $212.80 (with $161.26 ticket price and $62.16 on board spending over an average cruise duration of eight days). Using these figures, a year on a cruise ship would cost $77,380 and so twenty years would cost $1,547,600 (£1,266,710.60).
The £1m cruise from SixStarCruises announced its 123-day luxury cruise as "the most luxurious holiday in the world". It does include private transfers and tours, but to spend one year on this luxury cruise would cost £3m ($3,665,241).
The one-bedroom residence on board Blue World Voyages costs $2,350,000 and a two-bedroom from $3,350,000 for a 25-year term. All the furnishings and fittings are included in the price as well as access to the fitness facilities and activities on board.
"Owners need to pay a yearly maintenance fee which starts at around $200,000."
Owners also need to pay a yearly maintenance fee which starts at around $200,000 for the one-bedroom properties. Dellis says, however, that in his experience from The World, most people don't stay on board, even with friends and family coming on, for more than four-to-five months of the year. In response they will offer a rental programme for 22-23 weeks of the year that Blue World will manage, which will cover the maintenance fee for owners.
Dellis says the residences are also an important part of the funding structure. "Selling 40 residences will raise a gross amount of $180m (after cross marketing commission and so on it would be about $107m)," he says, adding that it will all go into escrow and would only be released at the time of the delivery of the vessel and apartments. "There is protection as far as the owners are concerned."
Media partners help target active lifestyle cruisers
Once the vessels were identified, Meehan set up partnerships with a range of active lifestyle media brands, such as Outside magazine's Outside Integrated Media.
"We hope that we're going to be able to close the equity transaction this side of the year."
"Together they represent more than 20 million subscribers and readers and already helps us to do a lot of public relations by publishing editorials about our project," says Dellis. "That in itself is already creating a huge follow up, mainly in the States, but we're expanding in Europe. We will pay a 10% commission whenever one of their subscribers cruises with us, so it's an interesting financial reward for those media partners."
Dellis says that they will be ready to negotiate the final purchase of the ship as soon as they've completed an equity raise for the project, which is $48.5m. Over the last few months they he and Meehan have been working with an investment bank in New York.
"We hope that we're going to be able to close the equity transaction this side of the year, so right now we're at a very critical period," he stresses.
"If everything moves according to plan, then we will start to sell the residences and be ready to open in the second quarter of 2021."