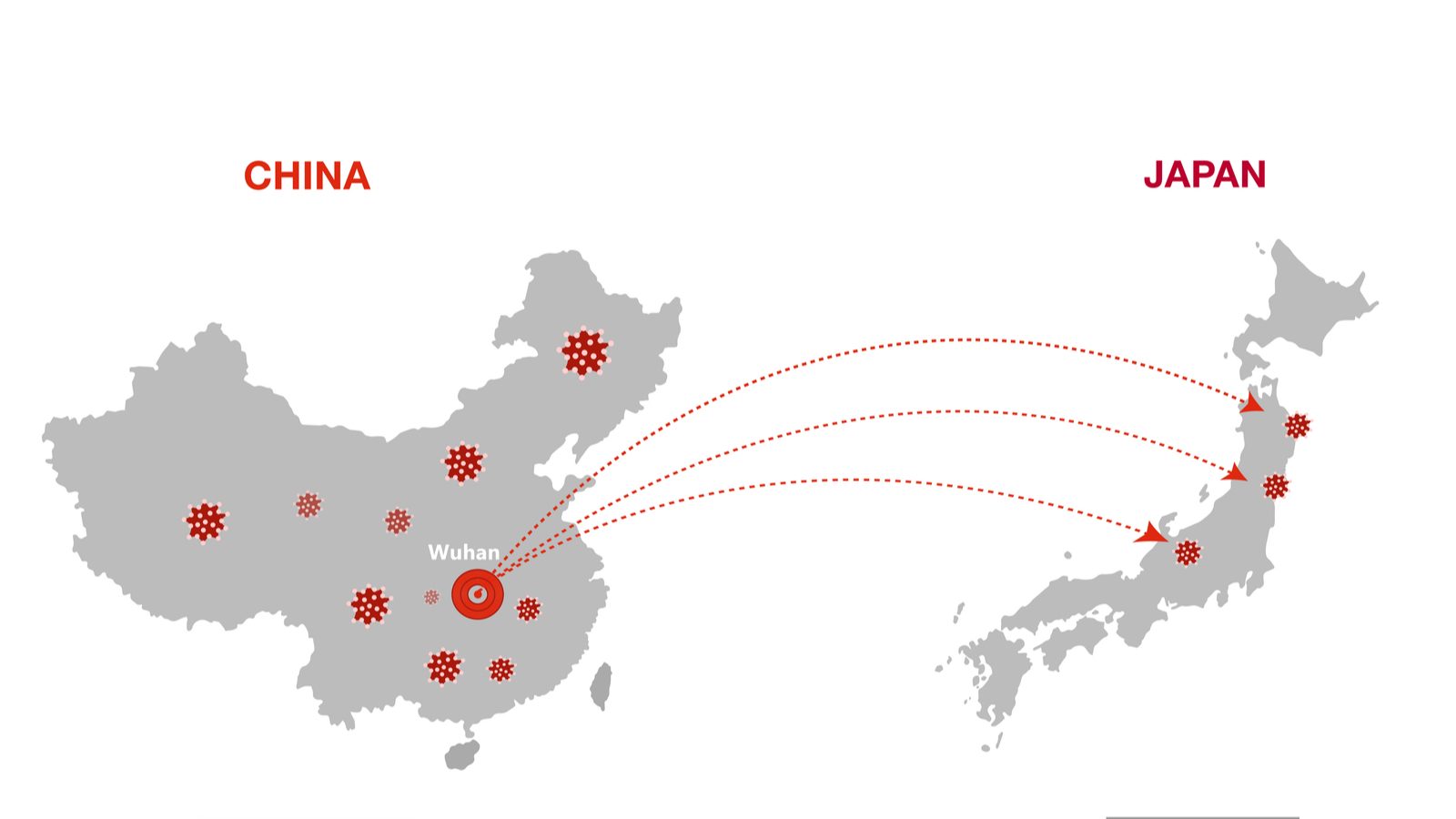 ---
Visit our Covid-19 microsite for the latest coronavirus news, analysis and updates
GlobalData's latest Coronavirus Influencers dashboard is now live on Pharmaceutical Technology and it enables you to track the latest developments related to the coronavirus outbreak and follow twitter activity of leading influencers on the epidemic.
---
Follow the latest updates on coronavirus outbreak:
Coronavirus outbreak: Full list of the affected countries
Coronavirus-affected countries: South Korea Singapore Malaysia China Thailand UK Philippines  India
Countries with suspected coronavirus cases
Coronavirus on cruise ships: Measures and impact on tourism
Coronavirus safety measures at world airports
Vaccines/drugs in the pipeline for coronavirus prevention and treatment
---
Japan coronavirus update: Confirmed cases and deaths
Japan's coronavirus cases are 1,866 as of 30 March along with 74 deaths, while 712 cases have been reported among the guests on the Diamond Princess cruise ship anchored at Yokohama Port. The government is setting up a crisis task force, as cases in Tokyo has been increasing.
Japan was the second country to report a confirmed coronavirus case outside China. The first coronavirus Japan case was reported on 16 January 2020.
Japan earlier had the third-highest number of coronavirus cases in the world outside China, the majority of them being on the Diamond Princess cruise ship.
Ten deaths have been reported onboard the cruise ship.
Coronavirus on Diamond Princess cruise ship
Japan coronavirus numbers in the confirmed category increased with the guests on Diamond Princess catching the disease.
The first coronavirus case on Diamond Princess was reported on 1 February in a guest who disembarked on 25 January in Hong Kong. The guest had embarked the vessel in Yokohama on 20 January.
The ship had 2,666 guests, Japanese constituting approximately half of them, and 1,045 crew at the time of the quarantine.
Passengers not infected by the virus and having no symptoms of the disease have been allowed to disembark from the ship from 19 February.
Coronavirus safety measures by the Japanese government
Japan currently experiences cold climate with temperatures falling below 0° making infection control difficult.
The Japanese government, through its Ministries, has announced measures to contain the spread and reduce the impact of the epidemic, such as closing schools and restricting inbound travel from coronavirus-affected countries. The 2020 Olympics planned to be held in the country have been postponed to 2021.
However, Japan is being criticised widely for its insufficient measures. The US expressed concerns for its citizens on Diamond Princess and wanted to evacuate them.
Evacuation of Japanese from Wuhan
By 17 February 2020, Japan evacuated more than 800 of its nationals from Wuhan city and Hubei province in five special flights.
Entry ban on foreigners
Foreigners, who travelled to the Chinese provinces of Hubei and Zhejiang within 14-days of their arrival in Japan, are banned entry into Japan. Further, foreigners holding passports issued by the two provinces are denied entry into Japan.
The ban on those with a travel history to Hubei province was implemented first, from 01 February, and extended to include Zhejiang province starting 13 February.
In addition, foreigners disembarked from the MS Westerdam cruise ship that is docked in Cambodia were denied entry into Japan temporarily.
Japan has extended the travel ban to foreign citizens from the US, China, South Korea, Iran and 21 European countries.
Measures by airports and airlines
Japanese airports are recommending travellers with fever and cough to wear masks. Frontline staff at airports is being encouraged to wear masks to prevent spread and infection.
Door knobs and handrails in the airport terminals are being disinfected and cleaned frequently at both domestic and international airports.
Airlines such as Jetstar are encouraging cabin crew and ground staff to wear facemasks and gloves.
Coronavirus impact on Japan
The Japanese economy is showing signs of slowdown with the GDP having fallen for the first time in five quarters, in Q4 2019, at an annualised 6.3%.
The Japanese GDP growth recovered since 2016 after a significant fall between 2012 and 2015. Coronavirus may cause the GDP to fall further in the first quarter of 2020.
Coronavirus impact on the Japanese economy and trade
Coronavirus is expected to further limit the Japanese economic growth prospects in 2020, at least in Q1. The government is planning to announce a stimulus package worth approximately 10% of the country's annual economic output or 56 trillion yen ($503bn) to handle the impact caused by the coronavirus pandemic. The package will include cash payouts of up to 300,000 yen to households whose income had fallen due to the outbreak.
Machinery and electronics, transportation and chemicals have a major share in Japan's trade with the rest of the world. The coronavirus impact on China and other countries dependent on China for trade would result in a further fall in Japanese trade in 2020.
China accounts for half of Japan's Asian exports and imports. Lower production due to factory shutdowns and reduced demand could affect Japan's trade in Asia.
Japan's trade with China, both exports and imports, fell resulting in trade deficit in January 2020. The exports and imports fell by approximately 5% each in 2019 after witnessing growth in 2017 and 2018.
Companies Europe, which is Japan's biggest trade partner, have operations dependent on supply chains in the coronavirus-affected countries. Impact on such companies would have a ripple effect on Japanese trade with Europe as well.
Coronavirus impact on travel

Apart from Mainland China, Japan receives a high number of visitors from coronavirus-affected countries including South Korea, Taiwan, Hong Kong, Thailand, Singapore, Malaysia, and the Philippines.
Tour cancellations from these countries are expected to cause a significant drop in foreign visitors to Japan in Q1 2020.
Foreign visitors to Japan already declined by 1.1% in January 2020, compared to January 2019. A 59.4% fall in visitors from Korea was offset by an increase in visitors from Hong Kong, Singapore, Malaysia, Philippines and Vietnam, which witnessed 33%-42% growth.
A similar offset is unlikely in Q1 2020 due to the prevailing coronavirus outbreak.
Japanese airlines feel subdued demand
The revenues of Japanese airlines will be hit due to the coronavirus outbreak.
Flag-carrier Japan Airlines cancelled multiple flights in routes connecting Chinese cities of Beijing and Shanghai, and South Korean cities of Seoul and Busan. It also reduced frequency in routes connecting Taiwanese capital Taipei, Hong Kong, and Chinese cities of Tianjin, Guangzhou, Dalian and Shanghai, up to 28 March.
Japan Airlines has admitted that the cancellations would affect its revenues if the outbreak stretches further.
Another airlines Jetstar Airways cancelled certain flights from Narita international airport to Hong Kong and Shanghai citing demand declines due to novel coronavirus.
Coronavirus impact on tourism

The coronavirus outbreak is expected to cause $1.29bn in revenue loss for Japanese tourism just in the first quarter of 2020, according to initial estimates by the International Civil Aviation Organization (ICAO), a United Nations Agency.
The estimate is limited to just the impact caused by a reduction in air passengers from Mainland China alone and doesn't include air cargo and other revenue losses.
The losses would be higher if marine tourism and travellers from the rest of the world such as Hong Kong, South Korea and the Philippines are considered.
Disney announced that Tokyo Disneyland and Tokyo DisneySea are being closed between 29 February and 15 March as a precautionary measure to prevent coronavirus spread.
The number of tourists visiting Japan fell by 58.3% in February, the biggest decline in nine years, due to the travel restrictions implemented by the government to prevent the spread of COVID-19.
Chinese tourists account for 30% of the country's overseas visitors. The number of tourists from China declined by 87.9% in February compared to the same period in the previous year.
The decline in tourist numbers is expected to continue over the next few months as the government imposes strict restrictions on the entry of people from China and European countries to control the spread of the disease.
Coronavirus impact on Japanese companies and businesses

Pharmaceutical companies in Japan currently don't foresee any impact on their supply chains due to the coronavirus. Companies from other industries, however, are being affected.
Japanese automobile companies Toyota and Mazda closed their Chinese operations temporarily during the coronavirus outbreak period. The production has been resumed partially since the third week of February. Car production is estimated to fallen by 86% in February.
Similar is the case with another automaker Honda, which closed three of its plants in Wuhan, extended the closure up to the third week of February, as reported by Reuters.
Duty-free retailer Laox is reported to be asking its employees aged 40 and above and working for at least two years with the company to opt for early retirement due to the fall in in-bound tourists to Japan.
The Japan Department Stores Association noted that sales at department stores in the country fell by 12.2%, when compared to the previous year. Several stores experienced a decline in sales between 40% and 80%.