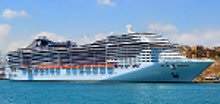 French shipyard STX received an order worth nearly $4.5bn from MSC Cruises to build four new liquefied natural gas (LNG)-powered cruise ships that will weigh more than 200,000 gross tonnes.
The recent order, which is said to be part of MSC Cruise's ten years investment plan, spanning from 2014 to 2026 to procure 11 next-generation ships, raised the total investment amount to nearly $10.2bn.
STX France will provide their engineering and production capabilities to build the four Meraviglia class ships.
Genting" class="thirdleft" src="https://www.ship-technology.com/wp-content/uploads/image-digitalinsightresearch/Archive/nri/ship/Genting%20text.jpg">
Genting Hong Kong completed the acquisition of Nordic Yards' three shipyards in Wismar, Warnemunde and Stralsund, Germany for a consideration of about €230.6m.
The acquisition is expected to add to Genting's core expertise, manpower, fabrication capacity and covered drydocks to construct a global cruise fleet for its three brands; Crystal Cruises, Dream Cruises, and Star Cruises.
Genting Hong Kong chairman and CEO Tan Sri Lim Kok Thay said: "We are pleased with the completion of the transaction as ownership of the yards provides certainty that we can build a fleet of high quality cruise ships at a pace dictated by our growth rather than constrained by supply as cruise ship order book continues to reach all-time highs, with orders placed as far out as 2026, ten years from now.
The US National Transportation Safety Board (NTSB) announced that the sunken cargo ship El Faro's voyage data recorder (VDR) was found in 15,000ft of water, 41 miles northeast of the Acklins and Crooked Islands, Bahamas.
A team of investigators and scientists used remotely operated undersea search equipment to locate the VDR.
The investigative team consisted of specialists from the National Transportation Safety Board, the US Coast Guard, Woods Hole Oceanographic Institution, and Tote Services, the owner and operator of El Faro.
India declared plans to fortify its position in the global maritime sector, with a $15bn port development plan at the Maritime India Summit.
Called Sagarmala, the project will facilitate the upgrade of the Indian ports and intergrate them with special economic zones (SEZ), port-based smart cities, industrial parks, warehouses, and logistics parks.
The port development programme will feature 250 projects, with investment opportunity in the maritime sector, including different infrastructure development opportunities in 12 Major Ports projects, in eight maritime states and other agencies.
Italian shipbuilder Fincantieri secured a €422m contract from Norwegian Cruise Line (NCL) to build the sister ship of Seven Seas Explorer for its Regent Seven Seas Cruises (RSSC) brand.
Scheduled to be delivered in 2020, the Explorer-class vessel will follow RSSC's super-luxury cruise ship Seven Seas Explorer, which is under construction and is expected to be launched this July.
The new vessel is said to replicate most of the features and amenities that are incorporated into the latter ship.
Hundreds of migrants attempting to reach Europe are feared to have drowned when an overcrowded repurposed fishing boat sank off the Libyan coast.
According to 41 survivors, up to 500 people were drowned, although coastguards have not confirmed this figure, reported the BBC.
The survivors departed from the eastern Libyan city of Tobruk last week
Shipping container lines CMA CGM, COSCO Container Lines, Evergreen Line and Orient Overseas Container Line signed a memorandum of understanding to create the Ocean Alliance, to enable the companies to offer competitive products and comprehensive service networks.
The comprehensive networks will cover the Asia-Europe, Asia-Mediterranean, Asia-Red Sea, Asia-Middle East, Trans-Pacific, Asia-North America East Coast, and Trans-Atlantic trade routes.
Under the alliance, the shipping companies will offer fast transit times, competitive sailing frequencies, and extensive port coverage to customers.
Brazil's container terminal, Terminal de Containeres do Paranagua (TCP), secured an approval on a contract extension of its investment plan, worth $310m, with Secretaria de Portos (SEP), the administrative body of the Brazilian Government.
The programme is said to be a part of an early renewal proposal of the terminal's concession contract for another 25 years, beginning in 2023, subject to the new regulatory frame of the port sector.
During the initial phase of the project, $154m will be invested to expand TCP, which will include extending the pier by 220m to 1,100m in quay length, construction of dolphins to be used exclusively for the operation of vehicle carrier vessels, and the enhancement of the terminal's yard area from 320,000m² to 500,000m².
Rolls-Royce revealed its vision of remote and autonomous shipping through the findings of its advanced autonomous waterborne applications initiative (AAWA) at a conference at Helsinki's Finlandia Hall.
The project is said to facilitate a constant real-time monitoring of vessels across the world to allow a better connection of the ships with the logistics or supply chains, subsequently paving the way for cost-savings, providing a boost to revenue generation.
The implementation of the project is expected to give rise to new shipping services, such as online cargo service marketplaces, more efficient pooling and leasing of assets, and new alliances.
Norwegian University of Science and Technology's (NTNU) private enterprise Eelume signed an agreement with Kongsberg Maritime and Statoil to develop swimming robots for subsea inspection and light intervention in order to reduce the use of large and expensive vessels.
For more than ten years, NTNU and Sintef conducted research on snake robotics. Eelume is currently developing a disruptive solution for underwater inspection and maintenance in the form of a swimming robot.
With a snake-like form, the slender and flexible body of the Eelume robot will be able to gain access to confined areas that are difficult to access with existing technology.