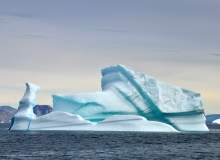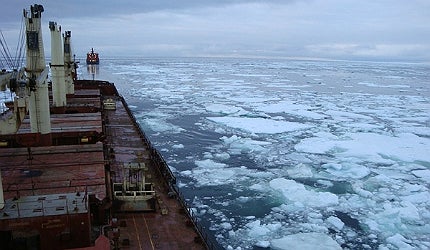 Arctic sea-ice reached a record new, all-time low in 2012, according to Nasa, with sea ice covering only 1.58m square miles (4.1m square km) compared to the previous low of 1.61m square miles (4.17m square km) recorded on 18 September 2007. During the last three decades, satellites have observed a 13% decline per decade in the summertime minimum.
"Seafarers have long dreamt of an Arctic sea lane, linking Europe and Asia in a voyage around half as long as the traditional route."
It all fits into a now well-established pattern, which in recent years has seen both Canada's Northwest Passage and Russia's Northern Sea Route (NSR) open simultaneously for the first time in recorded history, and it is one that seems set to continue.
According to the NSIDC, although changeable atmospheric conditions naturally cause the extent of Arctic sea-ice to vary from year to year, during the last 30 years it has undergone a dramatic overall decline – decreasing at a rate of around 11.2% each decade.
The thaw could be about to open up new sea routes across the top of the world, and, some suggest, potentially change the global shipping map forever.
Ice-free summers: predicting climates
"What is being predicted from climate models is that the Arctic will become sea-ice free during the summer months by about 2050, the sea-ice reforming every autumn and melting the following spring and early summer," says Professor Phil Jones, research director at the University of East Anglia's Climatic Research Unit.
How well do you
really

know your competitors?

Access the most comprehensive Company Profiles on the market, powered by GlobalData. Save hours of research. Gain competitive edge.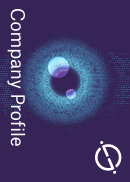 Company Profile – free sample
Thank you!
Your download email will arrive shortly
Not ready to buy yet? Download a free sample
We are confident about the unique quality of our Company Profiles. However, we want you to make the most beneficial decision for your business, so we offer a free sample that you can download by submitting the below form
By GlobalData
"During the last 20 years, the area of summer sea-ice has been reduced, and over time, the period which is sea-ice free will increase."
He explains that during the last 20 years, the area of summer sea-ice has been reduced, and that over time, the period which is sea-ice free will increase.
"What is happening is that there is less and less multiyear ice, so the average thickness is getting less. It is easier to melt sea ice each summer if the sea ice only formed the previous winter. As the passages open for longer, shipping companies can plan ahead and be confident that there will be a window of time when the passages will be open."
That view is widely shared. "We believe that sometime between 2035 and 2040, there is a pretty good chance that the Arctic Ocean will be essentially ice-free for about a month," commented Rear Admiral Dave Titley, head of the US Navy's climate change task force, at the 2011 Arctic Frontiers conference in Tromsø, Norway.
As that period increases, he predicts that the Bering Strait will begin to rival the Straits of Malacca and the Suez Canal as one of the world's most important trade routes.
An arctic shipping lane to rival the Suez
---
Related content
---
Shipping was left out of the Kyoto Protocol in 1997 despite being one of the world's largest carbon emitters.
---
Seafarers have long dreamt of an Arctic sea lane, linking Europe and Asia in a voyage around half as long as the traditional route through the Suez Canal, saving time, fuel and carbon dioxide emissions, and – at least for the foreseeable future – largely avoiding the likelihood of encountering pirates.
Predictions from researchers at the University of Delaware suggest that the amount of shipping diverting along such a route could account for two percent of global traffic by 2030, and five percent in 2050.
That, of course, remains to be seen, but a growing number of cargo vessels are braving the way already. In 2010, Danish Nordic Bulk Carriers was the first company ever to use the NSR to transport a commercial mineral cargo from Norway, through the Arctic, to China.
In August 2011, they sent MV Sanko Odyssey, the world's largest and most up-to-date bulk carrier in the ice class, and a cargo of 70,000 tons of iron ore concentrate, from Murmansk to China.
According to Nordic Bulk Carriers' MD, Christian Bonfils, it makes clear business sense; the fuel savings alone add up to approximately 750 tons. He has no doubt that opening up the NSR will bring major commercial advantages for ship owners and cargo transport.
Slow growth – new lanes won't develop overnight
However, as Jan Fritz Hansen, deputy director general of the Danish Shipowners' Association points out, it will not mean an instant change for shipping companies. "Climate change will not for the foreseeable future really, fundamentally change trade lanes, even if a few of my members already are pioneers in the Arctic trades."
---
Related content
---
Shipping's record for emissions may not be great, but it still has a lot going for it when it comes to green benefits.
---
Bonfils agrees. "We are very interested in the Arctic routes and especially the Northern Sea Route, [but] our view is that this will not change the shipping routes and trading pattern dramatically."
For one thing, the window for transit is obviously limited to the short, and yearly variable, period between July and October that the route is open, but he says it is also a question of the specialised ships capable of making the voyage, with few ice class bulk carriers in the present fleet.
While Bonfils predicts that the growing use of the NSR will lead to a boom in orders for these types of vessels during the coming years, for the moment he sees this as "an addition to the present trading pattern and something that will only grow very slowly."
"We have to realize that not all types of goods will go through the Arctic routes," Hansen says. "[The] main activity also in a maritime context will no doubt be 'in and out' of the region, rather than transit. Oil and minerals will be more accessible and will need to be transported out by ships. There will also be a lot of maritime supply / rescue activity up there."
The challenge, he says, will be to achieve all this "in a sustainable manner with high demands for quality operations."
Safe and sustainable arctic shipping
"The thaw could be about to open up new sea routes across the top of the world, and, some suggest, change global shipping forever."
Part of that task will involve considerable investment in safety, according to the head of the Norwegian branch of Greenpeace, Truls Gulowsen. "Both Northern Sea routes are badly mapped, badly marked and with very limited search or rescue or assistance infrastructure," he says.
As a spokesperson for the United Kingdom Hydrographic Office points out, charting will have to be updated as and when new hydrographic data becomes available from those coastal state nations that have the responsibility and capability to undertake surveys in the region. Until then, Gulowsen explains: "Insurance companies reflect this risk through very special insurance arrangements for these routes."
There are other factors to take into account too, such as the effect on indigenous peoples and the unique environment, the possibility of shipping spreading invasive, non-native species and – arguably most importantly of all – the deposition of black carbon in the Arctic.
Described as "one of the most potent 'short-lived climate forcers' in diesel emissions" by the University of Delaware's Professor James Corbett, it has been linked to accelerated sea ice and glacial melting.
Releasing it directly into one of the most sensitive regions on the planet for climate change hardly supports the case for increasing Arctic shipping, though the talk of establishing a 'slow steaming' requirement would admittedly help lessen the damage.
Despite the shrinking ice and the growing traffic across the roof of the world, it seems the global shipping map is not about to be redrawn just yet. As Gulowsen says: "It will take much time before these routes get big transport volumes, I think."