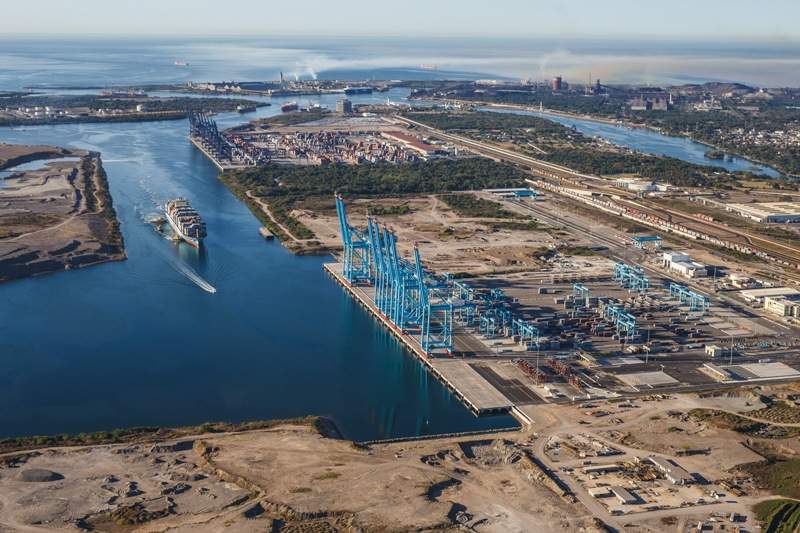 APM Terminals completed the first phase of its new cargo-handling facility in Mexico, and opened the site for business.
The new APM Terminals Lazaro Cardenas facility has already received its first vessel, a 9,600 twenty-foot equivalent unit (TEU) capacity Maersk Salalah from Asia.
Phase one of the semi-automated terminal's development entailed spreading an area of 49 hectares, with a quay of 750m in length for ships and a depth of 16.5m in order to handle some of the world's largest ships.
UK-based vehicle manufacturer Rolls-Royce is planning to unveil its first fleet of crewless ships by 2020, with the aim of reducing sea transport expenses by around 20%.
The company is working in partnership with various entities and projects, including Norway's Maritime Administration's Norwegian Forum for Autonomous Ships.
It is also involved with DIMECC, which is partly financed by Finnish government's innovation investment arm, Tekes, as well as several autonomous ship research projects in the UK and Singapore.
Germany's MEYER WERFT started construction of a new LNG-powered ship for AIDA Cruises in Papenburg.
The ship will be the first AIDA Cruises vessel to run on LNG, and delivery is expected to be carried out by the end of next year.
The new 183,900t cruise liner is already under construction and is set to feature LNG engines made by Caterpillar and various tailor-made technologies, including heat recovery, innovative electric motors, LED lighting and ship automation.
Saudi Arabia's Bahri Group subsidiary Bahri Dry Bulk Company (BDB) entered a definitive agreement with the Netherlands' Koninklijke Bunge (Bunge) to establish a joint venture (JV) to support the import and export of dry bulk in Middle East.
The venture is set to operate under the name Bunge Bahri Dry Bulk,and will offer freight transportation services to both regional and international customers.
Bunge Bahri Dry Bulk's 60% stake will be owned by BDB, with the remaining 40% is to be controlled by Bunge.
Norway's Ulstein entered a deal to build a new 160m-long, 27.1m-wide plug-in hybrid vessel for Color Line.
The ship is to be named Color Hybrid and construction is scheduled to begin by July, with delivery planned by May 2019.
Color Hybrid will be the world's largest plug-in hybrid vessel once completed, and will be deployed for use on Color Line's ferry route connecting Sandefjord and Strömstad in Norway.
Hyundai Heavy Industries (HHI) implemented NAPA Group's new 3D-model-based ship structural designing software across its business.
The new NAPA Steel software's interactive 3D structural modelling interface allows the creation of a flexible structural model of the whole ship.
The model can be used throughout the ship design process once created, and includes class society rule checks, plan approval drawings, finite element (FE) model generation and weight calculation.
Wärtsilä was selected as the preferred partner to provide engine and other equipment services for Norway-based PGS Geophysical's fleet of eight seismic vessels.
Wärtsilä will maintain the engines and propulsion systems on board PGS's fleet under the deal, securing maximum uptime as well as safe and economic operations.
The newly signed agreement also includes an option for additional two years.
Clean Shipping Index and BICEPS Network called on the European Commission (EC) to include shipping emissions in the EU Emissions Trading System (ETS) under a special fund.
The associations also sent two letters to the EC supporting the European Union's (EU) environment committee's proposal to regulate carbon dioxide (CO2) and other greenhouse gas emissions in the shipping sector.
The EU committee signed an agreement in December stating that emissions from ships should be included in EU-ETS from 2023, should the International Maritime Organisation does not deliver a further global measure to cut greenhouse gas emissions for international shipping by 2021.
The PORT OF VANCOUVER in Canada selected propeller boss cap fins (PBCF) technology from Mitsui O.S.K. Lines (MOL) to reduce vessel noise.
The technology was selected as part of the port's EcoAction environmental programme, and will be accompanied with designated equipment.
EcoAction provides a discounted harbour due rate to vessels, which have already implemented voluntary emission reduction measures and other environmental practices.
Mitsubishi Heavy Industries Marine Machinery & Engine (MHI-MME) announced the completion of retrofitting new technology on 80 LNG carrier vessels to facilitate running on low-sulphur fuel.
The International Maritime Organisation (IMO) Maritime Environment Protection Committee decided to enforce a global sulphur cap for marine fuel at its 70th session, which was held in London in October last year.
New regulations state that the sulphur content in marine fuel will be reduced from 3.5% to 0.5%.