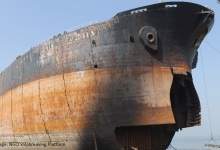 In February, in his address to the Indian Maritime University, President Pranab Mukherjee spoke of the essential role that shipbuilding needs to play if the nation is to emerge as one of the foremost world economic powers of the future, as well as how much employment it could generate today. Fast forward to July, and the newly elected Prime Minister Narendra Modi's first Union Budget saw a raft of measures brought in, designed to promote domestic shipping and shipbuilding, and signalled a firm commitment to forthcoming policy changes to support the industry further.
Having been dominated for some time by ship breaking and, to a lesser extent, repair and conversion works, it seems India's maritime sector could soon be building some serious tonnage once again, as Modi sets out to compete with the shipbuilding giants of China, South Korea and Japan.
Level playing field
The lack of a level playing field with these rival nations has been one of the consistent gripes of Indian shipbuilders, particularly throughout the global economic downturn. A recent study from India's ExIm Bank highlighted that although the global order book hugely contracted between 2008 to 2012, falling from 368 million gross tonnage to just 160 million over the period, last year's pick-up has seen a rebound for all the major shipbuilding nations – all, that is, except India.
Shipyards in China, South Korea and Japan have fared better, even during the recession, buoyed up by policies of both direct and indirect support from their respective governments, which have been largely lacking over critical recent years for their Indian counterparts. Between 2002 and 2007, Indian shipbuilding rose from 0.3m dead weight tonnage (DWT), to approach 1.3m DWT, as the country climbed from 22nd in the league of the world's shipbuilders to fifth in 2009. Today it has fallen back to seventh place, with the big three now controlling 87% of the world market.
Chinese and South Korean shipyards enjoy loans at around 5%, compared with India's typical 14% rate of interest. In such a capital intensive industry, which demands heavy up-front investment, the differential represents a significant disadvantage – and that is by no means Indian shipbuilding's only woe.
---
---
European shipping companies are increasingly 'flagging out' their fleets in order to avoid paying seafarers minimum wages.
---
Comprehensive policy
A plethora of taxes bedevil the domestic industry itself, but for most types of vessels, a distinct lack of import duties eases the way for foreign competition, while still more taxation on coastal routes coupled with erratic customs clearance times has resulted in Indian ships now carrying less than 10% of the country's international trade. At the turn of the century, that figure was nearer 40%.
With 95% of India's trade, by volume, travelling by sea, it means that valuable foreign exchange is haemorrhaging daily to non-domestic shipping lines, and foreign shipyards. Now the new administration has made it clear that it needs to stop, and plans to establish a shipbuilding development fund, and encourage foreign investment, as part of a comprehensive policy of support for the industry.
First stages
July's budget set out the first stages of the new initiative, when Finance Minister Arun Jaitley announced changes to the industry's taxation burden, including the reduction of coastal taxes to encourage local shipping. With the government planning to divert at least 15% of the goods currently transported by either road or rail to coastal and inland waterways, and talk of only Indian made and owned vessels being permitted to ply the routes, the move has been welcomed, especially by the country's smaller yards.
He also unveiled plans for 16 new port projects at a cost of around $1.85bn and to bolster the country's current major ports with new, round-the-clock customs clearance facilities. In addition, special economic zones are to be established beside existing ports in Gujarat and Mumbai and a major initiative undertaken to develop a 1,620km inland waterway system on the river Ganges, from Allahabad in Uttar Pradesh to Haldia in West Bengal. To be completed at a cost of $0.7bn, the proposed Jal Marg Vikas project aims to enable commercial navigation by vessels of 1,500 tonne capacity, within just six years.
"India climbed from 22nd in the league of the world's shipbuilders to fifth in 2009."
More measures are set to follow. Discussions are in hand with the Infrastructure Finance Corporation of India and the Industrial Development Bank of India to introduce low-cost loans at around 6.5% for shipbuilding, and there are plans to set up a Centre for Excellence in Ship Design and Research, to safeguard the future of the domestic sector. There is also a proposal to grant 'Infrastructure Status' to shipbuilding, which would allow the industry to access financing under preferential terms and enjoy beneficial tax breaks too.
The whole proposed package would undoubtedly usher in the level playing field that shipyards have so long called for, but one question remains: Can India, currently with less than 1% of the world market, evolve into a global shipbuilding superstar?
Natural advantages and political will
The country has some natural advantages that might help – chief amongst them being some 7,500km of coastline, a low-cost labour economy and a large work force – although admittedly there is a need to increase the numbers of trained engineers and other particular skill-sets within the mix.
There is also the man at the top to consider. Narendra Damodardas Modi achieved much in his home state of Gujara, during his 20 years as Chief Minister, and many believe that he is on track to repeat it nationally, with his drive to support shipbuilding forming a major plank in that plan. As many commentators have noted, it chimes well with the "come, make in India" theme which he first alluded to during his Independence Day speech, and to which he has often returned to, since.
It seems he is putting a great deal of personal political capital behind his intent to take on the giant Asian shipbuilders, and to see Indian yards accounting for an increasing proportion of the world's order books. The measures that his administration are bringing in have already gone a long way to boost the morale of a previously depressed industry, but Indian politics can be an uncertain beast and how effectively they prove in the long run obviously remains to be seen.
Nevertheless, Jim O'Neil, the man credited with coining the BRIC acronym in a Goldman Sachs report back in 2001, describes Prime Minister Modi as "good on economics" – a view that appears to be shared by many Indian pundits too. It seems that if anyone can turn India into a major shipbuilding hub, then it is probably him.