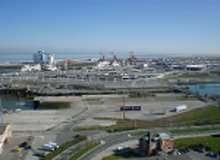 A consortium led by Bouygues Travaux Publics secured a €300m design-build contract from the Dover Strait Ports Company for the Port of Calais.
Under the contract, a part of the Calais Port 2015 project worth approximately €675m, Bouygues Construction and its partners; Colas Nord-Picardie, Spie Batignolles and Jan De Nul will overhaul and upgrade the Port of Calais.
The project includes the creation of a new 3km seawall, along with a new 100ha harbour basin to the north of the current facilities, coupled with the construction of three new ferry berths and a roll-on / roll-off berth inside the harbour basin.
The Netherlands-based container terminal operating company APM Terminals closed the $1bn acquisition of Spain-based Grup Maritim's port and rail interests.
It expects to receive regulatory approvals for Grup Maritim's three of 11 terminals, which comprise less than 5% of the acquisition value.
Following the purchase, APM Terminals will own eight ports, with a collective two million twenty food equivalent unit (TEU) equity-weighted volumes, expanding its network to 72 operating ports, throughout 69 countries.
Austrian high-tech company Frequentis was contracted by the Ports of Jersey to upgrade its existing control centre systems.
Under the ten-year maintenance contract, facilitated with an integrated communication system, Frequentis will introduce its vessel traffic service (VTS), which is said to enhance the integration level, creating an open interface architecture that will facilitate interoperability with neighbouring coastguard services, aligned with IALA V-128 standard.
The deal will see Frequentis deliver a range of equipments, including its vessel traffic management service, MCS 3020 IP Voice Communication System, as well as digital scan converter, event logging and search-and-rescue information system.
South Korea-based Hyundai Heavy Industries (HHI) developed flame-retardant insulation for liquefied petroleum gas (LPG) cargo tanks in partnership with insulation system manufacturers.
The existing polyurethane foam, which acts as an insulation material for LPG cargo tank, is vulnerable to spreading fire.
The welding cut process at shipyards increases the probability of a fire outbreak, which can cause serious accidents and delays during the shipbuilding process.
Poland-based Remontowa Ship Repair Yard secured a contract of $140m from BC Ferries to undertake mid-life upgrades (MLUs) on its Spirit-class vessels.
Under the contract, Remontowa will upgrade both the Spirit-Class vessels into a dual fuel capacity to enable their operation on LNG.
The conversion work is expected to commence next year and is scheduled to complete in 2019.
Ship classification society DNV GL unveiled its new LNG intelligence portal (LNGi) for assessing the availability of liquefied natural gas (LNG) in the maritime sector.
The intelligence portal will enable LNG industry stakeholders to share market intelligence. It has seen participation from LNG suppliers and engine manufacturers including Shell, Rolls-Royce, and MAN Diesel & Turbo.
The portal will allow its subscribers to identify the availability of LNG fuel across specific trade routes and projects.
The National Shipping Company of Saudi Arabia (Bahri) signed a memorandum of agreement (MoA) with South Korean shipbuilder Hyundai Heavy Industries (HHI) to purchase a very large crude carrier (VLCC), the Hanjin Ras Tanura, for about $75m.
The vessel manufactured in 2011 at HHI is expected to be delivered to Bahri this year.
The company stated that the second quarter of this year will reflect the financial impact following the purchase of the vessel.
Wärtsilä unveiled its new WTT-40 transverse thruster at the Seatrade Cruise Global convention in the US.
The product is a part of Wärtsilä's new transverse thruster series and has a 4,000kW power level and a 3,400mm diameter controllable pitch propeller.
The development of the WTT-40 thruster commenced last year to address the customer's requirement of high power transverse thrusters for bow and stern applications.
Marine related service provider Seaspan received two new contracts, valued at over $65.4m, for its Vancouver Shipyards from the Government of Canada.
The two new contracts, which are part of the Canadian Government's National Shipbuilding Strategy (NSS), will help Seaspan's Vancouver Shipyards to begin early discussions with potential suppliers, and to buy material and equipment to build the Offshore Oceanographic Science Vessel (OOSV) and the Joint Support Ships (JSS).
By making the recent investments, the government aims to demonstrate its commitment to re-establishing a world-scale shipbuilding industry, which will create highly paid jobs and make sustainable economic growth for the local communities living along coastal areas.
The Philippines reportedly seized control of a North Korean freight ship, which had called in at Subic port, in the northern province of Zambales.
The 6,830 deadweight tonnage (dwt) cargo ship, Jin Teng, operated by North Korea's Ocean Maritime Management was subject to an asset freeze and sanctions authorised by the UN as a response to the country's nuclear and ballistic missile activities.
Philippines deputy presidential spokesman Manolo Quezon was quoted by Reuters as saying: "The world is concerned over North Korea's nuclear weapons programme and as a member of the UN, the Philippines has to do its part to enforce the sanctions."