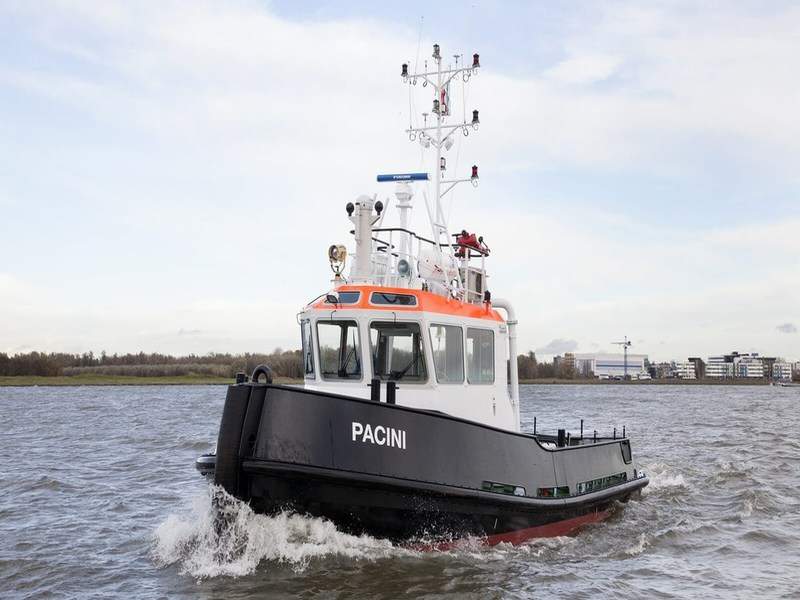 Damen Shipyards Group entered a cooperative consortium with Rotterdam Additive Manufacturing Lab (RAMLAB), Promarin, Autodesk and Bureau Veritas to develop a 3D-printed ship's propeller.
The 1,300mm propeller will be named WAAMpeller and is set to be world's first class-approved, 3D-printed material of its kind. It will be developed on the basis of a Promarin design, which is typically found on a Damen Stan Tug 1606.
Damen Research and Development department project engineer KeesCusters said: "Three students from Delft Technical University were investigating the potential of 3D printing for us. They brought us into contact with the other members of the consortium.
---
The Spanish parliament approved a royal decree to liberalise the country's port operations after obtaining a majority of votes in favour of the reform.
A total of 174 votes were given in favour, with 165 votes against and eight abstentions also received by the Spanish parliament before the reform was approved.
The reform seeks to liberalise Spain's port labour and to avoid heavy European Union fines, reported AP.
---
GE's Marine Solutions new liquid propane gas (LPG) fuelled ferry design was found to meet the requirements of Hazard Identification (HAZID).
The ruling marks the completion of the ferry design process's final stage before it goes to the shipyards and suppliers for construction.
The vessel will be powered by GE's COmbined Gas turbine Electric and Steam (COGES) system, which consumes minimal lube oil and meets the current and future regulations for sulphur oxides (SOx), nitrogen oxides (NO­x), carbon dioxide (CO2) and other emissions from the shipping industry.
---
The DIMECC-led marine industry initiative One Sea – Autonomous Maritime Ecosystem revealed its roadmaps for the development of the world's first autonomous ship system.
One Sea partners seek to jointly develop fully remote controlled vessels using the roadmaps, which are planned to be deployed in the Baltic Sea in three years and achieve autonomous commercial maritime traffic by 2025.
The roadmaps were prepared by representatives of the companies involved in the One Sea initiative, before being verified by both national and international advisory boards.
---
The International Maritime Organisation (IMO) opened a new regional centre at Shanghai Maritime University in China to help reduce harmful emissions from ships.
The new centre was designed to serve the wider Asian region and forms a part of the European Union (EU) funded, IMO-run Global Maritime Technology Cooperation Centre (MTCC) Network (GMN).
It will also promote energy-efficient technologies and operations in the shipping sector, and is a component of IMO's two-pronged initiative to help mitigate greenhouse gas (GHG) emissions within the global shipping industry.
---
Chile-based SAAM expanded its operations at the Terminal Portuario Guayaquil (TPG) port in Ecuador (TPG) by adding the facilities of the adjacent Trinipuerto bulk terminal on a 40-year lease.
The expansion is expected to more than double the port's container transfer capacity, facilitating its entry to the bulk cargo market.
SAAM has operated the TPG port since 2006, which currently spreads across 12.4 hectares of area and is specialised in the transfer of containerised cargo.
---
Global maritime industry group Wilhelmsen Ships Service (WSS) unveiled a plan to start delivering agency essentials to vessels via drone, with an aim to improve its customer services.
The plan includes the launch of a large-scale working pilot project later this year, which is due to take place at an undisclosed port.
The company noted that the project will be carried out despite the stringent global aviation restrictions currently in place regarding drones and other unmanned aerial vehicles.
---
India-based Cochin Shipyard secured an order from Andaman & Nicobar (A&N) Administration to build four passenger-cum-cargo vessels.
Two of the proposed vessels will have a capacity to carry 500 passengers and 150t of cargo, while the remaining two will be able to hold 1,200 personnel and of 1,000t cargo.
The ships will help realise the government of India's 'Make in India' initiative, and are to be built in accordance with the latest national and international specifications.
---
A researcher from Technical University of Denmark (DTU) collaborated with MAN Diesel & Turbo to develop new software that can help ship owners and operators reduce nitrogen oxide (NOx) and black smoke emissions from their vessels.
The software is expected to be implemented on MAN Diesel's new marine engines by the end of the year, and is intended to enable the marine industry to more easily comply with the International Maritime Organisation's (IMO) Tier III NOx standards.
IMO's new regulations require any marine diesel engine installed on a ship constructed on or after 1 January 2016, and operating in the North American Emission Control Area (ECA) and the US Caribbean Sea ECA, to significantly reduce its NOx emissions.
---
Wärtsilä secured a contract to provide the main engines for Genting Hong Kong's new expedition mega yacht, which is due to be built as part of the 'Endeavor' class of vessels.
The contract also includes an option for two additional vessels that would also form part of the Endeavor series.
Wärtsilä will supply four of its six-cylinder Wärtsilä 32 engines under the deal, which will be combined with the company's NOx Reducer (NOR) systems to provide electrical power for the ship.