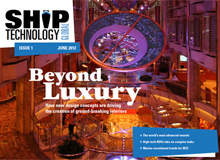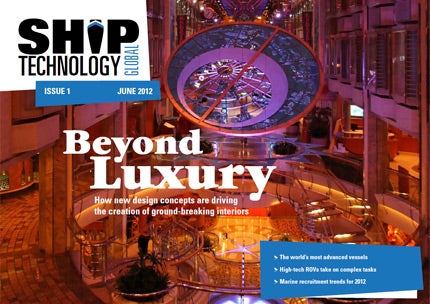 Presented in an exciting, interactive format, our free digital magazine Ship Technology Global explores the latest news, trends and technologies in the ship industry.
Click here to read the first issue.
As an all-inclusive holiday, an ocean cruise is expected to offer guests the 'whole package'. We venture into the world of cruise ship interiors to find out why cruise operators are increasingly embracing holistic design to create spectacular spaces, and ask the interior designers of Crystal Cruises' $50m refurbishment why inspiration for the luxury liners came from dry land.
We also profile the most technologically advanced vessels for a wide range of marine tasks, from seismic surveying to heavy lifting and offshore supply, and find out how ever more sophisticated remote-operated vehicles can take on increasingly complex hull maintenance jobs. And, as the marine sector starts showing signs of recovery from the economic crisis, we ask recruitment experts what the industry can expect in the coming months.
In this issue
The Changing Face of Piracy
As the maritime security sector responds to emerging patterns of piracy, Steven Jones, maritime director of the Security Association for the Maritime Industry, reviews the latest developments.
Read the full article.
Chic Shape
Cruise operators are increasingly embracing holistic design to create spectacular interiors and offer guests the 'whole package'. We explore how new interiors cater to passengers' every need with luxury, specialty designs and IT-compatibility.
Read the full article.
Crystal Clear Inspiration
Crystal Cruises spent $50m on the refurbishment of two ships over two years. Principal designer Keith Rushbrook of II By IV Design Associates tells us about the project, and why inspiration came from dry land.
Read the full article.
Record Breakers
Technological and structural advances are pushing boundaries in ocean-going efficiency, productivity and precision. We take a look at some of the most advanced vessels being produced by shipyards around the world.
Read the full article.
Shipshape Maintenance
Remote-operated vehicles are increasingly taking over the inspection, repair and cleaning of ship hulls. We explore how technological advances are allowing these machines to handle jobs traditionally undertaken by divers.
Marine Recruitment Trends
The economic crisis has left its mark but marine recruitment experts are expecting a significant boost in 2012. We ask technical recruitment agency Matchtech what is happening in the industry and what the prospects are for the coming months.
Read the full article.
Next issue preview
A new mandate from the IMO will require many international commercial ships to switch to electronic chart display and information systems. We find out why a reluctance to use new technologies, coupled with a lack of standardisation, has slowed the march of a technology which many claim could reduce the number of ships running aground by as much as 38%.
We also take a look at the world's biggest vessels, from giant passenger liners to mega-ton tankers and the latest fleet of floating facilities for the extraction of liquefied natural gas.
Moreover, we profile some of the most impressive private superyachts and the design features that make them stand out from the crowd. Looking into cruise operators' efforts to cut carbon footprints and present a more eco-friendly image, we explore new energy saving technologies that are currently making waves in the industry.
The next issue will be out in August. Sign up for your free subscription to get each future issue delivered directly to your inbox.
Digital magazine FAQ
The digital magazine is viewable on any computer with Flash Player installed. It is also viewable on mobile devices, iPhones and iPads, although some features and videos may be disabled.