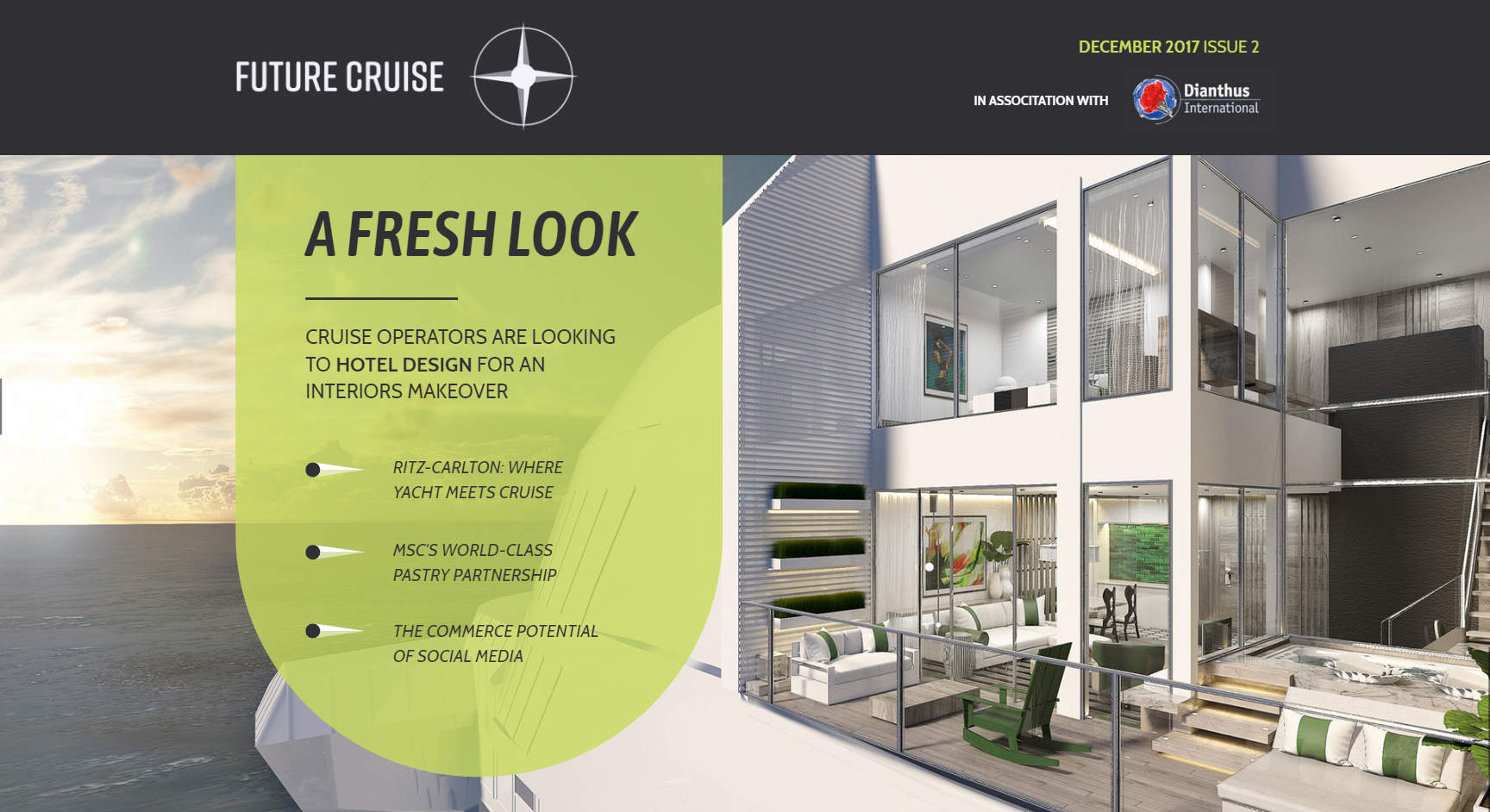 Future Cruise is now available on all devices. Read it for free here.
Smart remains a buzzword in the cruise sphere, and MSC Cruises has gone as far as calling its new MSC Meraviglia a "connected smart city on the water". To find out just what that means for passengers, we take a tour of the ship's high-tech features. We also speak to award-winning pastry chef Jean-Philippe Maury who is creating luxury sweet treats in a restaurant partnership with MSC.
Also in this issue, we find out how operators are looking to hotel design in an effort to freshen up the look of cruise ship interiors, and take a look at luxury hotel brand Ritz-Carlton's new small-scale luxury cruise yachts launching in 2019.
The tides are changing on the Adriatic Coast as Dubrovnik tries to reduce the influx of cruise passengers to its Unesco-protected heritage sites, but other coastal cities are investing in port infrastructure to take a share of the country's cruise boom. We take a look at the emerging destinations in Croatia.
Plus, we find out how Costa Cruises is integrating social platforms with onboard commerce on its Asian fleet, explore operational and technological options in anti-piracy protection, and ask whether cruise lines are doing enough to reduce their emissions in light of a damning new environmental report.
In this issue
MSC Meraviglia: A smart connected city at sea
The MSC Meraviglia is the first of a new fleet of high-tech ships MSC Cruises is launching over the next decade. France Marcellin went on board to speak to the team behind the ship's cutting-edge technology.
Exclusive cruising: Aboard Ritz-Carlton's luxury yachts
Luxury hotel brand Ritz-Carlton is launching a series of cruise yachts aiming to provide a more bespoke and exclusive experience than their traditional counterparts. Eva Grey takes a look at the design and the business ideas driving the alternative cruise concept.
Cruise looks to hotel design for an interior makeover
Cruise lines are increasingly turning to hotel designers in an effort to bring a fresh look to their ships' interiors. Joe Baker asks how this trend is changing the look of cruise ships.
Social media meets commerce: Costa Cruises pioneers a new way to pay
Costa Cruises has launched a WeChat payment service on-boards its Asian fleet, allowing passengers to use the online social communication platform for mobile payments. Joe Baker takes a closer look at this innovative way of integrating digital social platforms into on-board commerce.
Chocolate & crêpes: Creating Jean-Philippe Maury's world-class treats onboard MSC Meraviglia
What happens when a world-class chef is asked to create his unique chocolate and patisserie range on board one of the most advanced ships in the world? Frances Marcellin finds out how patisserie champion Jean-Philippe Maury brought his culinary vision to the MSC Meraviglia
Croatian destinations invest to take a share of Dubrovnik's cruise boom
Dubrovnik is seeking to protect its heritage site status by reducing the number of tourists arriving on cruise liners. Eva Grey finds out how other destinations along the Croatian coast are preparing to take in the city's unwanted guests with new port infrastructure investments
Protecting cruise liners against piracy
Piracy remains a significant threat faced by the cruise industry, and one that is unlikely to disappear anytime soon. Callum Tyndall explores recent developments in counter-piracy security to find out how cruise operators can protect their vessels from pirate attacks, both through operational approaches and with the help of technology and equipment.
Is the cruise industry doing enough to reduce its environmental impact?
A recent report by German environmental group Nabu claims the cruise industry has made no effort in reducing its emissions. Ross Davies asks whether this is a fair assessment or a blinkered misrepresentation of the facts.
Next issue preview
Carnival Corporation is building seven LNG powered ships for its Carnival, Costa and Aida brands, including the world's first fully LNG powered cruise whip. The company has also contracted Shell to supply the fuel through its LNG Bunker Barge project. We take a look at vessel designs and find out how the LNG supply chain will work across the brands' different itineraries.
MSC claims that its newest vessel, the Seaside, "rewrites the rule book of cruise ship design, blending indoor and outdoor areas to connect you with the sea like never before." With features including a seafront promenade circling the ship and a multi-storey aqua park, we find out what exactly that means for the passenger experience. We also explore the business concept of Virgin's new cruise venture, Virgin Voyages, which sets out to shake up the sector with an adult-only, superyacht inspired format.
Also in the next issue, we take a look at American Cruise Lines' new riverboat class and Brisbane's plans for a new mega cruise ship terminal, and we find out about the challenges of sourcing food locally and responsibly. Plus, we hear from Dynama about the implications of upcoming European data protection legislation on the cruise industry.