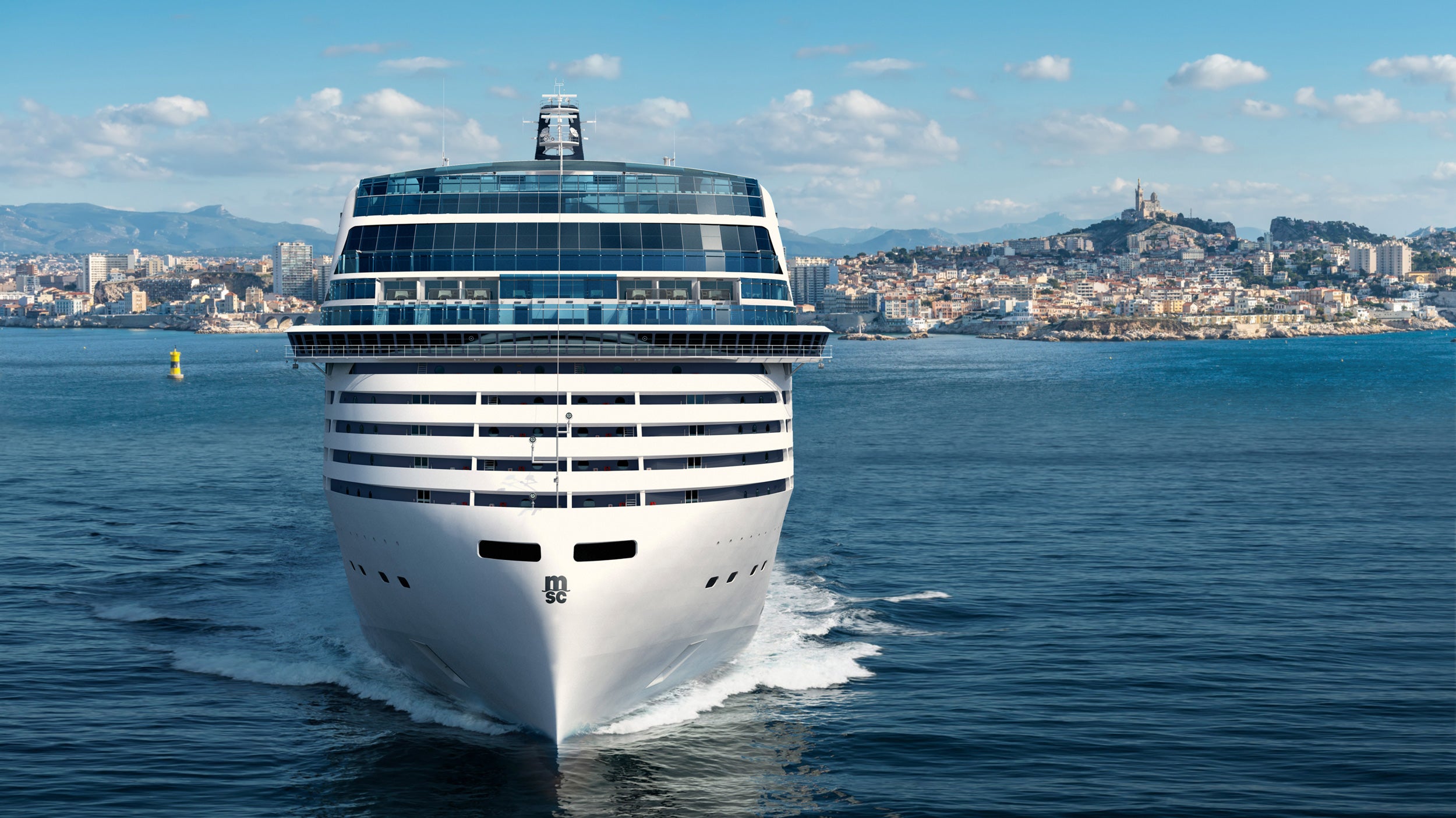 MSC Cruises broke with tradition with the launch of MSC World Europa – and not only by Qatari royal Sheikha Hind bin Hamad Al Thani christening the ship on 13 November 2022 instead of actress Sophia Loren, godmother to the rest of the fleet.
This year at the naming ceremony in Doha, Qatar, the world witnessed a sea change at MSC Cruises that, with the launch of MSC World Europa, accompanied significant others.
This 333m-long ocean-going metropolis – which, with 215,863 gross tonnage makes it one of the largest in the world – can house more people than any other ship in the fleet: up to 6,762 passengers (across 2,633 cabins) in addition to 2,138 crew.
The new sleek plumb bow visually positions the vessel as a ship of the future and the Y-shaped aft leads to a 104m-long outdoor promenade – two more fleet firsts. Here, guests can experience an 11-deck dry slide (from decks 20 to 8 – 17 does not exist), called The Spiral, which takes the latest industry crown for being the longest at sea.
First LNG-powered ship and sustainable tech
World Europa is also the first LNG-powered ship to join the fleet, reducing CO2 emissions by 25%. MSC Cruises' has released strong messaging around this LNG-powered vessel, making it clear – and pushing against a tide of criticism the cruise industry faces regarding its unsustainable output – that sustainability is of the highest concern.
"We made an important pledge last year to achieve net-zero greenhouse gas emissions by 2050, leading the cruise industry on the path to decarbonisation," says Pierfrancesco Vago, executive chairman, Cruise Division of MSC Group.
"LNG is the cleanest marine fuel currently available at scale that reduces emissions significantly and also offers compatibility with future alternative fuel solutions for which we are actively investing in research and development. This includes a pilot LNG-powered solid oxide fuel cell onboard MSC World Europa."
Incorporating solid oxide fuel cell (SOFC) technology on board, powered by LNG, is another first for the fleet. It includes a 150-kilowatt SOFC demonstrator that uses LNG to produce energy – heat and electricity – on board through an electrochemical reaction. The company says MSC Europa will act as a test bed "to accelerate the development of fuel cell technology for contemporary cruise ships".
A recent study of solid oxide fuel cells in future ship energy systems, led by Italian public body Enea, found that "SOFCs could provide a reduction in ship greenhouse gas emissions by up to 34%". The researchers also discovered that when using LNG as fuel, "SOFCs are the most cost-optimal solution that allows a significant reduction in GHG emissions".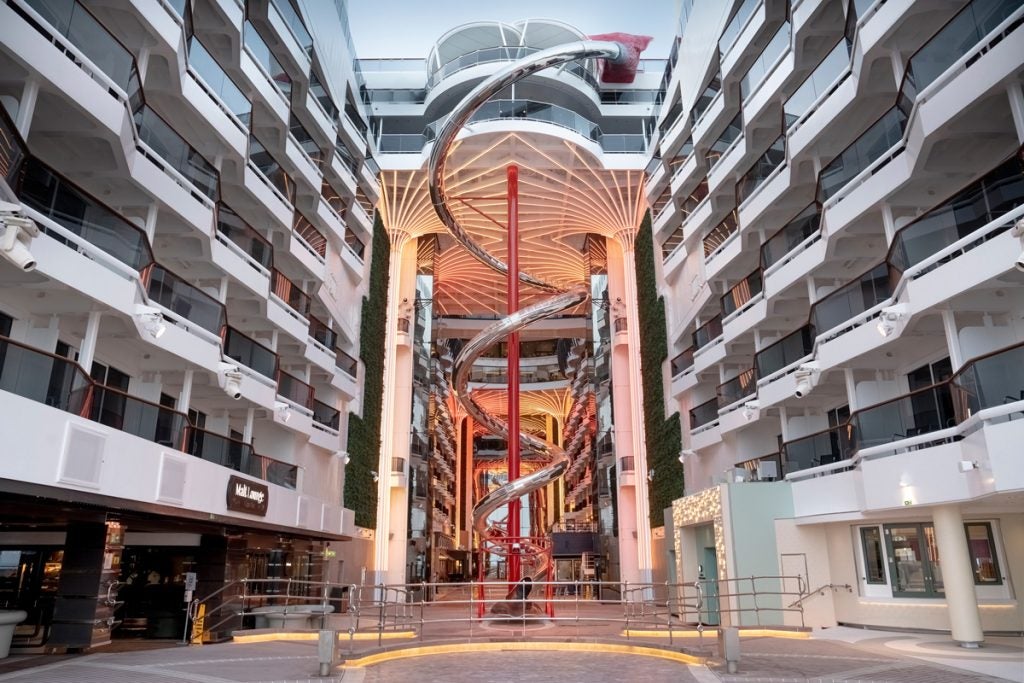 According to CLIA's (Cruise Lines International Association) environmental report, produced by Oxford Economics (OE), 52% of new ships have committed to relying on LNG for primary propulsion (up from 44% in 2020) and 82% of new ships are committed to shore side propulsion.
Vago, who is also chairman of CLIA Global, has positioned the cruise industry as an "enabler of green maritime innovation", which he believes will be the key to the "decarbonisation of shipping".
"We have reached a new stage in the cruise industry with MSC World Europa, the largest ship ever built for a European shipowner," says Laurent Castaing, general manager of shipbuilders Chantiers de l'Atlantique.
"From a technological standpoint MSC World Europa, which is equipped with an LNG propulsion system, presents a new level of performance and efficiency in the cruise industry."
Other systems implemented to reduce emissions include: selective catalytic reduction (SCR) systems; shore-to-ship power connectivity; advanced wastewater treatment systems; an underwater noise management system to reduce noise and vibration impact on marine mammals; as well as energy-efficient equipment and systems to optimise engine use.
New entertainment concepts
The environment on board has also undergone change and the lineup includes more firsts. The famous Swarovski staircase is now only visible in the luxury Yacht club area with more muted tones chosen over the usually-glitzy interiors. With 40,000m2 of public space, dining, and entertainment – for adults and younger guests – there are more choices on board than other ships in the fleet.
Overall, there are 33 restaurants, bars, and lounges, which include six speciality restaurants and seven new bar and café concepts. Michelin-starred chef Niklas Ekstedt leads the Chef's Garden, which has a focus on 'farm-to-ocean' food to produce another sea first: a hydroponic garden. A tie-up with craft beer expert Teo Musso, the founder of Birra Baladin, will see the line launch its first onboard microbrewery.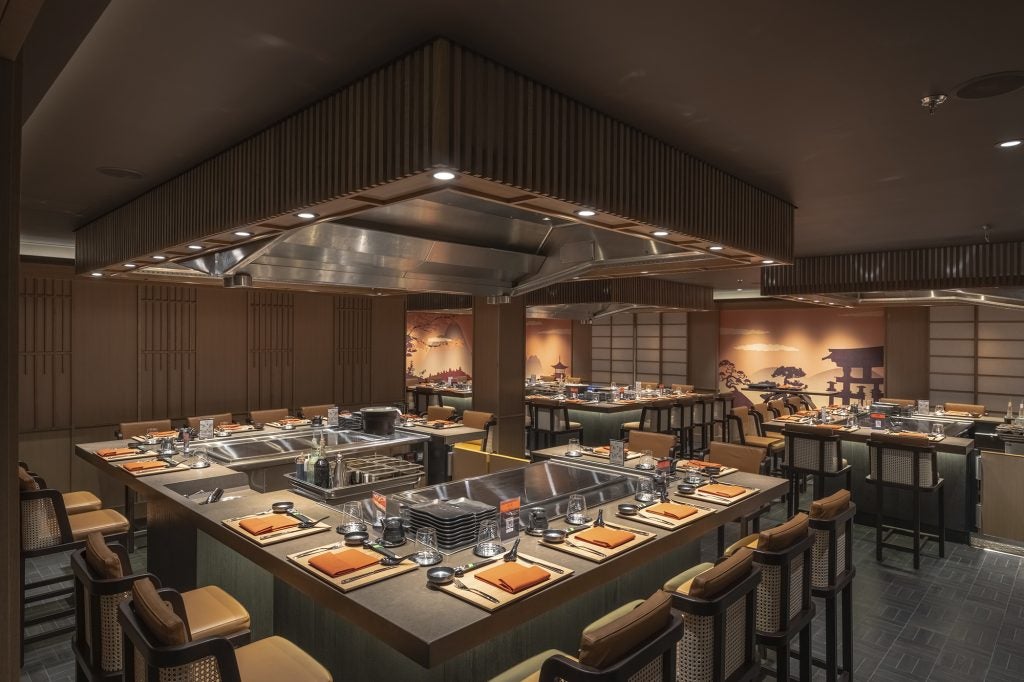 There is an unprecedented amount of space dedicated to entertainment on board MSC World Europa through three key areas: Luna Park, World Theatre, and Panorama Lounge.
The Luna Park Arena hosts up to 300 people and offers interactive nighttime concerts – including an Ibiza-themed club night and film-inspired stunt show – and is the venue for some of the more high-profile kids' activities, such as a new VR Drone Academy and the Dance Academy with Strictly Come Dancing's Flavia Cacace-Mistry.
Five theatre performances have been developed for the 1,153-seat World Theatre and music-themed experiences will run in the Panorama Lounge.
"The brand-new interactive entertainment featured on board MSC World Europa will be unlike anything that our guests have ever experienced, combining futuristic technology and unique, specially-designed venues," says Steve Leatham, MSC Cruises' global head of entertainment.
Experience-driven kids zone
The entertainment provision for children has also increased on the MSC World Europa. Not only does it spread over 766m across seven distinct spaces, but children from 0 to 17 years old are catered for. There are the usual partnerships with Lego and Chicco, but new ideas and activities pervade the programme, influenced by feedback from the company's younger guests.
"We have invested heavily in the entertainment offering for our younger guests, and we know they value the latest technology, trends and experiences," says Matteo Mancini, kids' entertainment manager. "We have worked to introduce real innovations in both the design of the facilities, as well as the development of an incredible programme of activities.
"More than 350,000 young people have travelled with us over the years and we have listened to their feedback. MSC World Europa reflects these learnings and we have been inspired to create experiences that blend technology and social media with activity and sport to create fresh and new entertainment for the kids who sail with us."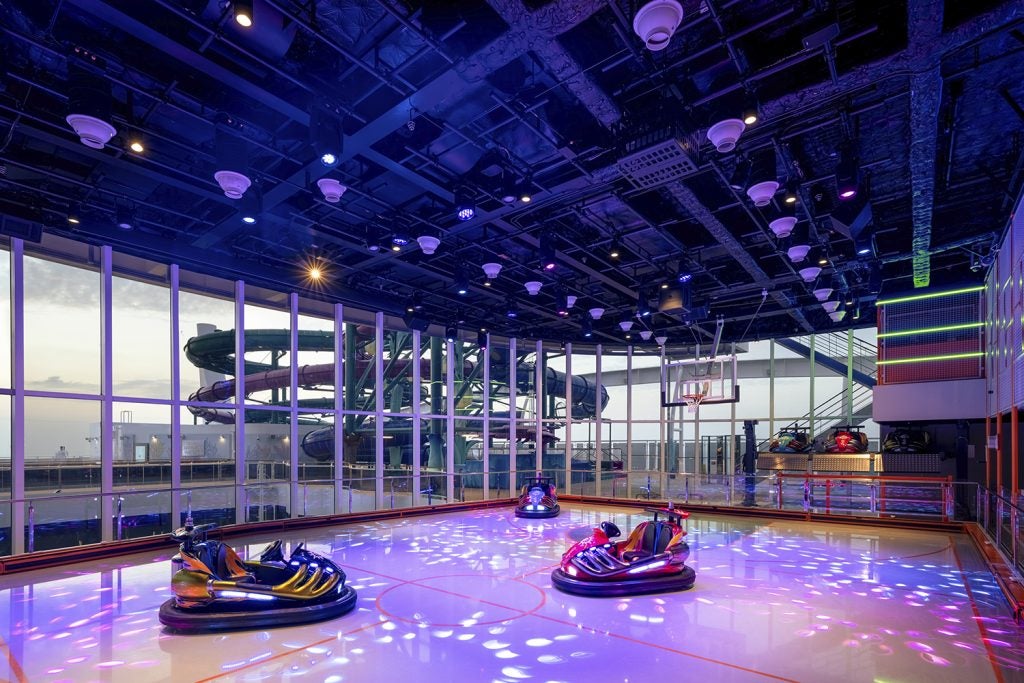 Highlights include access to 21 of the latest consoles, 7 VR stations and over 50 different video games; Z Active, a new sports programme for kids and teens including football, basketball, zorb ball and, for the first time on board, pickleball and hoverboards; Drone Academy, which includes cameras and VR; and MSC Dance Crew, developed with X Factor production company Fremantle. Here teams of 10-17 year olds aim to win dance crew of the year.
The ship's Aquapark, which features VR technology, also becomes the fleet's largest. There are four waterslides and a dedicated pool for toddlers. Water also plays a key role in guests' relaxation and overall, there are seven pools for guests – the botanic pool features a retractable roof for all-year-round bathing – and 14 whirlpool baths.
A trailblazing "World Class" of ships
The Aurea Spa is in a 420m2 area and includes a spa pool area, as well as a Finnish Sauna, steam bath, snow room, experience showers, salt cave, and Kneipp walk. The 748m2 space dedicated to the fitness centre is powered by Technogym's premium equipment. The Sportsplex supports the physical activity needs of the line's younger guests by providing  courts for basketball, tennis, football, volleyball, bumper cars and roller skating.
An entertainment area, with an F1 simulator and video games zone, provides the high-tech entertainment that guests have come to associate with MSC Cruises' smart ships. The MSC Yacht Club provides a more personalised service for premium guests with a butler service and exclusive facilities. This iteration includes a new sundeck design that covers two decks, dedicated treatment rooms and two new 150m2 owner suites, which are multiroom spaces exclusive to World Class ships.
MSC for Me, MSC Cruises' innovative digital platform operates across the ship, removing friction for guests and supporting a more personalised experience on board. Features include: pre-cruise booking, digital blue-dot wayfinding, geo-location wristbands (to find friends and family on board), in-app reservations and a chat feature that does not require the purchase of an internet package.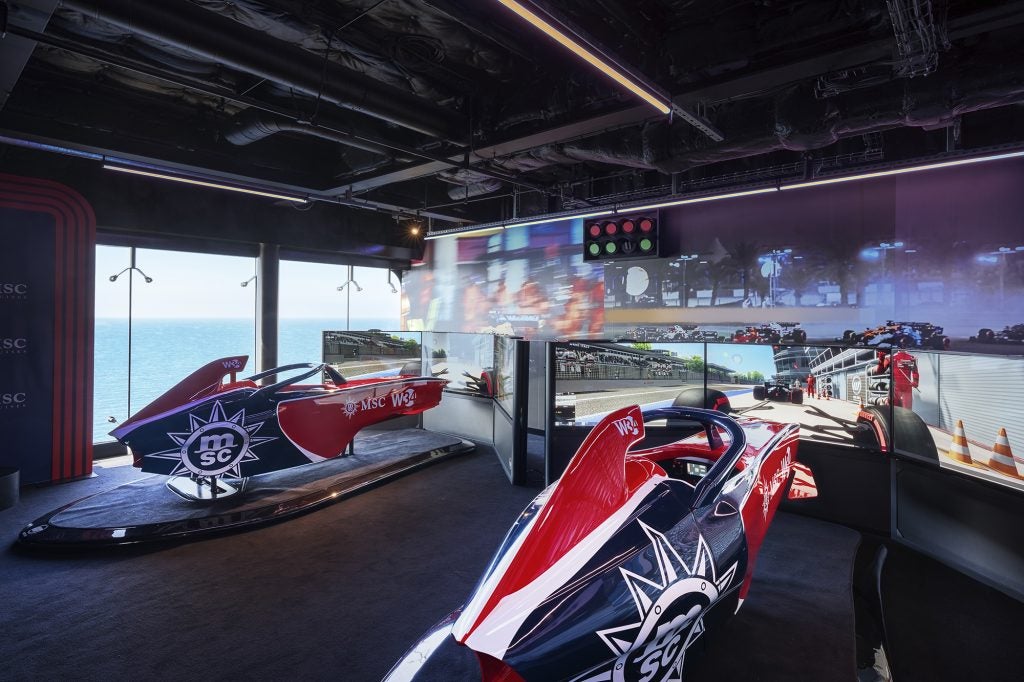 MSC World Europa marks MSC Cruises' largest-ever deployment to the Middle East for the winter 2022/2023 season. It offers seven-night voyages, between December 2022 and March 2023, from Dubai to Abu Dhabi and Sir Bani Yas Island in the UAE; Dammam, Saudi Arabia: and Doha, Qatar; before returning to Dubai.
In March 2023, MSC World Europa heads to the Mediterranean for seven-night cruises, calling at the Italian ports of Genoa, Naples, and Messina, as well as Valletta in Malta, Barcelona in Spain, and Marseille in France.
"Our trailblazing 'World Class' of ships introduces a completely new cruising platform that boasts future-proof marine and onboard hospitality technologies, state-of-the-art environmental technologies as well as ground-breaking and ultramodern design," says Vago.
"MSC World Europa represents the future of cruising, a totally new platform that will provide our guests with an unforgettable cruise not experienced anywhere before."