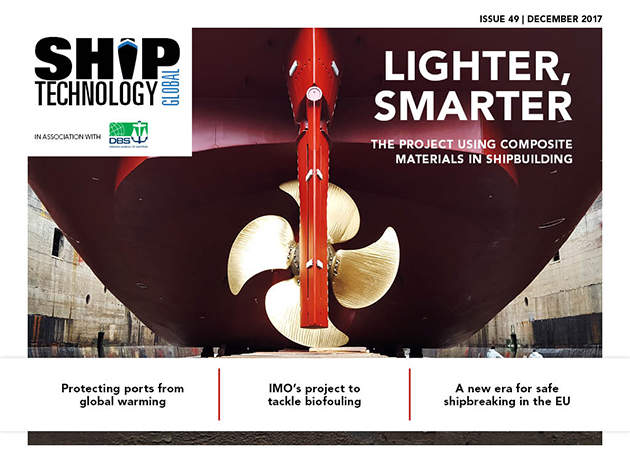 Ship Technology Global is now free for the iPad. Download our app to read the latest issue and browse our back issues for free.
Shipbreaking is a lucrative industry and one that is almost solely carried out in countries like Bangladesh and India. But, after concerns around the ethics of selling a scuppered ship to the lowest bidder, the EU is considering offering a financial incentive to ensure more ships are recycled at EU-approved facilities. We find out whether it will work.
We learn more about GloFouling Partnerships, which has been set up to tackle the issue of transferring aquatic species, consider whether composite materials could replace steel in the construction of lightweight ships, and look at what ports can do to prepare for the impact of global warming.
Finally, we ask how shipping companies can best defend their vessels against cyber threats, find out more about the risk posed by unsecured communication links in the maritime sector from Applied Risk, and take a closer look at a new campaign to save the Australian shipping industry.
Read the issue for free on your iPad through our app, or if you're on a desktop computer you can also read it in our web viewer.
In this issue
An End to Dangerous Shipbreaking
Although the negative impacts of shipbreaking on South Asian beaches are well known, current legislation is either too weak to regulate these practices, or not yet enforceable. Eva Grey finds out about a new method that could put an end to it.
Read the article here.
Busting Barnacles
The International Maritime Organization has proposed its new GloFouling Partnerships project in a bid to reduce the spread of aquatic species through biofouling. Joe Baker finds out more.
Read the article here.
FIBRESHIP: Lighter and Smarter
The EU-funded FIBRESHIP project is researching fibre-reinforced polymer (FRP) composite materials as a potential substitute for steel in the construction of lightweight large-length vessels. Julian Turner asks project coordinator Raul Salinas if FRPs can revolutionise how we build big ships.
Read the article here.
Protecting Ports from Global Warming
Ports are vulnerable to extreme weather events, but they are also instrumental in the aftermath of a natural disaster for the delivery of emergency aid. Eva Grey finds out what can be done to better protect ports from global warming.
Read the article here.
Saving Australian Shipping
Australian unions have launched a new campaign 'to save Australian shipping', at a time when the number of Aussie-flagged vessels continues to decline. Abi Millar looks at the threats to Australian maritime labour and finds out what the campaign aims to achieve.
Read the article here.
First Line of Defence
A recent survey by Futurenautics found that shipping companies are still largely unprotected from potential cyberattacks. Joe Baker examines the current state of preparedness for protecting vessels from cyber threats.
Read the article here.
Redefining Piracy
Connecting mission-critical technologies to the internet combines both risk and reward. Jalal Bouhdada, founder and principal ICS security consultant at Applied Risk, discusses the risk posed by unsecured VSAT communication links in the maritime sector.
Read the article here.
Next issue preview
Rolls-Royce has signed a deal with Google to use the latter's machine learning engine to improve the company's intelligent awareness systems, which detect and track objects that a vessel might encounter at sea. We find out how Google AI technologies could make ships smart enough to run without a crew.
We learn more about Wärtsilä's tests of an automatic wireless induction charging system on a hybrid powered coastal ferry, explore the difficulties that can arise when building 'sister ships', and profile Montrose Port Authority in Scotland, which celebrated a new record for monthly shipping activity in August.
Finally, we look at the dangers that shipping poses to underwater life in the Red Sea after the region was flagged as environmentally sensitive, and take closer look at a report that revealed the ways in which seafarers pay the price for the shipping industry's woes.
Digital magazine FAQ
You can read Ship Technology Global for free on the iPad. Download our app to read the latest issue and browse the back issues in our archive. Sign up for a free subscription in the app and never miss a new issue.
You can also continue to read the desktop version for free on our web viewer. (Browser compatibility: The web viewer works in the latest two version of Chrome, Firefox and Safari, as well as in Internet Explorer 9 and 10. Some features may not be compatible with older browser versions.)