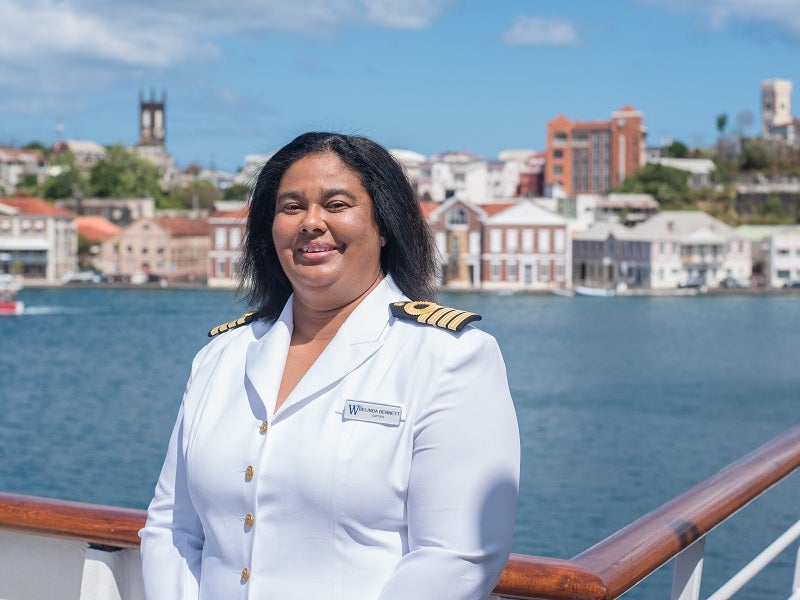 Belinda Bennett's maiden voyage of MSY Wind Star as Captain took place in the Caribbean on 30 January 2016 making her the world's first black female cruise ship captain.
The small yacht-like luxury ship was built in 1986, is powered by six sails (across four masts) and diesel engines, and accommodates 148 guests onboard.
Bennett was originally from St Helena, which is part of the British Overseas Territory. A remote 16km by 8km island in the South Atlantic Ocean, the nearest major land mass is around 2,000km away. It was so far away that it was famously where Napoleon was exiled to. He later died on the island in 1821.
For many years, as there wasn't an airport, the RMS St Helena was one of the only ways that the island's population could receive goods and cargo, and travel to and from the island. The ship operated with 56 officers and crew, could accommodate 155 passengers and even had on on-board doctor and a swimming pool.
Naturally attracted to life at sea, she was only 17 when she started working as a deck cadet on RMS St Helena. In four years she became Third Officer and rose up the ranks again to Second Officer until she left in 2003. Two years later she joined Windstar Cruises as Second Officer and has never looked back.
In 2018 Bennett was awarded the Merchant Navy Medal for Meritorious Service, a British state award that is only given to 20 people every year for devotion to duty and exemplary service.
Frances Marcellin: Was being a Captain of a cruise ship a position you always wanted to have?
Belinda Bennett: The sea has always fascinated me and it still does. When I was younger, I wanted to be a marine biologist and explore marine life further. I did not set out for the cruise industry, I actually tried to stay in the yachting industry, but after gaining my masters unlimited certificate I came to find out I was a little 'overqualified' at that time and an apparent threat to the very male-dominated yachting industry back then. So, I ended up at Windstar, where I have happily been for the last 14 years.
FM: As the first black female captain in the cruise industry, did you experience discrimination when you started out or as you've risen up the ranks?
BB: I've run into both racism and sexism over the years, but I have never let it be an issue. It's not my problem, it's theirs. Also, I had a rough start. When I was training as a cadet, I sailed with chief officers who made me work harder than the other guys. During your cadetship you're starting out as a sailor, so you do every job that they do. I had a chief officer, unfortunately, who made me work later than the sailors, so they would knock off for the day, and I would be left outside continuing to work until it got dark. It really was a make-or-break-you time, and me being me, I refused to be broken.
FM: Are guests ever surprised to learn that you're the captain?
BB: The Wind Star is a small ship, and we have an open bridge policy, which means you can stop by at almost any time and visit me on the bridge. This is a rarity in the cruise industry. The hotel manager and I also like to greet our guests on the gangway when they arrive. Some people say to the hotel manager, "You're the captain?" and the hotel manager loves to say, "No, she is." You get all different reactions. It's quite fun to watch. I think the women love it. Some men are in awe, and some are slightly: "What, you're the captain?"
FM: Do you think you have different challenges as a female captain?
BB: I haven't had any extra challenges a male captain wouldn't have had in this position. I think the challenges are as you come up through the ranks, versus when you are at the top. As a female captain, you have overcome pretty much most challenges in the industry by then. I have an excellent team to work with, thank goodness.
FM: The maritime industry has always been male-dominated, and it still is, although we're seeing more and more women at the helm. Do you see yourself as role model for women?
BB: I haven't in the past, but I am starting to now after getting many comments and messages worldwide. I set my personal goals in life, which I have achieved so far through hard work and dedication and a strong support network. It's been fun ending up in the headlines and sharing my story, but it's been incredibly exciting and gratifying to hear that I'm inspiring other women to forge similar career paths.
FM: What advice would you give other women who are interested in a life at sea?
BB: Even though times are changing, women joining the industry is still slow. Don't be afraid to come to sea, you get to see the world and be paid for it. If you really want it, no matter what obstacles come your way, you can and will overcome those obstacles. Being a woman, you have to work extra hard to prove yourself, even more than a man. Some men might not like that, but that's the way it is. Work hard, be strong and don't let anything deter you. I've done it. You can do it too.
FM: What do you think are the most important qualities a cruise ship captain should have?
BB: You have to be a good communicator – able to both talk and listen – for guests and crew alike. Open communication is key in this job. If you can talk to your team and get them to talk to you, life is a lot easier. Whenever I have constructive feedback to give, I like to end it on a high note. You also need to be visible to both guests and the crew – and you need to have an approachable demeanour and a strong mind.
FM: Wind Star must be a spectacular ship to sail – what do you like about it the most?
BB: Its intimate atmosphere – you get to actually meet and greet everyone, guests and crew alike. And there are some fabulous places that smaller cruise ships call at that you wouldn't see on a larger vessel. It's the perfect line for me and guests who like to get a bit more off the beaten path.
FM: What are the most important aspects of your job?
BB: That my guests and crew are safe, with the guests having an enjoyable, memorable time onboard. I also want to ensure the crew are happy and content – only then can they provide the best service to our guests.