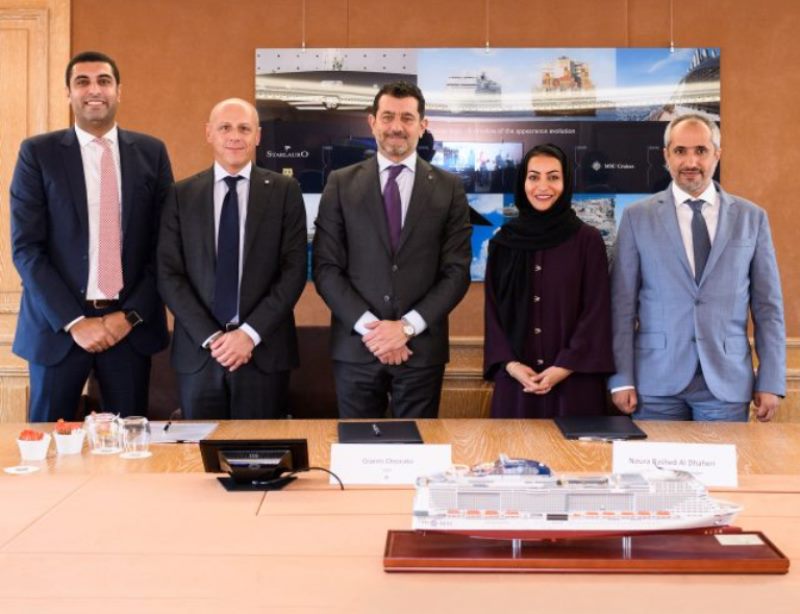 Abu Dhabi Ports has signed a long-term agreement with Switzerland-based MSC Cruises to award berthing rights to its cruise ships at Abu Dhabi Cruise Terminal and Sir Bani Yas Cruise Beach.
The deal is expected to attract 1.3 million visitors to Abu Dhabi during the period of the agreement.
Last year, Abu Dhabi's Cruise Terminal reported an increase of 47% in passenger numbers and 45% in vessel calls.
This was due to the 17 new calls at Zayed Port, as part of an earlier agreement with MSC Cruises.
In December 2019, the terminal experienced one of the busiest days in the 2019 / 2020 winter season when approximately 8,000 visitors entered through the port due to the triple call to Abu Dhabi.
Abu Dhabi Ports Cruise business director Noura Rashid Al Dhaheri and MSC Cruise CEO Gianni Onorato signed the deal at MSC headquarters in Geneva.
Al Dhaheri said: "Our continued partnership with MSC Cruises is testament to our already strong relationship and reflects the quality of services we provide to the world's leading cruise operators at Abu Dhabi Cruise Terminal and Sir Bani Yas Cruise Beach.
"Our success in substantially boosting passenger volumes year-on-year demonstrates our commitment to developing a world-class cruise destination."
Onorato said: "Abu Dhabi is a very important embarkation port and popular destination for ashore visits during winter cruises and we are currently serving the city and Sir Bani Yas Cruise Beach with both MSC Bellissima, the most modern and one of the most environmentally advanced cruise ships to sail in the Arabian Gulf, and MSC Lirica."
In December 2019, Abu Dhabi Ports was planning to invest approximately AED3.8bn ($1.03bn) in Khalifa Port expansion programme.