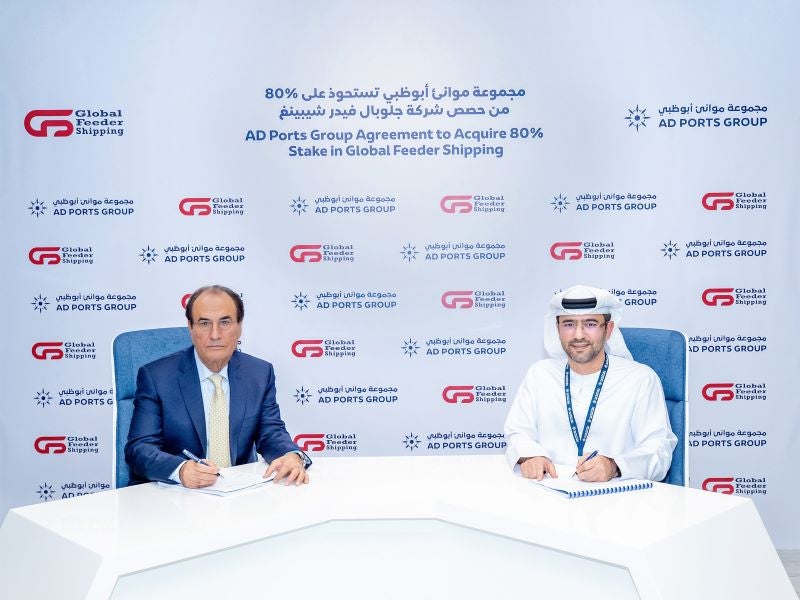 AD Ports Group has agreed to buy an 80% equity interest in a Dubai-based container shipping company Global Feeder Shipping (GFS) for $800m (AED2.9bn).
This deal amount implies a 100% enterprise value of $1bn (AED3.7bn).
With a total capacity of 72,500 twenty-foot equivalent units (TEUs), GFS has six owned and operated vessels.
The company serves customers in the Middle East, the Indian Subcontinent, and Southeast Asia regions.
Its services connect the UAE to India, Pakistan, Sri Lanka, Egypt, Sudan, Djibouti, Yemen, Saudi Arabia, Bahrain, China, South Korea, and Vietnam.
GFS has reported a revenue of $1.08bn, EBITDA of $521m, and net profit of $481m in the last 12 months.
AD Ports will include the acquired business in its maritime cluster, which already provides a range of shipping, offshore, and subsea services.
The acquisition will enable AD Ports to improve its trade activities and connectivity to important markets besides enhancing its feedering business.
By aligning GFS services with AD Ports Group firms SAFEEN Feeders and Transmar, AD Ports Group is expected to become the world's largest independent feeder company by ships owned. It will have an owned fleet of 35 ships.
AD Ports Group chairman Falah Mohammed Al Ahbabi said: "At the direction of our nation's wise leadership, AD Ports Group has been on a journey of development throughout 2022, driven by both organic growth and prudent investments.
"Our acquisition of a majority stake in GFS, which is the largest external investment in our company's history, will deliver a step-change in the range of services we can offer and significantly enhance our global connectivity."
Subject to regulatory approvals, the deal is anticipated to be complete in the first quarter of next year and will be funded through a new acquisition loan.