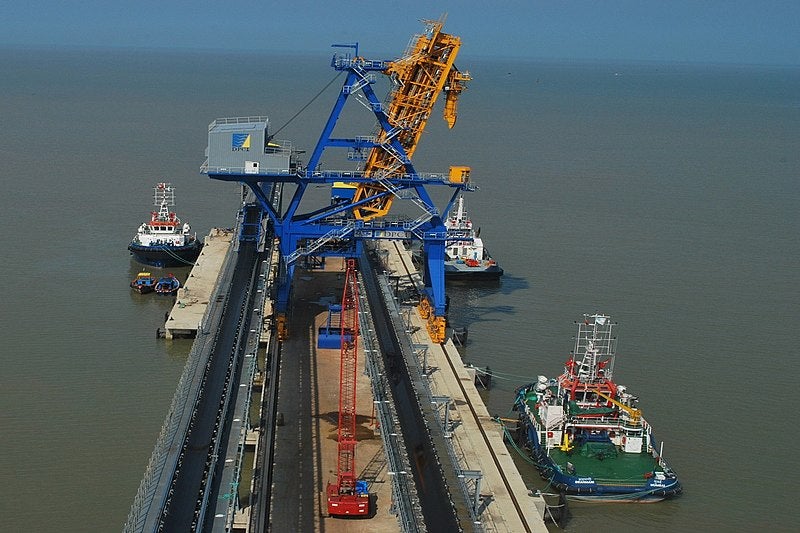 Adani Ports and Special Economic Zone (APSEZ) has announced it will invest approximately Rs489.33bn ($6.89bn) to increase the cargo handling capacity of Dhamra port in the Indian state of Odisha.
The investment will be transferred in two phases. It will increase the port's cargo handling capacity to 314 million tonnes a year.
APSEZ already manages India's largest private commercial port Mundra in Gujarat and is expecting to expand the Dhamra port to the same level.
APSEZ has already obtained environmental and coastal regulation zone (CRZ) approval from the expert appraisal committee (EAC) in the Ministry of Environment, Forest and Climate Change.
The Dhamra Port Company (DPCL) is the APSEZ division that manages the port and operates two berths. The berths can handle 25 million tonnes of cargo, including iron ore, coal and limestone.
In the first phase of the expansion, APSEZ will invest around Rs175.18bn ($2.46bn) over the next five years to boost the port's cargo handling capacity to 169.5 million tonnes.
In 2004, the DPCL secured the contract from the Odisha government to develop and manage the port for a period of 30 years with an option to extend the agreement for two more periods of ten years.
The second phase of the expansion will include an investment of Rs314.15bn ($4.42bn), which will be paid by the end of 30 years. It will boost the port's capacity to 314 million tonnes.
The plan also includes building container handling facilities with an initial capacity of 3.1 million twenty-foot equivalent units (TEUs), which will be further increased to 4.66 million TEUs.
According to the plan, APSEZ will also build berths and marine structures so that vessels of varying sizes and loaded with different cargo types could be easily handled at the port.