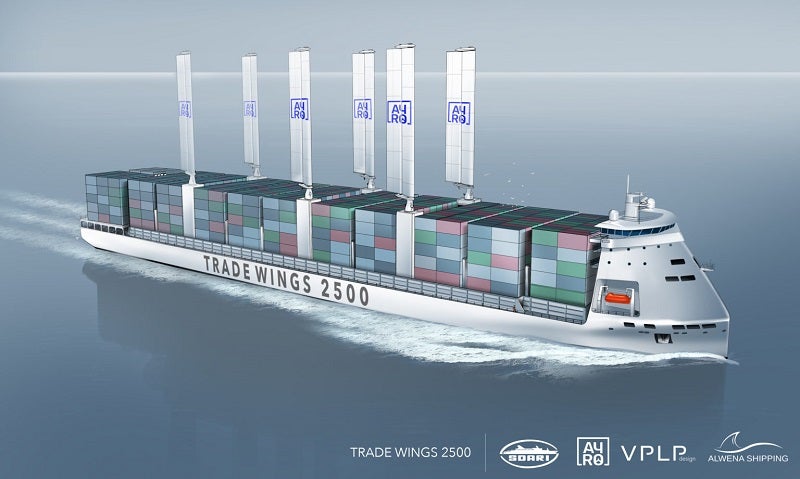 Bureau Veritas has awarded approval in principle (AiP) to Trade Wings 2,500, a container ship jointly developed by Alwena Shipping, VPLP Design, SDARI and Ayro.
The AiP was given to the vessel's basic design after the classification society reviewed the key drawings.
With a capacity of 2,500TEU, the vessel has a total length of 197m and breadth of 32m. It offers a deadweight of 32,500m tonnes.
The design incorporates six Oceanwings for wind-assisted propulsion, along with liquefied natural gas (LNG)-electric propulsion with pods.
To reduce the impact on cargo operations at the port, the wing sails on the vessel are placed on a vertical sliding mechanism to enable partial retraction.
The LNG power plant has been designed exclusively with pure gas four-strokes gensets and the LNG storage tank has been formed on GTT's Mark III containment system.
The design aims to accommodate possible upgrades to green fuels, including hydrogen and ammonia, in the future.
Trade Wings 2,500 is suited for both transatlantic trades as well as short sea shipping operations or feedering in Europe, Central America, China and the Caribbean Islands.
For faster cargo operations, the ship features a hatch coverless design, while the LNG-electric pods increase manoeuvrability.
The vessel has the capacity to save nearly 35% more CO₂-equivalent emissions than any conventional design.
Bureau Veritas North Asia senior vice-president Alex Gregg-Smith said: "Wind-assisted propulsion is a high-potential solution that can contribute to the long-term decarbonisation of the marine industry.
"We have just released new wind propulsion system rules and this innovative design, approved in principle by BV, including a sliding mechanism, demonstrates the feasibility of wind-assisted propulsion on-board container ships with deck space limitations. Benefitting from a coverless hatch and LNG-electric pod propulsion, the design provides both operational flexibility, improved efficiency and reduced carbon emissions, complying with, or exceeding, regulatory requirements."