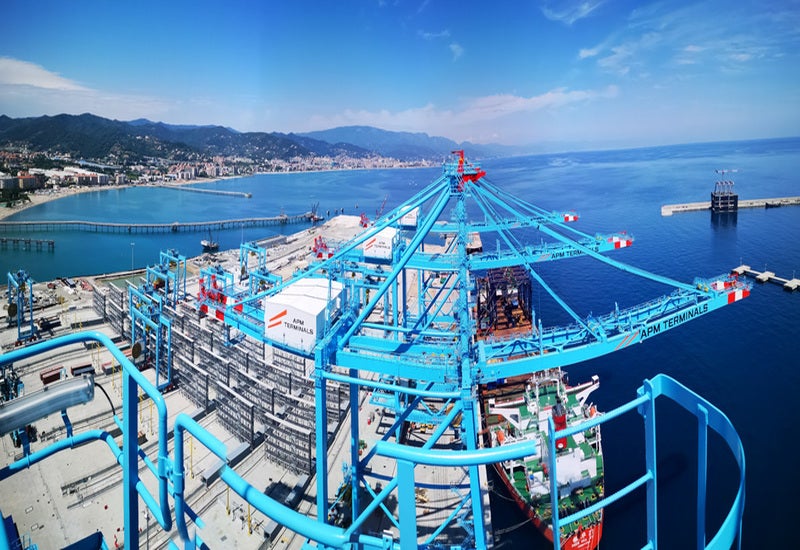 APM Terminals' Vado Gateway terminal will open on 12 December this year after its last caisson was successfully placed earlier this week.
The Vado Gateway will be in the Vado Ligure Port Complex, Liguria, Italy, operating in tandem with the existing Reefer terminal.
Featuring a fully automated gate and stacking yard, Vado Ligure will become the first semi-automated port in Italy.
The 700m deep-sea berth at the new terminal can manage the latest ultra large container vessels (ULCVs) and up to 1.1 million TEU every year.
A 450m-long, four-lane off-dock rail facility has been laid down in order to ensure the operational efficiency of both terminals.
The facility will provide access to central and northern European countries such as Switzerland, Germany and France, as well as other regions in Northern Italy. It can operate 14 trains each day.
APM Terminals said that the final ship-to-shore cranes will be installed within the next month.
Each of the four cranes is over 90m-high and weighs approximately 1,800t. The cranes have a horizontal reach of 23 rows of containers, a maximum 65t capacity in twin lift configuration and 100t under hook.
Using 14 automatic rail-mounted gantry cranes, the terminal will control the highly automated yard in Italy. The operator can intervene from a remote-control room when needed.
Containers approaching the Vado Gateway will be recorded using dynamic video cameras installed on quay cranes, with the information obtained then automatically sent onto the terminal's operating system.