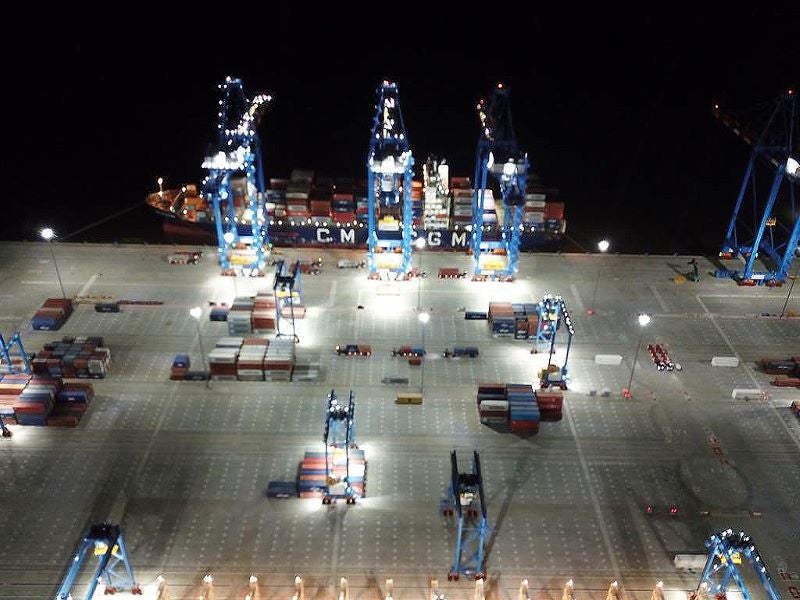 APM Terminals (APMT) and Bolloré Ports have launched a new terminal in Abidjan, a city on the southern Atlantic coast of Côte d'Ivoire in West Africa.
Following a series of successful test calls in mid-October, the container terminal has now commenced operations. It is said to be the second of its type in Abidjan.
The 267m-long CMA CGM Rossini, which has a total capacity of 5,770 twenty-foot equivalent units (TEU), is the first vessel to officially operate at the Côte d'Ivoire Terminal.
Focusing on the Ivoirian and West African markets, the terminal facility is expected to help improve trade between Côte d'Ivoire and the sub-region as well as strengthen the existing Côte d'Ivoire-Burkina Faso-Mali logistics corridor.
The new terminal entails an investment of around €900m, including €400m for the superstructures and €510m from the Port of Abidjan for groundwork infrastructure.
Covering an area of 37.5ha, it features a 1,100m-long quay and a 16m draft. The terminal is also fully digitalised and incorporates all electric equipment.
With a capacity to handle 1.5 million TEUs a year, the terminal also features automated gates and an online truck appointment system for the pickup and delivery of containers.
Côte d'Ivoire Terminal managing director Koen De Backker said: "Côte d'Ivoire Terminal is a real source of satisfaction for us.
"For two years, we have worked tirelessly to build this facility, in order to provide the Port of Abidjan with an infrastructure that meets international standards, capable of supporting traffic growth while preserving the environment."
In August, APMT agreed to divest its 30.75% holding in Russian container terminal operator Global Ports Investments (GPI ).