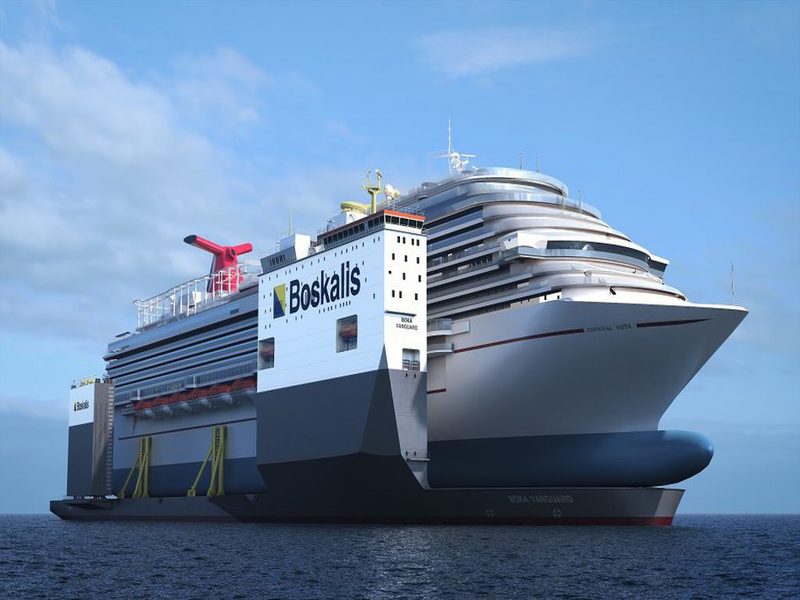 Boskalis is to repair two Azipod engines on a Carnival Cruise Line ship using floating dry dock, a process requiring one of its vessels to be half-submerged.
Having won a contract to restore the main propulsion system on the Carnival Vista ship, the Dutch firm will dispatch Boka Vanguard to a Bahamian shipyard, where its transport vessel will go partially underwater in order to dock the 133,500t vessel.
Manufactured by ABB and Finnish shipyard Masa-Yards, Azipods engines provide maximum manoeuvrability, as the engines are directly attached to the propellers.
The procedure will include loading Carnival Vista onto a semi-submersible flatbed tow truck that is suitable for the sea, before then docking the vessel for repairs at the Grand Bahama shipyard.
Boskalis said that Boka Vanguard has a lifting capacity of 117,000t and is claimed to be the world's largest heavy lift vessel.
Carnival Cruise Line marine operations executive vice-president Lars Ljoen said: "This groundbreaking procedure made possible by Boskalis is a revolutionary way to ensure Carnival Vista's repairs are completed in a safe, timely and efficient manner, so the ship can resume her popular seven-day schedule from Galveston later this month."
Boka Vanguard is scheduled to arrive in the Bahamas tomorrow, allowing it time to prepare for Carnival Vista's arrival a week later. It will take around two weeks to load, transport and repair the ship.
It is expected that Carnival Vista will return to Galveston, Texas, US, in time for her 27 July voyage.
The cruise can accommodate approximately 4,000 passengers and features on-board micro-breweries, IMAX theatres and water parks.